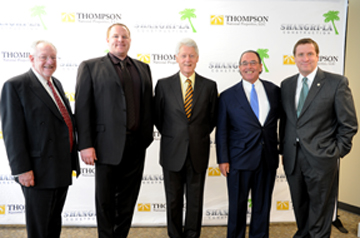 There were two local-Las-Vegas historical events last week that are significant because each signals what one hopes is the beginning of a new era in two critically important areas of life here.
First up was the official reopening of 302 East Carson Avenue, an 11-story, 162,000 square-foot 1960s office building that was environmentally outdated. In 13 months with an investment of $11.5 million, the building became the first in the State of Nevada to be awarded gold certification for Leadership in Energy and Environmental Design (LEED) by the United States Green Building Council (USGBC). This designation means that the building is in compliance with a series of environmentally friendly standards and, depending upon those standards met, a certification level is awarded. This project earned Gold because its tally was between 60 and 79 points.
This was the first renovation financed from a $100 million green building fund set up by Thompson and Shangri-La.
To celebrate the completion of the project, an event announcing the achievement was held in the building last week. Along with Anthony Thompson and Andy Meyers from Thompson National and Shangri-La, respectively, Rick Fedrizzi, President and CEO of the U.S. Green Building Council (USGBC) and other speakers: Las Vegas Mayor Oscar Goodman and former President Bill Clinton.
Thompson and Meyers spoke briefly about the project. Thompson noted that when the renovation began in 2008, the building was 20 percent occupied. Today it is 40 percent, including an entire floor leased by the Las Vegas City Constable's office . "When we began, this building was functionally obsolete." Thompson said, "Today, the energy consumption is down 30 percent; water consumption, 40 percent."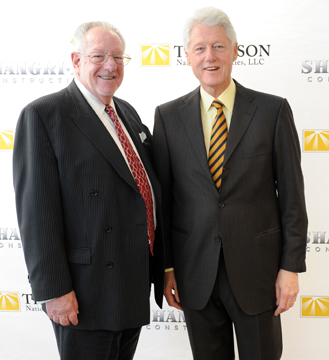 Oscar Goodman, the self-proclaimed "Happiest Mayor In the Universe" was up next. First -- much to Clinton's amusement -- he noted the absence of the two showgirls who usually accompany him to events. Thus, he called up to women from the audience who flanked him as he spoke.
Goodman said that his first law office was in this building, as was Senator Harry Reid's (D-NV). He went on to the topic at hand, saying,"Las Vegas is committed to being a sustainable city and, for this, we were named the 'American City of the Year' at the World Leadership Awards in London a few years ago."
President Clinton closed the event and said that he will "come to Las Vegas on the flimsiest of excuses." But, said the founder of the Clinton Global Initiative (CGI), the non-governmental organization (NGO) he founded in 2005, he was in Las Vegas that day because he thinks "Shangri-La is the best green building company in the country."
Clinton noted that when he brought journalists Laura Ling and Euna Lee home from North Korea they landed in Hanger 25 at Bob Hope Airport in Burbank, CA, that was built by Shangri-La and that produces 110 percent of its energy needs because of the photovoltaic solar panels on its roof.
Before getting down to business, he said in an aside that he was "happy to be here with the "happiest mayor in America" and mentioned the showgirls. "You know, if some of did that we'd be run out of office....Some guys have got it. Some guys don't. The mayor's got it."
Clinton told the audience, "I spend most of my time today thinking about big things and of how to attack them in small, concrete ways. My Foundation has had some success because we focus on an issue that politics often ignores. Most of the time I was in office we argued about two things: what we're going to do and how much money we'll spend. Tax cuts or healthcare? If so, what is the cost?
"We didn't spend enough time on the third question, which I think is the most important of the 21st century -- whatever you're going to do and however much we spend, how are we going to do it?"
Clinton went on to say that his foundation asks how a project can be done faster, cheaper, better and that they work with private sector partners.
"I believe," he added, "that climate change is a huge problem. I think we have only scratched the surface of what we have to do. But I also believe that changing the way we consume and produce energy is the number one thing we can do in America to get the jobs engine going again, to improve our national security by making us less dependent on either imported or otherwise destructive sources of energy and to make a safer environment for our kids and grandkids."
He spoke of the need for people to "breathe clean air and work in bright light" as they now can do in this renovated building added that making buildings more efficient is a "big deal" and "great economics" as it provides jobs. Reducing energy usage by 30 percent is "like giving a mini-power plant back to the local utility so they can give it someone else.
"For every billion dollars invested in the last several years, you get at least 7,000 new jobs," he added. "For every billion dollars you invest in wind energy, you get 3,300 jobs...This is not rocket science. You get more jobs for less money. "
He discussed progress made in Sweden, the rejection of the Kyoto Protocol on climate change -- characterized by him as "the only time I lost a bill in Congress before I sent it to them -- and told the audience that the Clinton Presidential Library in Little Rock is the "only platinum-certified LEED building in the federal system."
If programs to increase energy efficiency were put in place, he noted, the construction workers' unemployment rate would plummet "without building a single new building."
Clinton concluded by saying, "I want to ask all of you who live here, who love this community and grieve for what you've been through, as we begin to pick up, as more people come to the casinos to spend the night, as more people have 'walking-around' money, do this. Do this first. Push this. It's a way to put America back to work and save the planet for our kids."
For Las Vegas, the now-modern 1960s-vintage building rescued by Thompson National and Shangri-La is a first. For the rest of the nation, the history of 302 East Carson Avenue, Las Vegas, NV, is an example of possibility fulfilled.
Photo top: (from left) Mayor Oscar Goodman; Andy Meyers of Shangri-La Construction; Former President William J. Clinton; Anthony Thompson of Thompson National Properties, LLC; and Rick Fedrizzi, President and CEO of the U.S. Green Building Council (USGBC). Photo by Denise Truscello - Getty/Wireimage
Photo bottom: The "Happiest Mayor in the Universe" meets with the Former President of the United States of America. Photo by Denise Truscello - Getty/Wireimage
Related
Popular in the Community