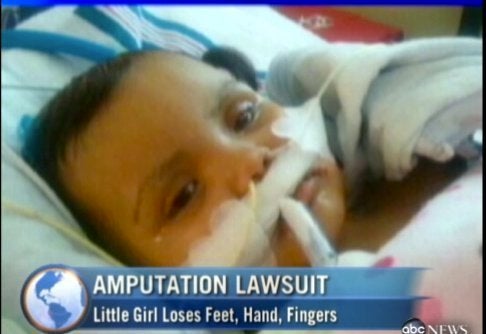 The legal journey is over for the family of Malyia Jeffers, the Sacramento girl who had to have parts of her arms and legs amputated because she waited too long in an emergency room for treatment of an infection, according to news reports.
The family settled with Methodist Hospital and emergency room workers for $10 million, one of the largest ever of its kind in California, according to the Sacramento Bee. The hospital will pay $9 million, and the Emergency Physicians Medical Group of Sacramento will pay $1 million.
The Associated Press reported that the money will go toward current expenses, as well as $16,000 a month for Malyia (including changes for cost of living), starting in 2026, the year she turns 18.
Lawyers who specialize in medical malpractice said the settlement is among the highest in California. The state places a $250,000 cap on "pain and suffering," but settlements and jury verdicts can reach into the millions when other types of damages are considered.
According to ABC News, Malyia was first brought in to the hospital last November because she was running a fever, and was growing weak from a strep infection. But she didn't receive any treatment for five hours.
Finally, she was seen by medical personnel, who flew her to Stanford University Hospital, and she was diagnosed with septic shock, ABC News reported. Her feet, left hand, and part of her right hand were amputated as a result of the bacterial bloodstream infection.
"When the bacterial infection goes through the bloodstream, you have sepsis and a problem with your blood clotting ability. As a result, [the infection] cuts off the blood flow to the extremities and those areas die," Brown says.
Earlier this month, Brian Sinclair, a 45-year-old homeless man, died of a bladder infection while waiting in a hospital emergency room in Canada for 34 hours. His family has filed suit against the government of Manitoba, according to the Canadian Press.
And back in 2008, 49-year-old Esmin Green died from blood clots on the floor of an emergency room at Kings County Hospital Center, the New York Daily News reported. She had waited in the emergency room for almost 24 hours, before collapsing.
For more on what happened to Malyia last year, watch this ABC News video from February.
Popular in the Community