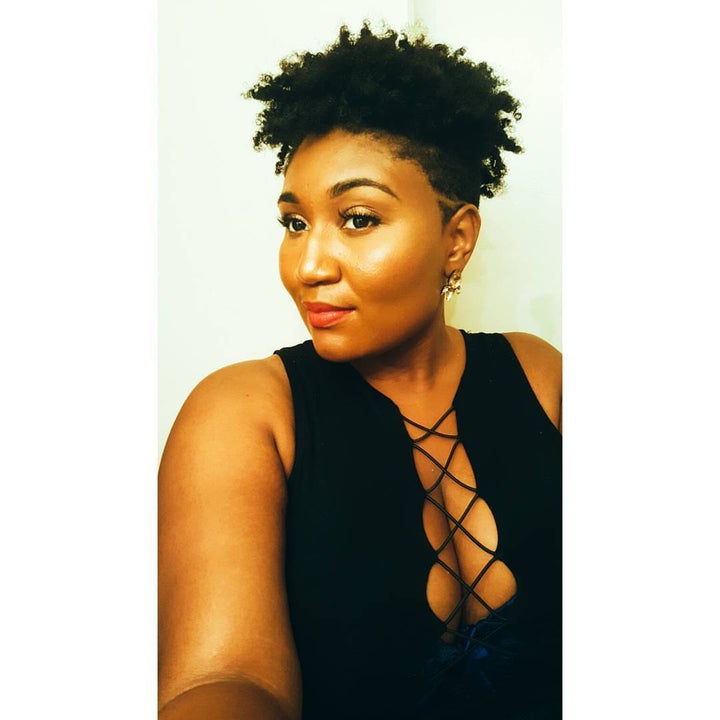 My mama dropped me off in the third grade on a Tuesday morning, with a head full natural, thick, 4c hair. When she picked me up that afternoon, she was practically bald, then we went and got ice cream.
My mom being hairless never bothered me, she always looked like she was just a missing member of that 90s R&B duo, Zhane. My mama is perfectly chocolate; she is short; she is plus-size; she has an actual negro nose (which I inherited too), a slim face and an awesome smile. When she cut her hair, she felt free, and you could tell she seemed pleased with her being. However, when you're a free black woman, with no ties to hegemonic beauty standards, the world will let you know that it doesn't approve. I've been the cringing bystander my entire life while my mother has had to deal with gross insults from family about her skin, shady comments from her sisters about her hair preference, and even little slights from strangers who called this obvious woman "sir." In my younger years I can't remember wanting to look exactly like her, because I have never wanted to endure the pain of being made to feel like my beauty was irregular. Honestly, I don't think I have the grace to bear through the comments like her.
When you're a free black woman, with no ties to hegemonic beauty standards, the world will let you know that it doesn't approve.
Full, thick hair became my signature. It kept the attention off this wide nose and it made sure to balance my huge cheeks. However, in 2009, I started to attend George Mason University. I learned about colorism, beauty standards and hair. I got so good at learning about black hair, that I helped teach it to other people while still swinging my tired, relaxed hair around, split ends everywhere and edges looking sparse like my DMs. My hair image didn't fit the message I was spreading. I transitioned, ending that with a big chop and had TWA for about a month. Then out of nowhere came this ignant, sometimes untamable She-Hulk fro and for the next three and half years it became the marker for who I was on campus. If you couldn't spot me by my booty (it's distinctive), you knew my hair. It was like colored girl achievement: "Look I can grow my hair long too! I can be pretty in the way you have designed it too!" and my mom was proud. She's never wanted me to suffer through the effects of colorism like her. She had always wanted me to participate fully in beauty culture and be able to utilize what beauty privilege I actually owned.
Out of nowhere came this ignant, sometimes untamable she-Hulk fro... If you couldn't spot me by my booty (it's distinctive), you knew my hair.
I grew tired of it all. The late nights, the product cluttering, the waking up late because of late night twisting, the having to do a puff for the eighth time that week and the neverending wash days. I was too busy to be concerned with the latest curl cream and wasn't interested in learning how to a three strand twist out which is really just a braid, if we keeping it 100. I sat down in my barber's chair and watched her cut my mask away. I couldn't hide my great grandmother's cheeks behind a towering fro anymore. There would be no mistaking my head for its peanut shape, now that it is down to the bare essentials. Most importantly, I couldn't hide my mama's black nose and this raw melanin. I now navigate the world as someone is rebuffing several institutional ideologies about black women's beauty, and it's scary. While I know the world will not be as cruel to me as it has been to my mother, I am feeling the effects of having short, kinky, natural hair. I have lovers inquire about how short I am going to keep it and if I am going to straighten it, but just for their pleasure. Even my barber, a woman, was so distraught cutting my hair, because it was so important to her that I never touch the "principle" of my hair, which to her defined my black beauty. I've even had people tell me that my hair made me a hero to some. However, if the only thing about me that is hero-worthy is my hair, then you've never seen my standup. That doesn't mean I don't still struggle with my presentation now that my hair is short. My participation and infatuation with beauty culture has increased because I often feel the need to smooth out the canvas. However, the most important thing is freedom. I feel like I have been cut loose from concepts about how I am to present myself as beautiful in this world. Also, I totally look like my mom now, and for the first time ever, I am the one that is proud. Love you, Mama!
This post is part of HuffPost's My Natural Hair Journey blog series. Embracing one's natural hair — especially after years of heavily styling it — can be a truly liberating and exciting experience. It's more than just a "trend." It's a way of life. If you have a story you'd like to share, please email us at MyNaturalHairJourney@huffingtonpost.com.
Calling all HuffPost superfans!
Sign up for membership to become a founding member and help shape HuffPost's next chapter