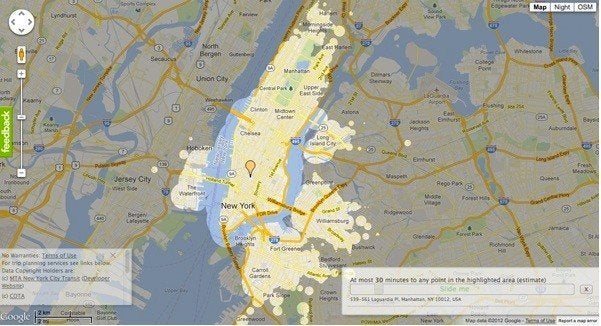 Mass transit is a funny thing. Sometimes it's efficient. Sometimes it's comically bad.
Stefan Wehrmeyer took the good and the bad and created Mapnificent, a website that calculates how far you can get in cities around the world in 30 minutes or less using only public transportation. He started with Berlin and London night buses, using Google Maps and GTFS Data Exchange to show how much of any given city you can cover in 30 minutes or less, he notes in a blog.
He calculated cities from New York to Salt Lake City to London to Budapest to Auckland, taking into account a person's starting point (which you can alter from anywhere in the city), whether the bus or train leaves on time and even waiting time between transfers, TheAtlantic.com points out. There are currently 70 cities in the Mapnificent database, most of them in the U.S. Wehrmeyer told The Huffington Post via email. Users can also submit requests for cities, too.
In his blog, Wehrmeyer writes:
Mapnificent is rather a tool to explore many fuzzy trips at once to see more possibilities where to live, to work or to meet up. With the integrated Google Local Search you may discover that even though some place is a few miles away, it is still reachable with public transport in a couple of minutes.
Not only is this a great system for commuters, it's great for tourists on a layover or even when planning where to stay.
Check out how far you can get in some of the cities below.
Related
Before You Go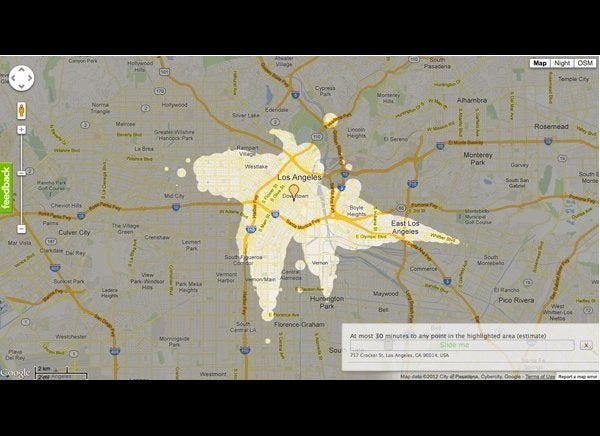 Mapnificent