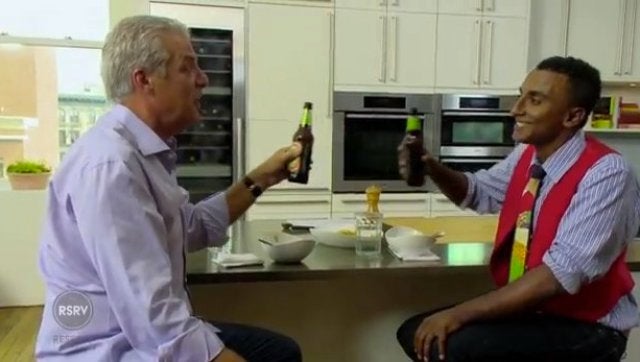 Eric Ripert's YouTube series "On The Table" is back, this time with everyone's favorite Ethiopian/Swedish chef, Marcus Samuelsson. We get to hear the two chefs tell their very different tales of their time spent working in France, including Samuelsson being turned away from a job for being black. "There weren't a lot of chefs who looked like me," he said.
Don't worry, like all episodes of Ripert's show, it's not all serious. As a bonus, you'll get to hear Ripert call Samuelsson the "best dressed chef on the planet," multiple times. And, Eric, did you just call Marcus a dandy?
It's interesting to see how different "On The Table" is when the guest is a fellow chef. In the episodes with guests from other walks of life, there's a pretty intense focus on the recipe they're cooking, why they chose it, how they make it. Ripert and Sameulsson seem to fall into auto-chef mode as they talk about their growth as chefs, abuse they've taken, victories they've won. You even get to see the notoriously meticulous Samuelsson unceremoniously pile noodles on top of seared salmon, which was just a total delight. You can catch the full episode below, as well as Marcus Samuelsson's recipe for Cold Teff Noodles with Rare Seared Salmon.
Cold Teff Noodle with Rare Seared Salmon
1 package teff ramen noodles (or any variation of fresh ramen noodles)
1 tablespoon chopped dill
2 teaspoons mirin
1 tablespoon soy sauce
1 teaspoon wasabi paste
3 teaspoons blonde miso
5 tablespoons olive oil
1/2 teaspoon berbere (or paprika)
6 arugula leaves, ripped
2 inches cucumber, thinly sliced
2 inches of daikon, thinly sliced
1/2 apple, peeled and finely diced
4 mint leaves, ripped
2 (4-ounce) West Coast salmon filets
1 tablespoon butter
Bring a large pot of water to a boil, add ramen noodles and cook for 45 seconds. Drain, transfer to large bowl and set aside.
In a medium bowl, whisk together 1/2 tablespoon dill, mirin, soy sauce, 1/2 teaspoon wasabi, 1 teaspoon white miso, 2 tablespoons olive oil and 1/4 teaspoon berbere (or paprika).
Add the spice mixture, ripped arugula, cucumber, daikon, apple and mint to bowl with noodles. Toss to combine and set aside.
In a bowl, whisk together 1/2 teaspoon wasabi, 2 teaspoons miso, 2 tablespoons olive oil and 1/4 teaspoon berbere (or paprika). Brush salmon filets with mixture.
In a pan, heat 1 tablespoon of olive oil and 1 tablespoon of butter. Add chopped dill and salmon, and sear for two minutes on one side. Remove from pan and transfer to serving bowl.
Top with ramen salad and serve immediately.