With the culinary renaissance now sweeping across New York City, we await the opening of the Red Rooster by Marcus Samuelsson.
This new Harlem bistro will open next month just a block from Sylvia's on Lenox Avenue. I had the opportunity to sample the new menu at the Epicurious. This is going to be a fusion experience that will both challenge and delight. He served a fried chicken with mac and greens garnished with pickled vegetables as the entree at the preview -- a dish that will both comfort you and jazz you up.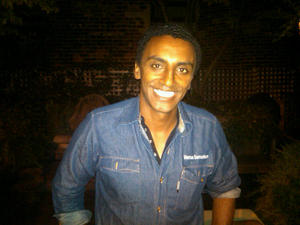 Perhaps jazz is the best analogy to what Marcus will be offering at Red Rooster.
I had the opportunity to interview Marcus after the preview dinner. Red Rooster is a "bridge that will connect uptown and downtown," he told me. While Rooster starts with a "narrative of Americana and the South," it blends in other flavors from the surrounding neighborhoods.
"If you travel across upper Manhattan starting at the east, you bring in the Latin flavors, and wind up at Columbia University with its melting pot of people from around the world," he added.
Marcus intends to mix all these cuisines in with the core roots of American food. The name Red Rooster hearkens back to a restaurant/bar in Harlem from years ago. The new incarnation will be in a restored building and is intended to attract diners from all across the city.
Will check back in when the restaurant opens and adds to the wonderful New York culinary mosaic.