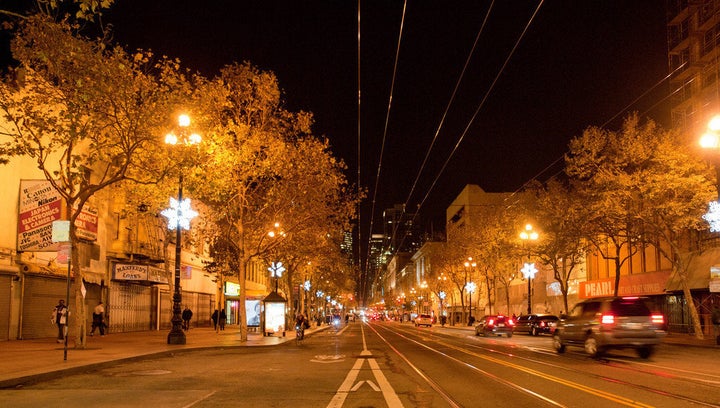 SAN FRANCISCO -- Market Street's problem is a very old one. So old, in fact, that its origin predates the gold rush.
In the mid-1840s, when famed city planner Jasper O'Farrell designed San Francisco's street grid, a handful of landowners in the area that would eventually become SoMa insisted he join the downtown streets at a 45-degree angle. The streets would be divided by a grand boulevard running from the summit of Twin Peaks to the edge of the bay.
Constructing Market Street this way made sense for a sparsely populated frontier settlement. But over the past century and a half, population growth, traffic congestion and the conversion of the promenade into the city's primary public transit corridor has turned Market Street into a snarl of buses, cars, bikes and pedestrians weaving in and out in an uncoordinated ballet of barely contained chaos.
Now, as city leaders work to transform a portion of Market into a combination of Silicon Valley and Times Square, a coalition of agencies called Better Market Street is demanding changes.
"The goal is to activate the space to create a sense of place and foster growth," Department of Public Works director Mohammed Nuru explained to the Huffington Post. "Many parts of Market aren't being utilized as fully as they could be -- most people are just using it to cross the street when they could be doing so much more."
During a presentation before the San Francisco Municipal Transportation Agency's board of directors on Tuesday, representatives from the Better Market Street project presented ideas to improve traffic flow on Market.
The most controversial? Closing the avenue to private automobile traffic entirely.
"Most anyone who has ever used a car in San Francisco knows that if you're driving on Market Street, you're doing it wrong," wrote Huffington Post blogger Michael Portanova. "Market is congested, bumpy, bereft of curbside or garage parking, and infuriatingly slow."
Most of all, Market in its current form is dangerous -- especially for the increasingly dense throng of bikers who travel the street. "I got hit by a car while riding my bike," added Portanova. "Yes, it hurt. Yes, I broke a bone. And no, it was not my fault. The true culprit is our insane policy of allowing vehicles along lower Market Street."
City officials touted benefits of a no-car policy at Tuesday's meeting. "There is a lot of positive that could result in limiting access of private vehicles," Central Market Community Benefit District Executive Director Daniel Hurtado told the San Francisco Chronicle. "Particularly encouraging people to walk, eliminating congestion and increasing the efficiency of public transit."
Lawmakers have yet to start surveying popular opinion on closing Market to cars, and a series of community meetings is scheduled for later this summer.
Businesspeople along the iconic route seem to have a mixed opinion.
"Businesses on Market tend to favor at least some car access," Brian Smith, co-founder of Mid-Market's Huckleberry Bikes, told HuffPost. "Even though we're a bike shop, people still want to drive here if they have a broken bike or want to pick up two bikes from the shop."
Smith called the idea an experiment he'd like to see, at the very least, investigated.
The proposal is far from new. More than a decade ago, former Mayor Willie Brown declared that Market should be closed to cars, a position he later backed off largely due to pressure from the business community. Brown's successor, Gavin Newsom, instituted a pilot program banning private automobiles from traveling eastbound on the street for a few blocks.

According to a San Francisco Municipal Transportation Agency study, half the people using Market on any given day are on foot, one-third use public transit, 15 percent use private cars and 5 percent are on bikes. Around 85 percent of Market's automobiles are traveling across the street, and the average length of a car driving along the route is two blocks. This suggests most drivers on Market are looking for parking rather than travelling from one part of the city to another, according to advocates.
Proposed changes to the street's traffic flow are part of a larger plan to transform the entire neighborhood. Other ideas include more public seating, live concerts and farmers markets.
The workshops on Market Street's future, free and open to the public, begin with a meeting on July 17 at the San Francisco Municipal Transportation Agency office.
Related
Popular in the Community