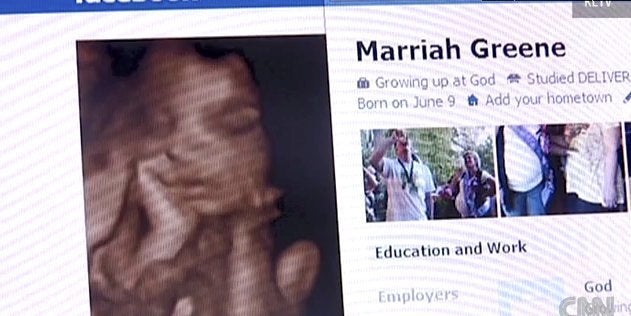 Marriah Greene hardly exists, but she already has a Facebook following. Or, she did before the social network caught wind and pulled her profile from the site.
Ellie Greene, the unborn baby's mother, created the profile, which soon became a journal of sorts as friends and relatives began friending and interacting with the profile.
According to ABC News, Greene posted little quips and quotes, such as listing the baby's education as "Studied Labor and Delivery at Tummy University."
CNN reports that Marriah Greene's Facebook profile was a bit more than just a project, it's how the couple, 37-year-old Matt Greene and his 25-year-old wife Ellie, chose to announce they were having a baby.
By June 1, the baby's profile already had over 350 friend requests, according to ABC, though the parents did not accept all, especially those from strangers. The Greenes also said that the vast majority of the comments were positive, outnumbering negative posts by about 40 to one.
But Facebook seems to have put the little experiment on ice. The expecting couple told The Blaze that they believe Facebook took down Marriah's profile. Indeed, the profile was no longer accessible on Facebook.com on Thursday.
Facebook did not give a reason for pulling the page, although the site's Statement of Rights and Responsibilities does not allow users to "provide any false personal information on Facebook, or create an account for anyone other than yourself without permission." However, the parents might have avoided the issue if they had created a Facebook Page for Marriah, rather than a personal profile. For example, Coca-cola maintains a brand page that does not qualify as a profile. Even Mark Zuckerberg's dog has its own Facebook page.