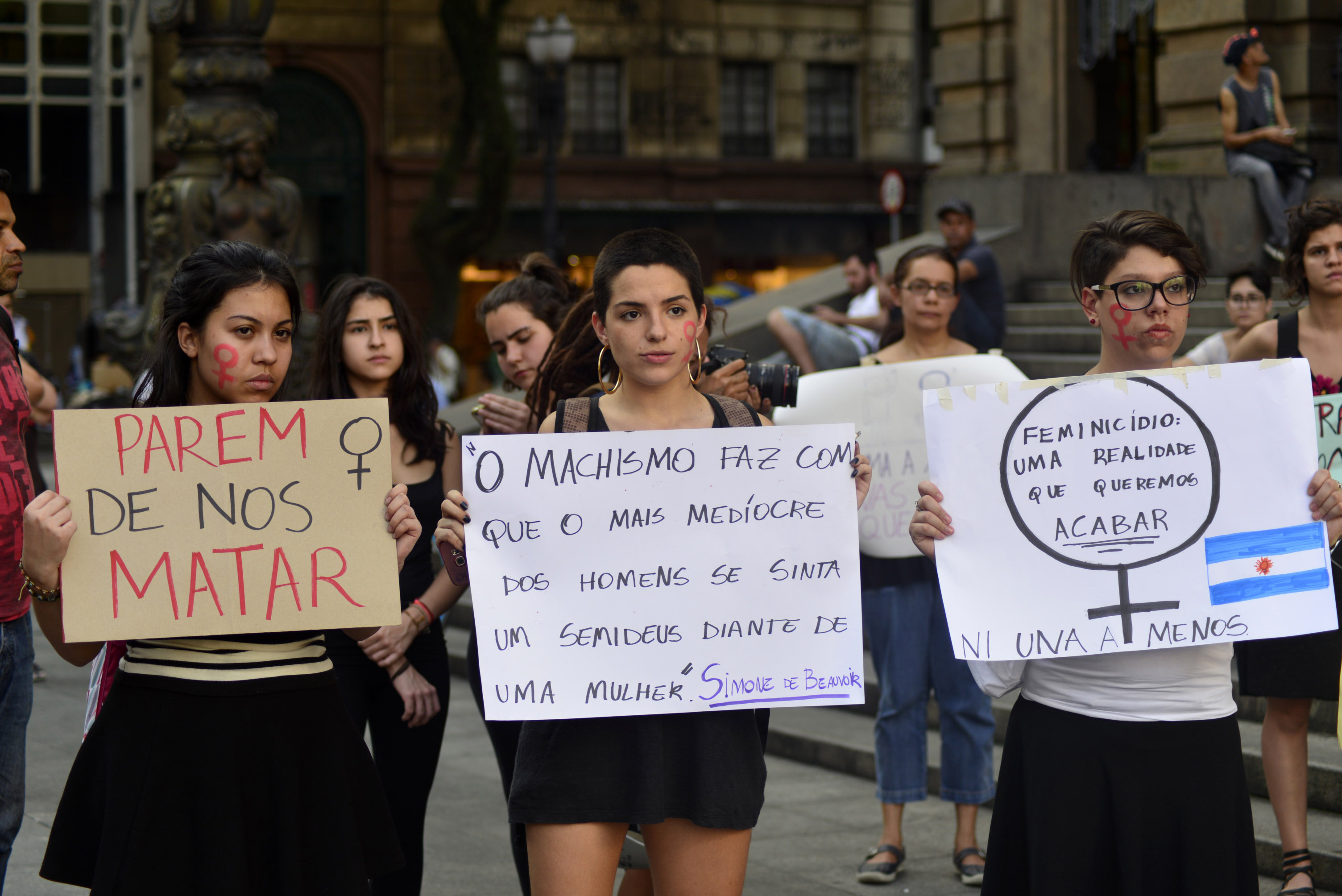 From historic convictions to impunity for gang rapes, 2016 has been a year of highs and lows when it comes to efforts to stem violence against women.
November 25 is the International Day for the Elimination of Violence against Women. It's a day to reflect on the pain and resilience of survivors. And it's a day to take stock of progress and failings in combatting this pervasive human rights abuse.
In March, the International Criminal Court (ICC) reached its first conviction for sexual violence. It found a former Democratic Republic of Congo vice president, Jean-Pierre Bemba, guilty of rape, murder, and pillage in neighboring Central African Republic. Bemba was found guilty under the concept of "command responsibility," in which civilian and military superiors can be held criminally liable for crimes committed by troops under their control.
In Senegal, a court convicted Hissène Habré, the former president of Chad, of personally committing rape as an international crime. In May, decades after his victims started fighting for his prosecution, Habré was convicted of torture, war crimes, and crimes against humanity, and sentenced to life in prison.
But despite these victories, impunity for violence against women remains a massive problem. Around the world, Human Rights Watch documented horrific violent attacks on women, with the attackers facing no punishment.
In Nigeria, government officials and other authorities raped and sexually exploited women and girls displaced by the conflict with the armed group Boko Haram. In Jordan, there was a spike in so-called "honor killings," murders of women or girls by relatives for acts supposedly impinging family "honor." In South Sudan, Central African Republic, and Burundi, armed combatants gang raped women and girls. In Nepal, child marriage, as well as rape and physical abuse of child brides, is common.
And in some countries, reports this year revealed sexual violence that has continued for years. In the United States, military service members have faced not only sexual assault, but also retaliation if they reported the abuse. In Burma, the military has committed rape and other sexual violence relating to the country's decades-long civil wars. Women raped in Kenya's 2007-2008 post-election violence have been unable to obtain reparations or justice. The list of horror goes on.
The past year also saw contrasts in how governments address violence against women in legislation. Some countries, like Haiti, have no laws specifically criminalizing domestic violence. Others, like Morocco, are still discussing a draft domestic violence law. But some countries have strengthened legal protections. China, for example, started implementing its December 2015 domestic violence law, and Brazil set tougher penalties for "femicide," or gender-motivated killings of women and girls.
United Nations agencies and bodies also produced contrasts over the past year. The World Health Organization's governing body adopted a new global plan of action on health system response to violence. At the same time, UN peacekeepers were accused of rape and sexual exploitation in Central African Republic and other countries. A scathing independent report cited UN failures in handling peacekeeper abuse.
Then, there are the contrasts in elected officials, and what this means for violence against women. There are contrasts across the globe, but you could hardly see a starker contrast than in North America. In Canada, the government of Prime Minister Justin Trudeau, a proud feminist, lifted a prohibition on the use of foreign aid for abortion services, clearing a path for rape victims and others to receive comprehensive reproductive health services. Canada also began a national inquiry this year into violence against indigenous women and girls.
At the same time, U.S. President-elect Donald Trump has publicly bragged about sexual assault and dismissed this as "locker room talk," has been accused by more than a dozen women of groping or sexual assault, and has expressed his intention to restrict access to legal abortion and reproductive health services, which would pose grave risks for all women.
Plenty of people around the world are fed up with violence against women, fed up with the lack of accountability for abusers, and fed up with politicians and others who normalize abuse or fail to combat it. They're taking brave actions to keep shelters open, push for better protections, help survivors heal, and help bring abusers to justice.
Many are taking to the streets. In Argentina, for example, thousands of people wearing black clothes braved torrential rain in Buenos Aires in October to protest the rape and killing of a 16-year-old girl.
I hope next November 25 will be a day to celebrate more victories, and fewer failures, in the fight against violence against women.
Image above: Women take part in a protest in Sao Paulo, Brazil -- where protesters held a one-hour "women's strike" -- on October 19, 2016, to protest against violence against women and in solidarity for the brutal killing of a 16-year-old girl in Mar del Plata The killing, in which the high school student was allegedly raped and impaled on a spike by drug dealers, is just the latest incident of horrific gender violence in Argentina, to protest brutality against women. (Photo by Cris Faga/NurPhoto via Getty Images)
Related
Popular in the Community