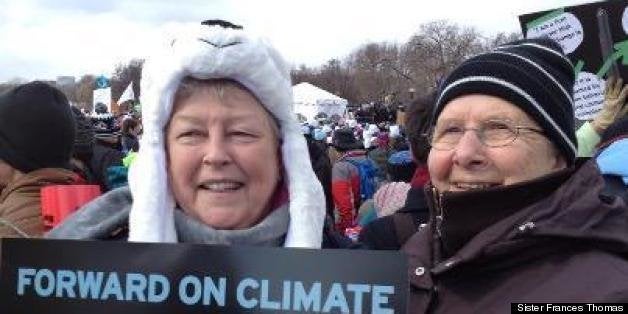 Today, when Massachusetts primary voters go to the ballot box, many will be considering an issue few were paying any attention to earlier in the race. If you wonder whether grassroots campaigns can still affect politics and political priorities, the vote today should give you hope. For the past month, Massachusetts faith leaders, feeling the looming federal deadline for a decision on the Keystone XL pipeline, jumped into the April 30 Massachusetts primary election and made Keystone a major issue in the race when few thought it would even be mentioned by the candidates.
The Good Steward Campaign -- a grassroots advocacy organization of primarily young Christians -- educated more than 600,000 Christian voters in Massachusetts about the importance of the Keystone XL pipeline. Responding to a massive online campaign led by pastors and nuns, an astounding 70,000 online actions were generated by these voters -- either by signing a petition urging political leaders to oppose Keystone, encouraging friends to oppose Keystone over social media, or going to an online resource center so they could be more informed on election day.
The success of their early efforts led other faith groups like American Values Network, Catholics United, and Interfaith Power and Light to mobilize their networks, which led to a number of national faith leaders travelling to Massachusetts to hold a rally drawing attention to this issue.
The Keystone pipeline rapidly went from a side-issue to one of the top deciding factors between two otherwise similar candidates. Ed Markey opposed Keystone XL. Stephen Lynch, his Democratic primary opponent, began the campaign by supporting it but was forced to qualify that support after the push from faith and community leaders. Both are members of Congress seeking to represent the state in the U.S. Senate.
Has Massachusetts been the start of something big? Can an election-focused strategy gain the support of hundreds of thousands, if not millions, of faith voters in each state who, after nearly two decades of climate change advocacy, protest and even civil disobedience have been looking for an effective way to step into electoral politics? The faith leaders in Massachusetts and New England now think it can.
"We were surprised that in a primary election, where most people aren't even paying attention, so many Catholics and Evangelicalswe reached out to were hungry to go vote for saving our dying climate," said Rev. Ron Stief, coordinator for the MA Good Steward Campaign,"But as they came to understand that Keystone is a project where foreign oil companies get all the profits, foreign counties get the oil, and American farmers and families bear all the risks, they understood why our voice needs to be heard."
On Earth Day, April 22, the Good Steward Campaign teamed with the Better Future Project and 350MA.org to send 7,500 petitions from Christians to President Obama and the State Department asking them to reject Keystone. The opening line of the petition reads simply: "As Christians, we believe it is important to invest responsibly in our country's economic health and take care of creation." Petitions also were sent from the Sisters Of Mercy, Interfaith Power & Light, and the Boston Climate Revival and Mission Earth organizers of the Episcopal Church and the United Church of Christ.
"Keystone has now become a galvanizing focus for faith communities across the ideological spectrum in this state," said Marla Marcum, Chair of the Climate Change Task Force of the United Methodist Church in New England.
There may be some powerful special interests behind Keystone, but the Massachusetts primary has shown that the people still have a voice and can get politicians to listen.
REAL LIFE. REAL NEWS. REAL VOICES.
Help us tell more of the stories that matter from voices that too often remain unheard.