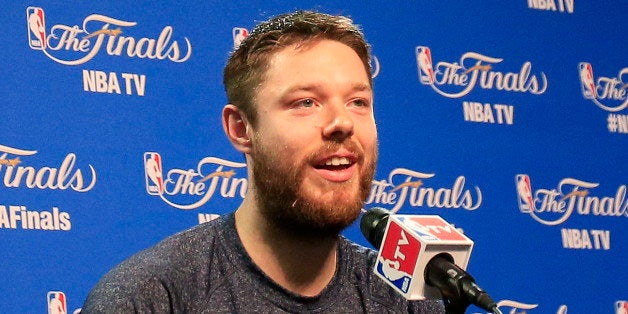 Matthew Dellavedova, a man who may be the worst basketball player in NBA Finals history according to the stats but is the best according to my heart, has taken the nation by storm. With every hilarious fall, with every hilarious shot, Delly's legend grows.
He had the bestselling jersey on Fanatics on Wednesday of any player in the league, even the godlike LeBron James, and the site announced it has already sold more of Delly jerseys during the finals that it did the entirety of the season. His hometown stadium has literally been renamed the "Dellavedova Dome." (That is not a lie.) Should his popularity to continue to rise at current rate, he will likely become Mayor of Cleveland, then Governor of Ohio, then President of the United States of America (after the country rejiggers the rules to allow for that sort of thing) then world leader.
Not that you should need another reason to love Delly, but if you do, know that he loves coffee. Like he often likes to have a cup before the game. Oh, did we just say before the game? Because he also enjoys the occasional cup of coffee at halftime. Halftime of an NBA game.
This is the sort of anecdote -- provided by ESPN.com -- that seems too good to be true, like it's out of a book about an earlier era in American professional sports history, when players used to smoke and drink and all that after, and sometimes before the game. But this is now, in 2015. This is Delly.
The only problem with his badass coffee-drinking habit can be summed up best by the well-known Spider-Man phrase, "With great power, comes great responsibility." Delly is playing now, and it would seem that drinking ridiculous amounts of coffee is a bit bad for you if you are competing in the biggest professional sporting event of your life. It also might help explain why Delly was rushed to the hospital with "severe cramping" that resulted from dehydration. Oops.
Tragically, "there will be no coffee tonight," Delly said Thursday after discovering the hard way that "it's not a good thing, probably, for your hydration."
True. But its definitely a good thing for your legend. "Delly gives all kids hope about making it to the NBA," Cavaliers center Kendrick Perkins recently said in what was the most hilarious accidental insult in some time. But if we're being honest with ourselves, we should probably edit that quote down to "Delly gives all kids hope."
And now, some Vines of Delly falling to the ground and out of bounds.
Calling all HuffPost superfans!
Sign up for membership to become a founding member and help shape HuffPost's next chapter