The nation's mayors sent a strong message to the Trump administration: If the federal government won't take the lead on fighting climate change, they will.
"If the federal government doesn't act, it doesn't mean we don't have a national policy; the federal government doesn't occupy the only place on this," conference president and New Orleans Mayor Mitch Landrieu told The New York Times on Monday. "Mayors have to respond to circumstances. We have to keep moving no matter what."
The resolutions adopted at the summit ― which also covered immigration, healthcare and other issues ― may be nonbinding; but they sent a clear signal that many mayors, both Republican and Democrat, aren't pleased with the direction that Trump's administration is leading the U.S. on issues like the climate, refugees and healthcare.
And they made it known they won't be standing idly by.
More than 120 mayors have already endorsed goals to adopt 100 percent clean energy in their cities in the coming decades. Of that number, more than 30 have made formal commitments to reach that goal.
The environmental nonprofit Sierra Club told HuffPost last week that if all 1,481 cities represented by the U.S. Conference of Mayors were to switch to 100 percent renewables by 2035, American greenhouse gas emissions would fall by 619 million metric tons, equal to about 42 percent of U.S. electricity consumption. Even if just 120 cities make the transition, emissions would drop by more than 34 million metric tons.
In the aftermath of Trump's Paris decision, the mayors of more than 1,200 cities and towns joined an alliance called We Are Still In, which pledges its continued support of the international climate accord.
"The Trump administration's announcement undermines a key pillar in the fight against climate change and damages the world's ability to avoid the most dangerous and costly effects of climate change. Importantly, it is also out of step with what is happening in the United States," the group said in an open letter. "In the U.S., it is local and state governments, along with businesses, that are primarily responsible for the dramatic decrease in greenhouse gas emissions in recent years. Actions by each group will multiply and accelerate in the years ahead, no matter what policies Washington may adopt."
Before You Go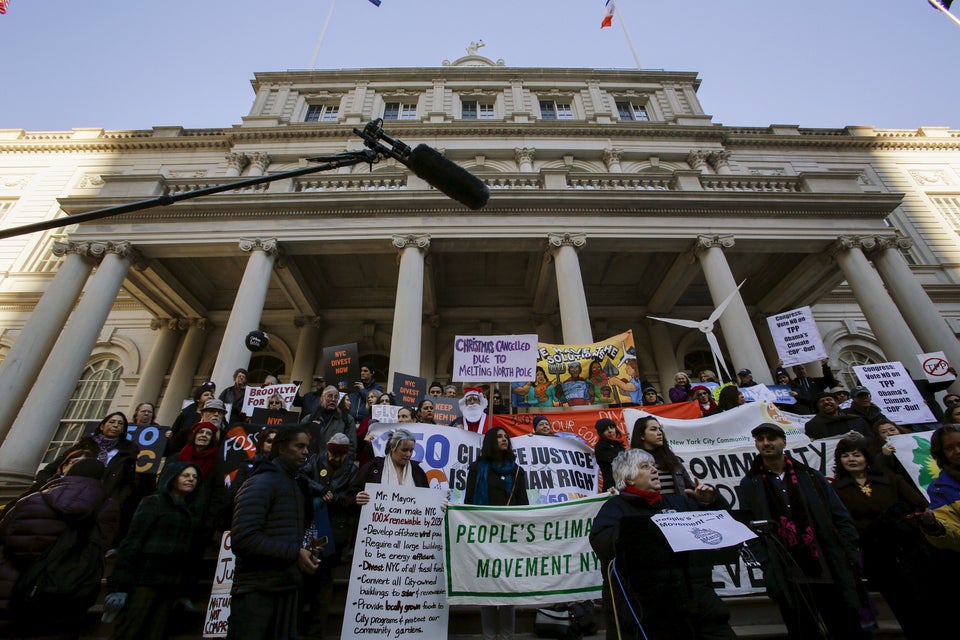 What You Can Do Right Now To Stop Donald Trump's Dangerous Climate Agenda
Popular in the Community