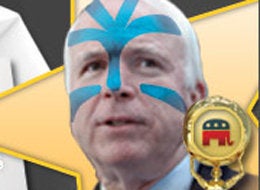 John McCain wasn't mad until after he turned blue in the face.
The Arizona Senator's re-election campaign slammed his Republican challenger, J.D. Hayworth, Thursday over a new political ad that depicts McCain as a member of the blue-hued species from the film 'Avatar.'
Hayworth's Oscar-themed ad attacks McCain for not being a true conservative, with copy that reads "John McCain, nominee for Best Conservative Actor."
KNXV-TV reports that McCain's campaign asked Hayworth to remove the first iteration of the ad because it was insulting to Native Americans. Hayworth's camp refused, telling Sen. McCain to "get a sense of humor," and instead released a second advertisement that added more blue to McCain's face.
The first and second version's of Hayworth's ads.

According to The Arizona Republic, McCain's campaign communications director responded to the second ad with this written statement:
"The Hayworth campaign obviously understands that the ad is offensive since they've already changed it. Unfortunately, this proves yet again that Mr. Hayworth isn't focused on solving the big challenges Arizona faces, but instead seems consumed by petty and insulting attacks against Senator McCain. It's another example of just how hollow all of Mr. Hayworth's talk about 'respecting' Senator McCain actually is."
The advertisement ran on the homepage of the Drudge Report and is currently on Hayworth's campaign web site.
Hayworth, a former U.S. Congressman and radio talk show host, lost his House seat in 2006, after being investigated for his ties to disgraced lobbyist Jack Abramoff. Hayworth bills himself as "The Consistent Conservative."
Popular in the Community