OAK BROOK, Ill. -- Police arrested a rabbi and others who took part in a protest on the campus of McDonald's headquarters on Wednesday afternoon.
After protesters passed through a security kiosk onto McDonald's property, police issued an order to disperse and began arresting protesters lined up behind a barrier erected in front of a headquarters building. Despite the arrests, the atmosphere seemed collegial. "We're all on the same team," a police officer told the unnamed rabbi.
Police arrested 138 people, including many workers, for trespassing, according to a spokeswoman from the Oak Brook Police Department.
Protesters, who are demanding $15 an hour and the right to unionize, are also slated to continue their actions during McDonald's shareholder meeting to be held on Thursday.
One protest organizer, Rev. Ronald Wanless who came all the way from Pittsburgh, Pennsylvania, said he'd offer the cops a beer if he could.
Emmanuel Gonzalez, who has been working at McDonald's for seven months, said he showed up to the protest Wednesday prepared to be arrested (he hasn't been). Arrest is "the price we have to pay to fight for $15 and hour," said the 18-year-old, who is just weeks away from his high school graduation.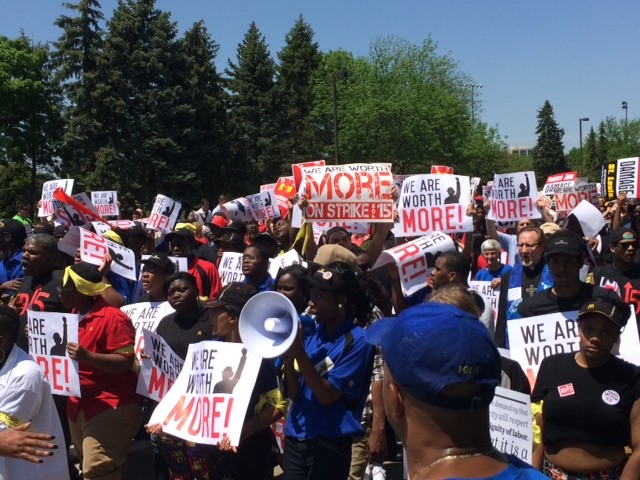 Wednesday's protest at McDonald's headquarters (from HuffPost's Kim Bellware).
McDonald's spokeswoman Lisa McComb wrote in an email to HuffPost that "the company remains focused on welcoming our shareholders to McDonald's annual meeting."
"We respect everyone's rights to peacefully protest," she wrote. McComb also called the protests "a staged event," and said that only a small number of the participants were McDonald's workers, a claim activists dispute.
McDonald's closed the building originally scheduled to be the site of the protests, pushing activists to move the demonstration to a nearby location on the company's sprawling Illinois headquarters. McComb acknowledged in an email to The Huffington Post that the company closed the building on advice from the police. McComb wrote that the McDonald's campus includes several buildings, most of which remain open.
"We've adjusted work schedules for our employees and access to our facilities to assist the Oak Brook Police Department to address the protests and the related traffic congestion," she wrote in the emailed statement.
Bernard Jakes, pastor at West Point Baptist Church in Chicago turned out for the protest to show his solidarity with the workers.
"We're fighting for livable wages for workers of McDonald's," he told HuffPost. "Fighting for them and their right to unionize. It's not only a mandate of our faith, it's a human right. Treating people fairly is a human right."
McDonald's is going through a rough period: Labor activists are demanding better wages. The company is losing market share in the all-important breakfast category to Taco Bell. It's also facing backlash from franchisees and customers after rolling out too many new menu items too fast.
Business Insider reported earlier this week that McDonald's isn't allowing media to attend its shareholder meeting. The company claims the decision was made after getting feedback from reporters who seemed uninterested in attending. Analysts told Business Insider that the company made the decision to avoid exposing itself to bad publicity.
The meeting will be webcast for reporters to watch across the country.
Indeed, the share of jobs in the U.S. that are low-wage has skyrocketed since the recession, while the share of jobs that pay $15 or more has decreased.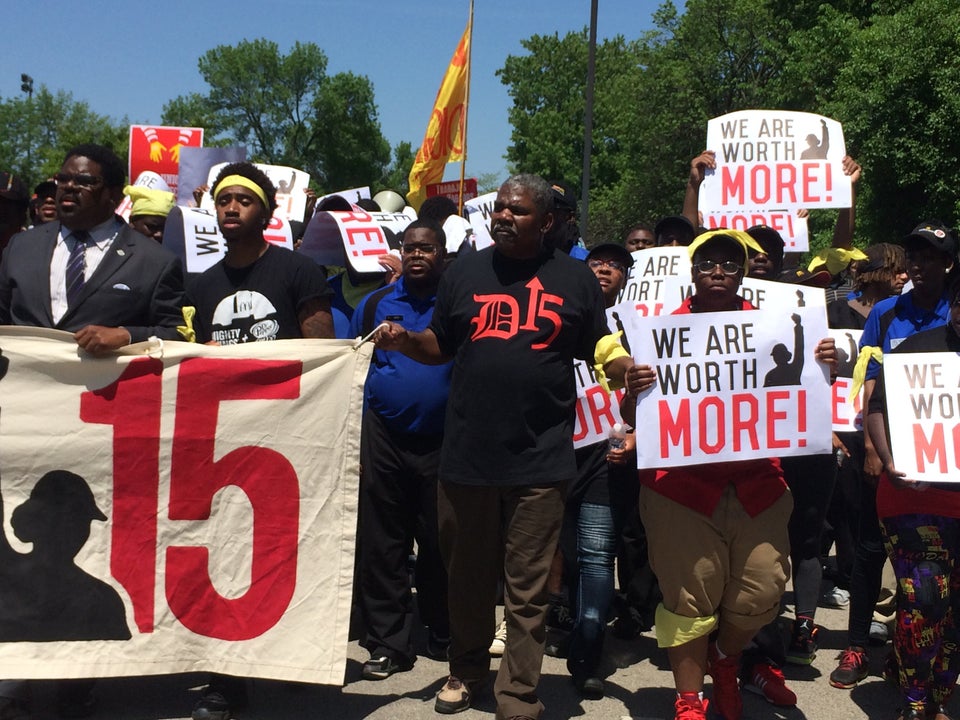 McDonald's Protesters Outside Corporate Headquarters
UPDATE: This post has been updated to include the number of arrests confirmed by police.
Related
Popular in the Community