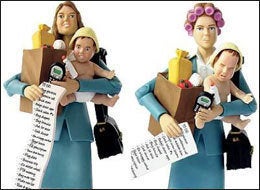 Mother's Day has come and gone. But is there a way to carry over the warm and fuzzy feeling of the Hallmark holiday into your day-to-day routine? You bet. It all starts with you and your mindset.
Around this time last year, when I was surveying preschools, one of the toddler teachers I met gave the moms a talk about Mother's Day. She said, "I want to save you some aggravation when the holiday comes around in a few weeks. Plan your Mother's Day yourself. Tell your husband how you want to spend it and then arrange it yourself. You'll save yourself a lot of disappointment."

At first, I was put off. Who was this stranger with this sour-sounding advice? But the more moms I told about this weird encounter, the more told me they kind of agreed. I realized that what this person was really talking about transcended Mother's Day. It was about the importance of being proactive when it comes to taking care of ourselves.
"We need to make Mother's Day every day," says Los Angeles life coach and owner of Mothercraft Coaching, Carley Knobloch, who ran a mom's retreat last weekend in Malibu, CA geared to encourage moms to nurture themselves. Knobloch says if you show your family that you need time for yourself (whether it's to go to the gym, take a bath or just take a deep breath), you'll be a much more energized and happier caregiver.

"You have to teach people how to treat you. You have to take the initiative to inspire your children and your husband to be kind to you all the time," she explains.

My mission in starting my weekly email and website, The Well Mom, was to empower women to do the same. I strongly believe that you can only be the best caregiver possible if you are caring for yourself in mind, body and spirit. A couple of new books out this spring share this sentiment, as well.
In Mothers Need Time-Outs, Too (McGraw-Hill 2008), authors Susan Callahan, Anne Nolen and Katrin Schuman challenge readers to balance the inherent selflessness of motherhood with the need to be selfish in order to survive. They spent several years interviewing more than 500 women and concluded that "sometimes putting yourself and your desires before your children's" can lead to more satisfaction and calm in the home. This is not about spending hours lounging at the spa (although that would be nice once in a while). The authors are really talking about letting go of the pressure to be the "perfect" mom -- the mother who sacrifices all of herself, puts herself last and ends up feeling burned out and resentful.
For first-time moms, The Rookie Mom's Handbook, written by Heather Gibbs Fleet and Whitney Moss (Quirk books, 2008) offers 250 activities geared to regaining a sense of self and well-being during those early months of postpartum haze. "Your baby's not going to say, 'Hey, mom, let's go to the coffee shop and get you a treat!' This is where our book comes in," they explain.
Of course, if you are lucky enough to have a partner, you realize that taking some coveted "me-time" is a two-way street. Life coach Knobloch says it's important for partners to acknowledge that not only do moms need to carve out time for self-care, but everyone is entitled to it. She says it's up to us to make sure our loved ones are also taking their own time-outs. She told me she tries to encourage her husband to go out for a bike ride and he reciprocates by watching the kids while she browses at the Farmer's Market.
Once it becomes a family routine for each of you to enjoy time-off, Knobloch says you can never underestimate the value of saying thank you to reinforce just how well your time-off was spent.

"It inspires people to be kind when they know you really appreciate it," she says.

So - what are you waiting for?
The Well Mom Guide to Making Mother's Day Every Day
Assess your sanity staples.
-What do you need to stay on an even keel each day? Figure out your necessities and make them non-negotiable. Need 8 hours of sleep? Hit the sack a little earlier.
-Need to work up a sweat? Switch off childcare duties with your partner, find a gym with babysitting or enlist a friend to walk with you (with or without the stroller).
Ask for help
-Once you've figured out your staples, round up some assistance from your partner, family or neighbor. In the grand scheme of things, stepping away for 45 minutes to tune out is not a lot to ask. But you've got to make it a habit. Just like brushing your teeth.
Reciprocate
Return the favor to your partner. You'll both be a lot happier if you each have time to decompress.
Please check out my website, The Well Mom and sign up for my weekly email for more tips and stories about motherhood and the pursuit of wellness.
Related