It is National Pollinator Week, created to raise awareness of and appreciation for bees and other pollinators that play a vital role in our ecosystem. No bees, no food. In honor of National Pollinator Week, here's an updated post which originally ran on June 23, 2014.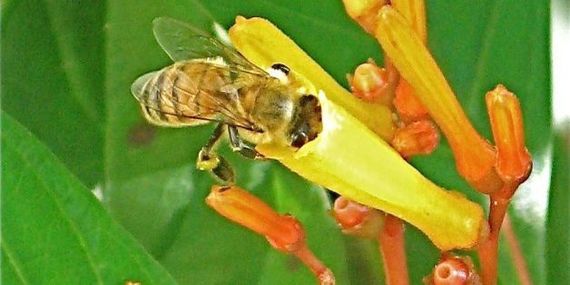 "Growing up, I was told bees were sacred," says Katie Sanchez. "There's a balance, and we are here to cherish that gift." Sanchez, a beekeeper's daughter, took the message to heart. She's the creator of Bee Free Honee, honey's plant-based twin. Made with apples and lemon juice, it has honey's same sweetness, slightly tart finish, golden glow and viscosity. It just doesn't come from bees.
The bees, as Sanchez sees it, have more than enough to contend with -- their very survival. And ours. The bees would probably get along fine without us. They always have. They've been around for 50 million years. It's only within the past 15 years there have been serious signs of trouble. Bees have been dying off or abandoning their hives -- their homes -- in number. We don't yet have an answer, we just have a name for it -- Colony Collapse Disorder.
Sanchez first started hearing about Colony Collapse Disorder or CCD in 1999, the same year her son Agustin was born -- prematurely -- weighing just over a pound. She worried about her son, she worried about the bees, she worried about the future for all of us. Bees are the key from everything from biodiversity to having enough to eat., or as Sanchez puts it, "The essence of life is through pollinators."
Trained as a pastry chef and based in Minnesota, Sanchez began talking to local bee keepers. Their hives were disappearing. But the way they were keeping bees was nothing like the holistic beekeeping practices she'd learned from her father. "Nothing about the bee life is natural anymore. They clip the wings of the queen so she can't fly, can't leave. They have structured the bee world so it completely suits the human needs for that commodity of honey," says Sanchez. "The bees are the treasures, not the honey."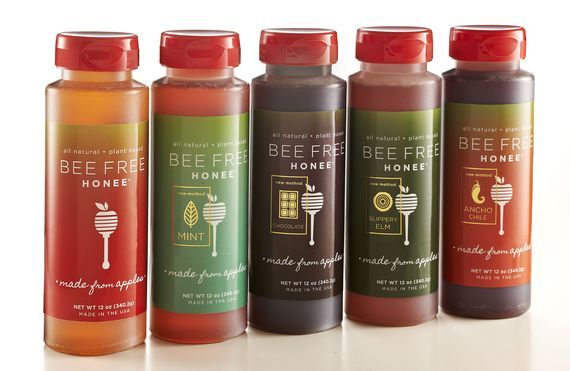 Farming practices have also changed -- for the most part, not for the better. Experts link CCD to GMOs, climate change, and most recently, the neonicitoids in pesticides. It may not be any one thing but a weird admixture of all of it, and it all stems from human interference.
Identifying the problem is not the same as solving it. You can't just blame the government, and get mad and end there. We all have a role we need to partake in." For Sanchez, that means providing an alternative. Bee Free Honee is a happy accident, the result of an apple jelly recipe that didn't gel. It gelled Sanchez's hopes of saving the bees, though, by providing a sweet alternative. Yes, she's making and selling something, but protecting the bees -- and us -- "is not separate from my business."
Bee Free Honee's recent "Shark Tank" moment helped business, but also helped drive public awareness of our food system, the role we play in it and its own role in our personal and global well-being. Sanchez went meatless after starting the company and "after my son was born, I became hyper-aware of nutrition. We're feeding the human body," she says. "I don't take it lightly." "
Agustin is now 17 and the older brother to Emma, 13. He's autistic and faces certain challenges. We all do. We cannot live without the bees.
Sanchez is not a bee keeper per se, she just wants to keep bees alive and pollinating -- for everyone's sake. "I would only think of it as a failure if I didn't try."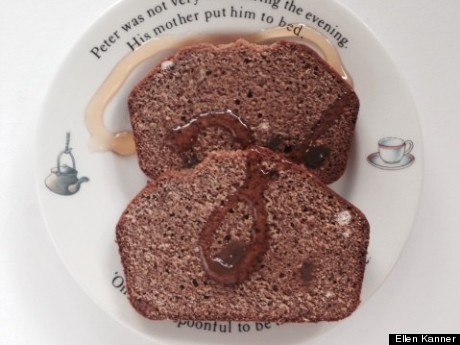 Pain d'Epices

Literally spice bread, this traditional treat from Dijon is made with honey, spices and whole grain flour. It's gingerbread's rustic precursor. If you can resist it straight from the oven, let it cool, wrap it well and refrigerate. The spiciness deepens and the bread grows moister and more tender each day. The French often make this in early December to give as Christmas gifts, but it's welcome any time, especially during National Pollinator Week.

1-1/2 cups unsweetened soy milk
1 cup Bee Free Honee or agave or the two combined
1 tablespoon brandy
1 cup rye flour
1 cup unbleached all-purpose flour
1-1/2 teaspoon aluminum-free baking powder
1/2 teaspoon baking soda
1-1/2 teaspoon ginger
1-1/2 teaspoon cinnamon
1/4 teaspoon ground nutmeg
1/4 teaspoon ground cloves
1/2 teaspoon cardamom powder
1 teaspoon whole anise seeds
grated zest of 1 lemon
1/4 cup crystallized ginger, chopped (optional)

Preheat oven to 350 degrees.

Lightly oil a 9X5" loaf pan. Sprinkle in a little flour to coat and tap out excess.

In a medium saucepan, gently heat the soy milk, honee or agave and brandy over medium heat, just for a few minutes, stirring occasionally, until honee dissolves and incorporates.

In a large bowl, sift together rye flour, all-purpose flour, baking powder and baking soda. Add the ginger, cinnamon, nutmeg, cloves, cardamom, anise and grated lemon zest. Pour in the soy milk and honee. Stir lightly to combine. Batter will be thick. Finally, stir in the crystalized ginger, if using.

Pour batter into the loaf pan and bake for 45 minutes, until the top is golden brown and an inserted tester comes out clean.

Makes 1 loaf, serving 10 to 12.
More at soulfulvegan.com.
Related
Popular in the Community