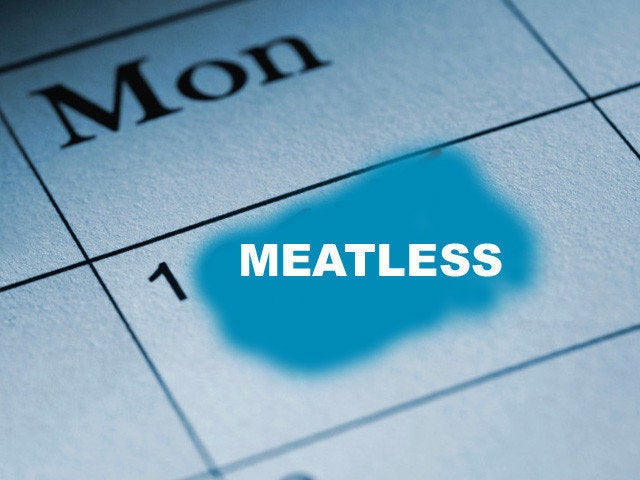 Like countless Americans, I take part in Meatless Monday. (I also eat meatless on Tuesdays, Wednesdays and every other day of the week, but that came after a while.) Though I'm vegan and advocate that others eat a plant-based diet, I know that many people aren't quite ready to take that step in whole. For those folks, the concept of simply reducing our meat consumption -- say, going meat-free every Monday -- might be a bit more digestible.
According to the American Meat Institute, about one-fifth of all Americans are now partaking in this weekly holiday from meat. And if they're anything like me, they get asked "Why?" a lot. Well, for anyone who wants to answer that question on auto-pilot, I highly recommend sharing this new three-minute animated video about Meatless Mondays -- share it with your friends, your family, coworkers, neighbors, Twitter followers, your plumber, local crossing guards and anyone else you can think of. The short video, produced by my friends at The Humane Society of the United States, is a fun way to show the people in your lives why you support eating plant-based foods one day (or in my case, seven days) a week.
So who else supports Meatless Monday? Well, it was founded by the U.S. Food and Drug Administration (as a resource-saving measure during WWI). Today, environmental groups like Environmental Defense Fund and Natural Resources Defense Council, health groups like The National Physicians Alliance and even meat-heavy companies and chefs like Wolfgang Puck, Mario Batali, Sodexo and Moe's Southwest Grill all support the idea of reducing our meat consumption.
And this makes sense. As we become more aware of what we're eating and gravitate toward healthier, sustainable and humane diets, many people are on the lookout for new foods. Plus, a lot of people are starting to simply enjoy food -- and preparing it -- more. And part of that enjoyment can be found by trying out new, creative ways to prepare meals with things like whole grains, beans, tofu, tempeh, high protein meat alternatives like veggie sausage and non-animal chik'n. And with all the great foods available these days there is no reason why you can't enjoy all your traditional favorite dishes; you simply opt for better, healthier versions of them.
So if nothing else, think of Meatless Mondays as a culinary adventure. Check out the video. If you like it, pass it around. Then maybe sign up to get a free meatless recipe each week. Reacquaint yourself with the produce aisle. Investigate the vegetarian foods section at your grocery store. Test out new products and veggies you've never tried before. It's your life and your food -- love it! Bon appétit!