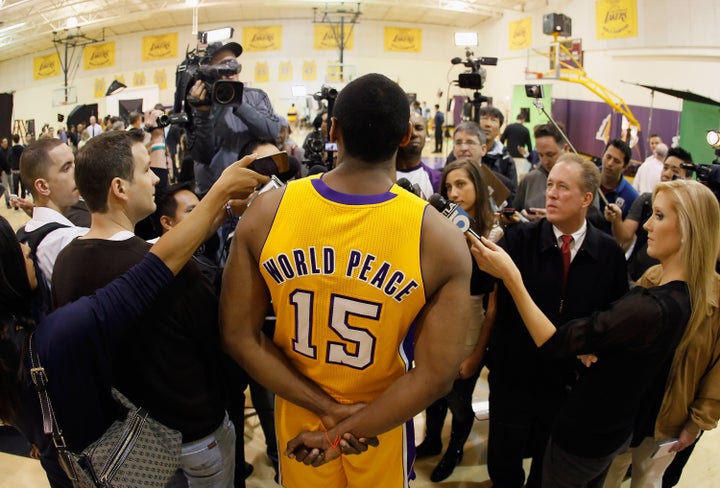 The time has come for Metta World Peace...
The Los Angeles Laker formally known as Ron Artest revealed his new #15 jersey over the weekend at the LA Lakers Annual Media Day -- and as everyone anticipated, "World Peace" was in bold across his back.
Angelenos and basketball fans took to Twitter to talk about the new jersey. @Lakers_Examiner wrote, "Metta World Peace debuts new jersey on media day for Los Angeles Lakers http://shar.es/oQvbP #Lakers #MettaWorldPeace". Others were not so neutral. @Allan Mathew_ wrote, "#RonArtest is #MettaWorldPeace what is wrong with that man? He's dumber than most rappers, and he is a pseudo-rapper."
The NBA even officially changed the often outspoken Forward's profile on the Lakers online roster-- which has been the focus of recent headlines due to the team's trade negotiations.
The highly anticipated Media Day was an opportunity to see the Los Angeles Lakers as a set team post-botched trade deal and with Mike Brown as head coach.
Lamar Odom, the former Laker and beloved reality TV star, was not present as he was recently traded to Dallas. Kobe Bryant spoke out about the absence, he said, "To be honest with you, I don't like it."
The preseason begins on December 19 where a true LA battle will take place: the Los Angeles Lakers versus the Los Angeles Clippers. Until then, browse photos from the Media Day below.
All images courtesy of Getty.
Related
Popular in the Community