MEXICO CITY, Sept 20 (Reuters) - Rescuers frantically worked to dig a young girl out from under the rubble of a partially collapsed school in Mexico City on Wednesday, offering a small glimmer of hope amid devastation from a major earthquake that killed at least 230 people.
Television network Televisa broadcast the nailbiting rescue attempt live after crews at the school in the south of the city reported finding the girl, seeing her move her hand and threading a hose through debris to get her water 24 hours after the quake.
The girl's name was not made public. Rescuers moved slowly, erecting makeshift wooden scaffolding to prevent the remains of the teetering structure from crumbling. They implored bystanders to be quiet to better hear calls for help.
It was part of a search for dozens of victims feared buried beneath the Enrique Rebsamen school, where local officials reported 21 children and 4 adults dead after Tuesday's quake. The school was one of hundreds of buildings destroyed by the country's deadliest earthquake in a generation.
The magnitude 7.1 quake, which killed at least 93 people in the capital alone, struck 32 years to the day after a 1985 earthquake that killed thousands. Mexico is also still reeling from a powerful tremor that killed nearly 100 people in the south of the country less than two weeks ago.
As rescue efforts continued at the school, a facility for children aged 3 to 14, emergency crews, volunteers and bystanders toiled elsewhere using dogs, cameras and heat-seeking equipment to detect survivors.
Reinforcements also began to arrive from countries including Panama, Israel and Chile, local media reported.
Hundreds of neighbors and emergency workers pulled rubble from the ruins of the school with their bare hands under the glare of floodlights a full day after the shock. Three survivors were found at around midnight as volunteer rescue teams known as "moles" crawled deep under the rubble.
By Wednesday morning, the workers said a teacher and two students had sent text messages from within the rubble. Parents clung to hope that their children were alive.
"They keep pulling kids out, but we know nothing of my daughter," said 32-year-old Adriana D'Fargo, her eyes red, who had been waiting for hours for news of her seven-year-old.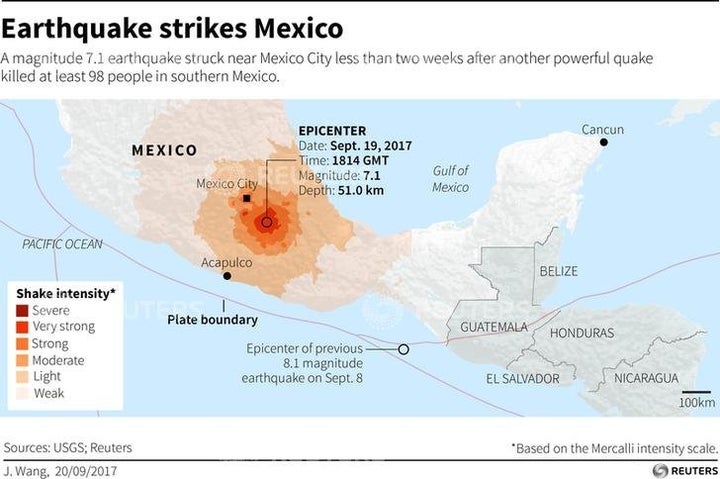 RESCUED KIDS
Overnight, volunteers with bullhorns shouted the names of rescued kids so that waiting family members could be reunited with them.
"The priority continues to be rescuing people from collapsed buildings and taking care of the injured," said President Enrique Pena Nieto. "Every minute counts."
In Morelos state, just south of the capital, 71 people died, with hundreds of homes destroyed. The local governor declared five days of mourning. In Puebla, at least 43 died and there were fatalities in other nearby states.
While many others remain missing, 52 people have been rescued so far from damaged buildings in Mexico City, Mayor Miguel Angel Mancera said.
Nearly 5 million homes, businesses and other facilities lost electricity, including 40 percent of homes in Mexico City. Power was later re-established to most areas affected.
The earthquake toppled dozens of buildings, tore gas mains and sparked fires across the city and other towns in central Mexico. Falling rubble and billboards crushed cars.
Even wealthier parts of the capital, including the Condesa and Roma neighborhoods, were badly damaged as older buildings buckled. Because bedrock is uneven in a city built on a drained lake bed, some districts weather quakes better than others.
Parts of colonial-era churches crumbled in the adjacent state of Puebla, where the U.S. Geological Survey put the quake's epicenter some 100 miles (158 km) southwest of the capital.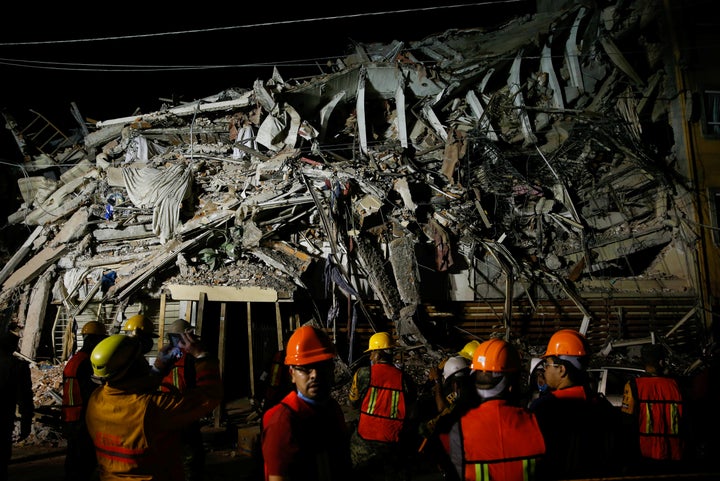 VOLCANO ERUPTS TOO
Around the same time that the earth shook, Mexico's Popocatepetl volcano, visible from the capital on a clear day, had a small eruption. On its slopes, a church in Atzitzihuacan collapsed during Mass, killing 15 people, Puebla Governor Jose Antonio Gali said.
In Rome, Pope Francis said he was praying for Mexico, a majority Catholic country. "In this moment of pain, I want to express my closeness and prayers to all the beloved Mexican people," he said.
U.S. President Donald Trump said in a tweet on Tuesday: "God bless the people of Mexico City. We are with you and will be there for you." Trump and Pena Nieto spoke at length on Wednesday, according to the White House.
Residents of Mexico City, home to some 20 million people, slept in the streets while authorities and volunteers distributed food and water at tented collection centers.
Some volunteers in Mexico City expressed frustration at the disorganization among military and civilian emergency services, which competed over who would lead the rescue efforts.
Javier Gonzalez, a 21-year-old civil engineering student, spent the night along with two classmates helping at one of the collapsed buildings in the fashionable Roma neighborhood, then moved on to the Enrique Rebsamen school early Wednesday where they saw officials bickering over the rescue effort.
"The firefighters and emergency services personnel were more worried about who was in charge," said Gonzalez.
The middle-class neighborhood of Del Valle was hit hard, with several buildings toppling over on one street. Reserve rescue workers arrived late at night and were still pulling survivors out as the sun rose on Wednesday.
In Obrera, central Mexico City, people applauded when rescuers managed to retrieve four people alive, with cheers of "Si se puede." ― "Yes we can." ― ringing out.
(Additional reporting by Anthony Esposito, Lizbeth Diaz, Daina Beth Solomon, Stefanie Eschenbacher, Julia Love, Noe Torres; Writing by Frank Jack Daniel and David Alire Garcia; Editing by Jeffrey Benkoe and Alistair Bell)
Before You Go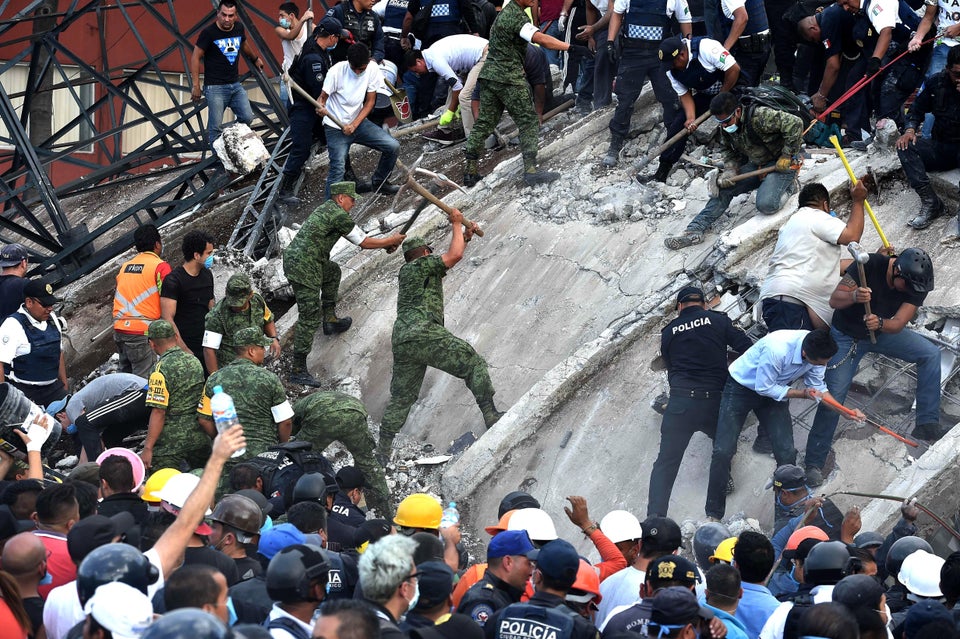 Earthquake Rattles Mexico City
Popular in the Community