Most Americans think the resignation of Michael Flynn as the White House national security adviser last week is worthy of a congressional investigation, a new HuffPost/YouGov survey finds, with a near-majority saying his conduct could be indicative of a broader issue.
Flynn stepped down Monday after revelations that he misled Vice President Mike Pence and other White House officials about his communications with the Russian ambassador to the United States.
While 45 percent think Flynn's conduct was a very serious problem, 25 percent say it was only somewhat serious, and 15 percent that it was not very or not at all serious. The subject hasn't been at the top of most Americans' minds ― just about a quarter say they followed news about the story very closely, with 43 percent saying they followed it not very closely or not at all.
By a 30-point margin, 54 percent to 24 percent, Americans say there should be a congressional investigation into the circumstances leading to Flynn's resignation, with 22 percent unsure. (Another poll, released Friday by SurveyMonkey, found even wider agreement, with 67 percent of Americans favoring a congressional investigation into the events leading to Flynn's resignation and 30 percent opposed.)
By a 21-point margin, 48 percent to 27 percent, respondents in the HuffPost/YouGov survey say they think Flynn's conduct is part of a larger pattern in the Trump administration's relationship with Russia, rather than merely an isolated incident. A quarter say that they're not sure.
Voters who supported Hillary Clinton in 2016 are far more concerned than those who supported Trump. Though a majority of both groups believe Flynn's conduct was at least a somewhat serious problem, Clinton voters are about four times likelier than Trump voters to consider it very serious. Eighty-nine percent of Clinton voters, but just 27 percent of Trump voters, want to see a congressional investigation.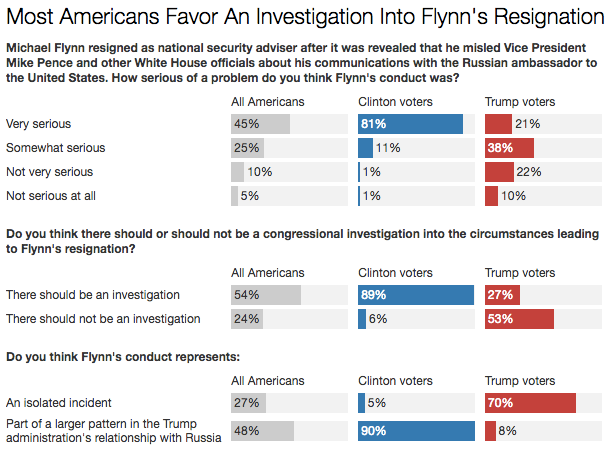 Feelings about the media's handling of the story are also divided along political lines. Two-thirds of Trump voters say the media is making too big of a deal about Flynn's resignation, while a 51 percent majority of Clinton voters say that the media has not made a big enough deal out of it.
The public is about evenly divided on whether Flynn's communications with Russia were more or less problematic than Hillary Clinton's handling of sensitive government information during her time as secretary of state, with 37 percent choosing the former and 38 percent the latter. Perhaps unsurprisingly, 83 percent of Clinton voters say they find Flynn's conduct more concerning, while 86 percent of Trump voters say that Clinton's behavior was a bigger problem. Americans who didn't vote in the last election are split, with 30 percent each naming Clinton and Flynn, and the remaining 39 percent picking "neither" or saying that they aren't sure.
Overall, a 43 percent plurality of Americans say Trump's policy toward Russia has not been tough enough, with 23 percent saying it's been about right and 3 percent that it has been too tough. By comparison, a HuffPost/YouGov poll taken during former President Barack Obama's final month in office found that 29 percent thought Obama wasn't tough enough on Russia, 28 percent that he was about right, and 14 percent that he was too tough on the country.
A 53 percent majority of Americans now want Trump to keep in place the sanctions former President Barack Obama announced against Russia before leaving office, and just 16 percent say Trump should remove them. Clinton voters are nearly unanimous on the issue, with 89 percent wanting Trump to keep the sanctions. Trump voters are more split, with 30 percent saying the president should keep the sanctions, 30 percent that he should lift them, and 40 percent that they are unsure.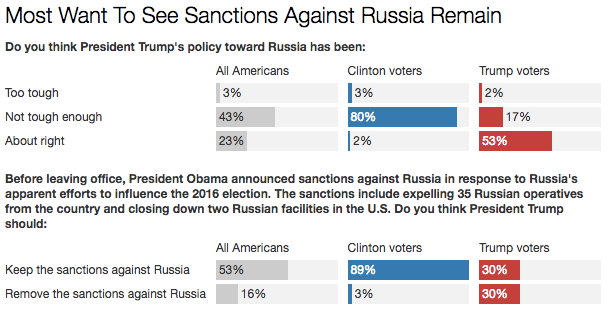 Use the widget below to further explore the results of HuffPost/YouGov's survey, using the menu at the top to select survey questions and the buttons at the bottom to filter the data by subgroups:  
The HuffPost/YouGov poll consisted of 1,000 completed interviews conducted Feb. 15-17 among U.S. adults, using a sample selected from YouGov's opt-in online panel to match the demographics and other characteristics of the adult U.S. population.
The Huffington Post has teamed up with YouGov to conduct daily opinion polls.You can learn more about this project and take part in YouGov's nationally representative opinion polling. Data from all HuffPost/YouGov polls can be found here. More details on the polls' methodology are available here.
Most surveys report a margin of error that represents some, but not all, potential survey errors. YouGov's reports include a model-based margin of error, which rests on a specific set of statistical assumptions about the selected sample, rather than the standard methodology for random probability sampling. If these assumptions are wrong, the model-based margin of error may also be inaccurate. Click here for a more detailed explanation of the model-based margin of error.
REAL LIFE. REAL NEWS. REAL VOICES.
Help us tell more of the stories that matter from voices that too often remain unheard.