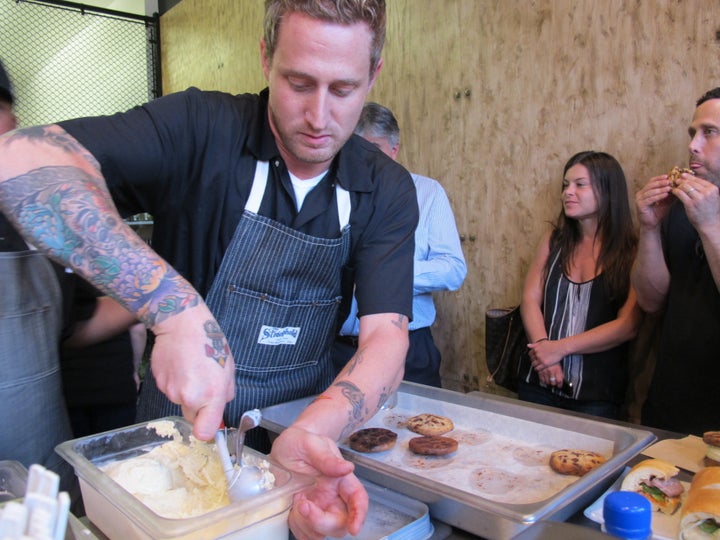 Chef Michael Voltaggio dropped a delicious bomb at the media preview of his upcoming restaurant, ink., in West Hollywood. While the much-delayed venture will finally be opening in September, Voltaggio is actually opening a second restaurant tomorrow, reports the Daily Beast.
The surprise sandwich counter, named ink.sack, is just a few storefronts down from ink. on Melrose Avenue. Housed in the former Xooro space, it's just big enough for ten or so people to stand in line. His sous-vide style of cooking does not lend itself to a food truck, so the concept is a brick-and-mortar version of the craze. There's some counter space (but not much) and no chairs. And that's exactly how Voltaggio wants it.
At ink.sack, the blackboard menu is filled with perfect gourmet sandwiches that still have nostalgic flavors: tuna salad is a sushi-grade miso-cured albacore, fried chicken is cooked sous vide with centrifuged buttermilk as the cheese, a C.L.T. replaces bacon with chicken liver mousse and curried fried chicken skin and for dessert, Voltaggio's interpretation of an ice cream sandwich that is like magic in your mouth.
Spotted at the preview: chefs Jon Shook and Vinny Dotolo of Animal and Son of A Gun, as well as chef Roy Choi of the Kogi Trucks, Chego and A-Frame. It's a pretty good sign when you see chefs at some of LA's hottest restaurants chowing down on Voltaggio's grub.
But we wouldn't expect anything less from a top chef.
Photos by the Huffington Post. See the whole ink.sack menu below.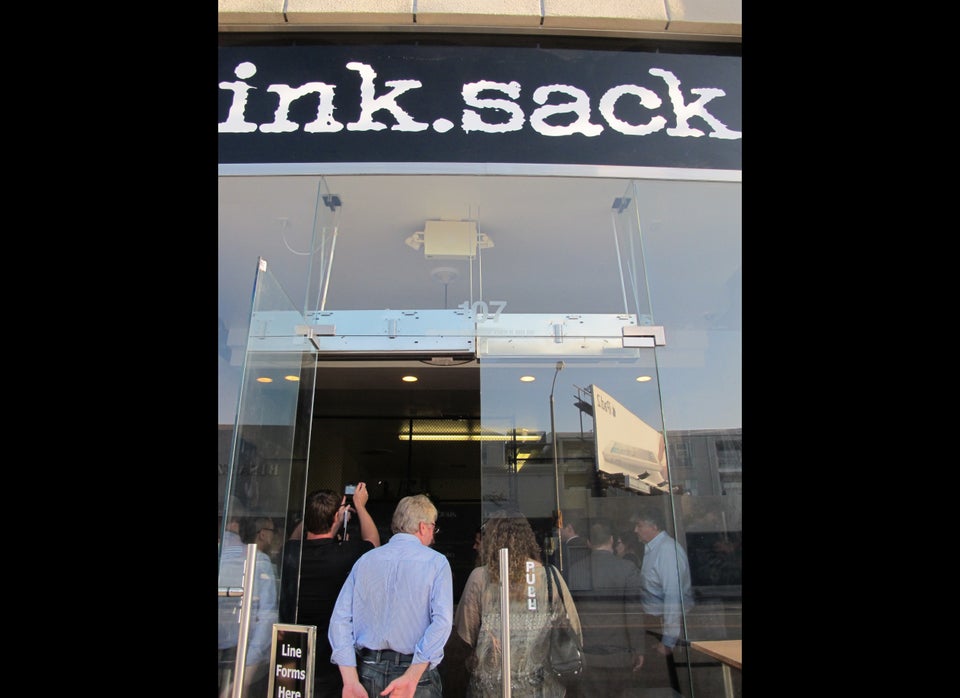 Michael Voltaggio Ink
Sandwiches
Cold Fried Chicken: House Made Ranch, Cheese, Gindo's Spice of Life ($4)
Spicy Tuna: Miso-Cured Albacore, Wild Rice, Sriracha Mayo ($4)
Banh Mi: Pork Cheek, Chicharrones, Pickled Vegetables ($5)
The Jose Andres, aka "The Spanish Godfather": Serrano Ham, Chorizo, Lomo, Manchego ($6)
C.L.T.: Chicken Liver Mousse, Curried Chicken Skin, Lettuce, Tomato ($5)
Maple-Pepper Turkey: Camembert, Mustarda, Arugula ($5)
Beef Tongue "Reuben": Appenzeller Cheese, Kraut, Russian Dressing ($5)
Potato Chips
Salt, Pepper, Vinegar ($2.5)
Maryland Crab Chips ($2.5)
Fruit
Sweet Fruit: Pineapple, Jicama, Mango, Melon, Chile y Limon ($4)
Water Melon: Sriracha, Lime ($3)
Ice Cream Sandwiches
Peanut Butter and Jelly ($5)
Mexican Chocolate Chip and Horchata ($5)