Michelle Obama went from sporty to sophisticated on Saturday, starting the day with Nickelodeon's Worldwide Day of Play.
A typical Nickelodeon event, Worldwide Day of Play featured plenty of gack as well as the requisite Nick star guest appearance, this time in the form of Victoria Justice. But there was a special surprise: LeBron James! The Miami Heat star joined the First Lady to teach the kiddies about the importance of fitness.
But by night FLOTUS ditched her yoga pants and zip-up and donned a black glittering ensemble for the Congressional Black Caucus Foundation Annual Phoenix Awards dinner in Washington, D.C.
With her husband in black tie, Michelle wore a long sequin skirt by Michael Kors and a black tee cinched with a Peter Soronen corset belt, accessorized with chunky black bracelets and a sparkling necklace.
While we don't love Obama's very "mommy" off-duty attire (flared sweatpants, Michelle? Really?) we adore this creative black tie look.
We also, for the record, adore the super cute pic of LeBron hugging the First Lady. Truly adorbz.
Check out Michelle on- and off-duty looks below!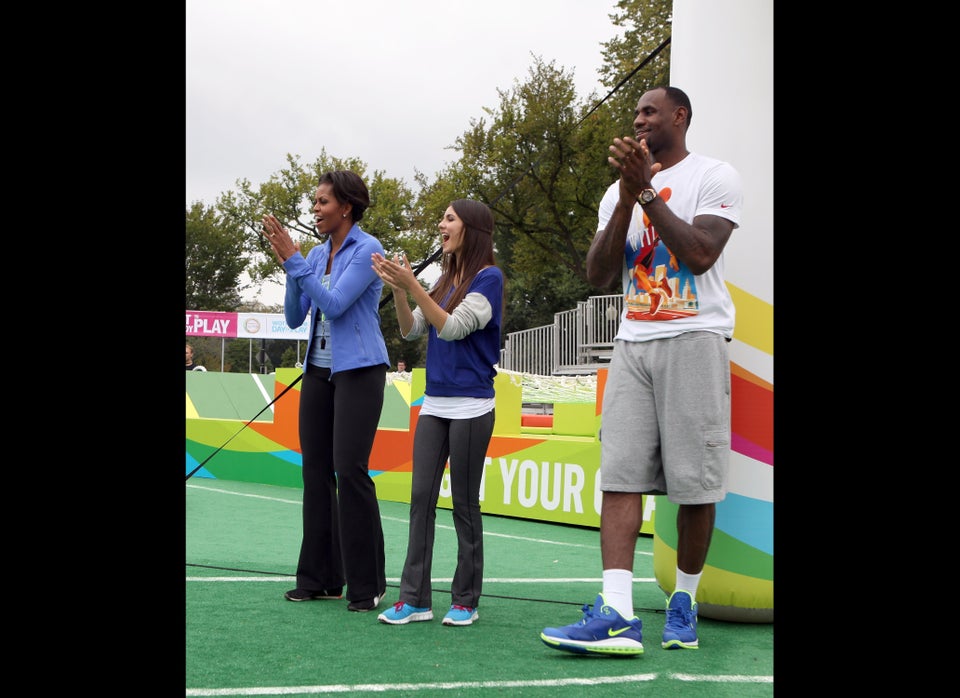 Michelle Obama, September 24