Despite her daughters' love of macaroni and cheese, first lady Michelle Obama reveals in a new interview that she barred the boxed treat from the White House dinner table by teaching Sasha and Malia that cheese dust is not food.
While speaking to Cooking Light magazine about her five-year-old Let's Move! campaign, Obama recalled an exchange between former White House chef Sam Kass and Malia about processed foods:
My kids loved the macaroni and cheese in a box. And [Sam] said, if it's not real food then we're not going to do it. If we want macaroni and cheese, we'll cook it with real milk and real cheese. He said, there's nothing wrong with mac and cheese, but it's got to be real food.

So my oldest daughter [Malia], who was probably 8 at the time, he took a block of cheese and he said, if you can cut this cheese up into the powder that is the cheese of the boxed macaroni and cheese, then we'll use it. She sat there for 30 minutes trying to pulverize a block of cheese into dust. I mean, she was really focused on it, and it just didn't work, so she had to give up. And from then on, we stopped eating macaroni and cheese out of a box, because cheese dust is not food, as was the moral of that story.
By eliminating mac and cheese, Obama got rid of former first daughter Chelsea Clinton's favorite dish. In 2008, former White House executive chef Walter Scheib said Clinton "had a very narrow idea of what she wanted to eat" while in the White House.
"Two of her favorites then were grilled chicken breast with lemon pasta and broccoli, and macaroni and cheese. She was very clear that it had to be Kraft macaroni and cheese from a blue box. We couldn't deviate," Scheib said.
Obama recalled the familiar routine of her family's dinner while growing up on the South Side of Chicago.
Obama said her mom "was famous for her lemon chicken, and that was a good Sunday dish. There was always the sad and unfortunate liver Wednesdays. That was during the time -- my father loved liver, and it just depressed me and my brother to no end when we knew it was liver time."
Despite her and the president's busy schedules, the first lady added that maintaining family dinners is important to them.
"We've found that we've been able to have dinner every -- almost every night together, between 6:30 and 7:00. We have a bigger table and somebody else is doing the cooking, but the conversation and the mood and the tone are still the same. It's our most important time of the day," FLOTUS said.
Before You Go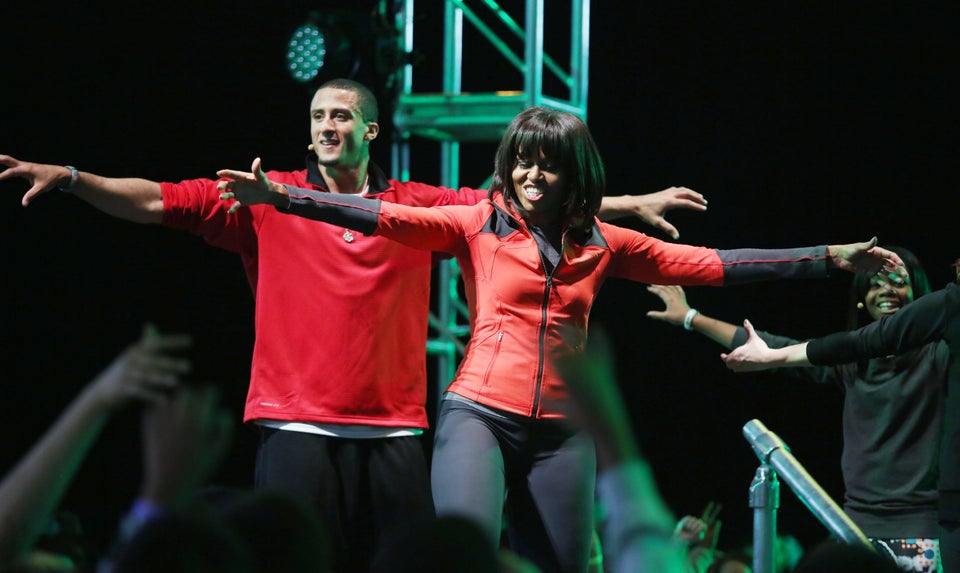 This Is How The FLOTUS Stays Fit
Popular in the Community