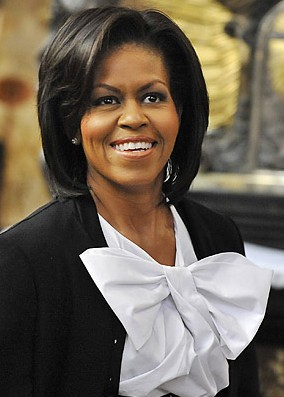 If history teaches us anything, one important lesson to remember is that all nightmares end. Michelle Obama is apparently an excellent history student. Certainly she's learned from the example of other great figures from years past how to look wonderful without undue extravagance.
Alas, how unfamiliar with the rich panoply that is the American saga, most people are. One tiny indicator of such widespread ignorance is the very much mistaken assertion of a fan of our First Lady.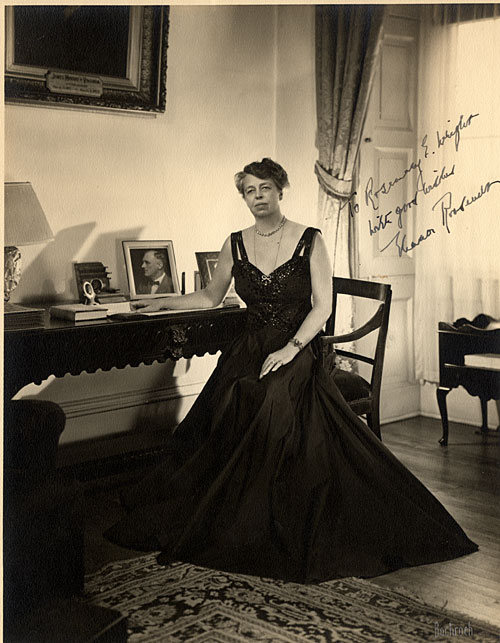 "I'm guessing Michelle Obama would rather emulate someone like Eleanor Roosevelt who actually made a real difference in the world. She is remembered as the greatest First Lady and I doubt she cared who designed her clothes."
This supporter's mistake lies in those final eight words in her last sentence. How completely counter such thinking is to how most people feel, even to our common humanity. Everyone wants to look nice, would like to be admired. In the final analysis, that's most, if by no means all, of the reason women, those who are able, patronize expensive designers. In this respect, Eleanor Roosevelt was no different from you or me. As a member of the upper echelons of New York society, though, from the time of her birth, until she breathed her last, hand-crafted, high fashion formed a central part of her wardrobe.
How cruel, that preoccupied with their dysfunctional idleness, Eleanor Roosevelt's parents never took their shy daughter to an orthodontist.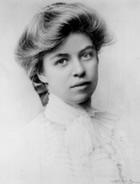 A philandering husband, compounding a sense of insecurity about how she looked, made this truly dynamic First Lady always careful to take great pains, both in terms of her clothes and in maintaining perfect grooming. Dressed in Parisian originals and English tailor-mades as a debutante and young bride, later she patronized specialty shops, like Milgrim's and Bergdorf-Goodman.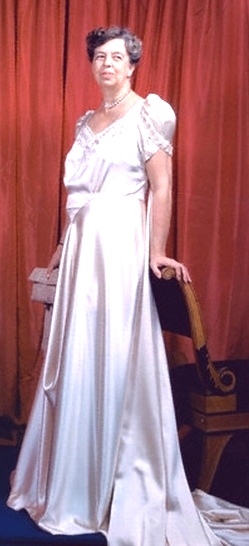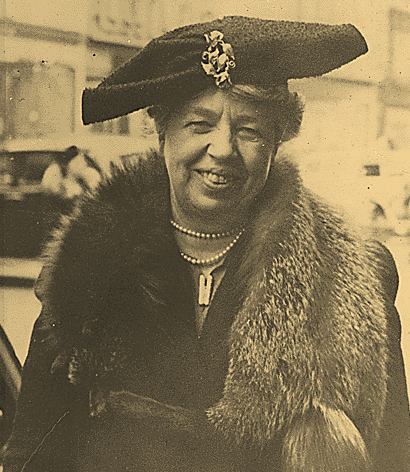 Some felt her striking hats a touch flamboyant, but wherever she went, even in the depths of the first Great Depression, Mrs. Roosevelt was always well turned out.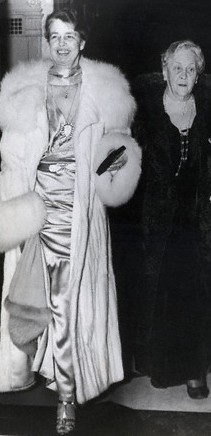 A demi-parure of gold mounted tiger's teeth was among her favorite ornaments, since the tigers had been shot by her beloved, (but mostly absent), father. She also often wore superb diamonds, a Riviere necklace and two large rings. She had in addition pearls and other precious gems. And, yet none of this, or anything else she wore, ever competed with her mission to do what good she could, nor diminished her worthy efforts in any way.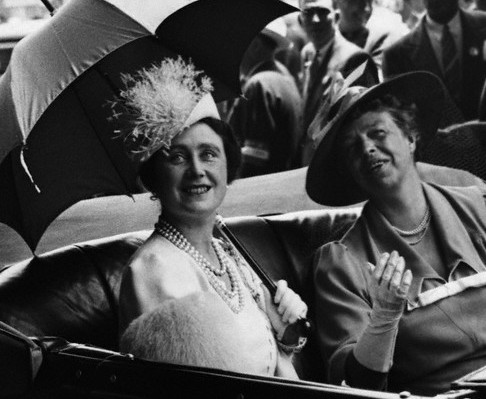 The difference between Queens and First Ladies? In the past, the size of their pearls!
Eleanor Roosevelt with Queen Elizabeth, (the current Queen's mother), in1939
"Striking Vogue-like poses in high-end couture wear in palaces across Europe with Royals is not the picture Americans need to see."
"As far as Mr. de la Renta saying, "'you don't...go to Buckingham Palace in a sweater.'" Why? Perhaps we should all be celebrating a new fashion statement, 'SWEATERS AT BUCKINGHAM PALACE'... dahling; it IS the thing to do."
"I think one reason people embrace her is the fact that she does not have a 'Let them eat cake attitude'. There are a lot of people all over this planet who are not able to afford designer labels, perhaps they might think a little higher of those of us who live in the US because the first lady is dressing like a normal human being."
"Michelle's promoting young American designers, I just want to add that she is also showing restraint in a time of economic crisis by wearing off the rack clothes -- a sensitive and smart thing to do... As much as I love de la Renta's designs, as well as those by other established designers...he misses this critical consideration of the current economic context. If Michelle were to wear exclusively designer clothes, we can count on criticisms about her being tone deaf and insensitive to the plight of many Americans...Perhaps even being "uppity"... I'd rather Michelle remain herself and real. She's doing terrifically and serving as a great role model not only for women everywhere, but the wives of other heads of state."
These were the responses of a few Obama defenders to criticism leveled at the current First Lady's wardrobe choices for the just-completed European summit. Leveled by some of the nation's most stellar couturiers, their indictment was that, as none of their designs had been selected, the USA's best fashions were not being showcased!
Really? Consistently attractive, how smart the President's wife always manages to look. This hardly occurs by chance and most assuredly happenstance had no part in her high-profile first, but not last, visit to the court of Saint James'.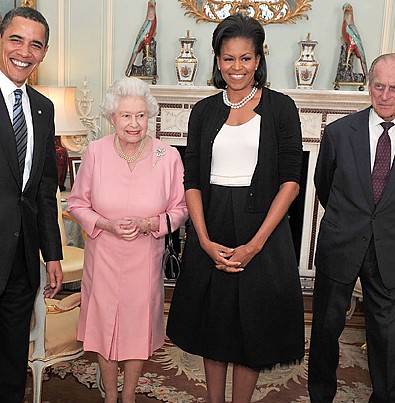 The occasion was a study in contrast, starting with the Obamas' relative youth, humble origins and crucial role on the world stage as a focus of hope. For this private audience the British Monarch was arrayed in bright pink, sporting a handsome diamond flower-brooch, worth at least a million pounds. Towering over her Majesty and HRH Prince Philip the Duke of Edinburgh, her consort, our American President and his wife wore dark apparel of matching modesty.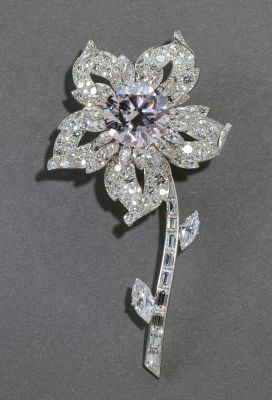 An exceedingly rare 23.6-carat pink diamond

forms the center of this Cartier brooch. It was
presented to the Queen by a Canadian subject,
Dr. John T. Williamson, owner of the world's
richest diamond mine, as a wedding gift, in 1947
In our troubled times, there they stood amidst opulent surroundings. For many people this sumptuousness seems more anachronistic now, than ever before. Appropriately then, the Obamas' clothes symbolized, that even in the realm of the old order, un-seduced, they can be counted on as effective agents for much needed change.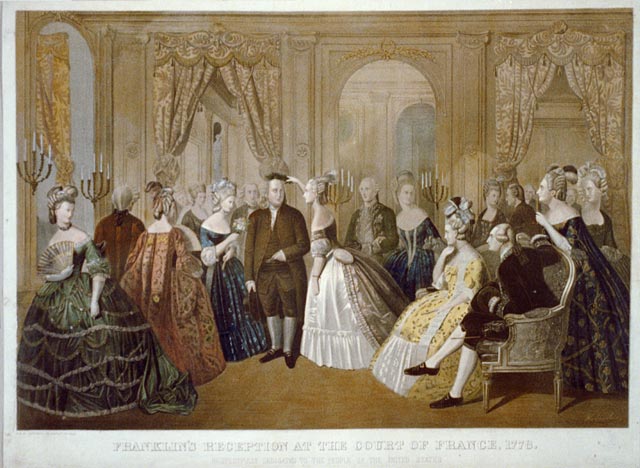 Deceptively simple, their sober dress reminds one of homespun suits Benjamin Franklin wore while ambassador to Louis XVI's glamorous court, at Versailles. Crowned with wreaths of laurel, the sage of the New World was greeted by aristocrats in their elaborate garb as the very embodiment of Rousseau's natural man. Jefferson's habitual, well worn, fur-lined coat and carpet slippers, adopted during his second term at the White House, also comes to mind.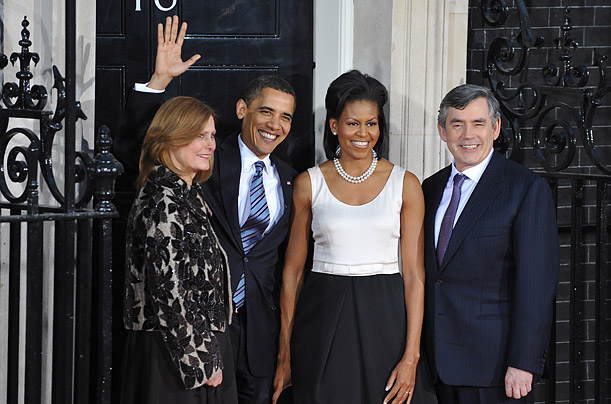 Juxtaposed with royal splendor, in contrast to irrelevant, merely decorative sovereigns, it was the Obamas' deliberate reticence, offered as a polite gesture of deference, without any presumption to out-do or even to equal the Queen's attire, that actually shone forth causing them to stand out!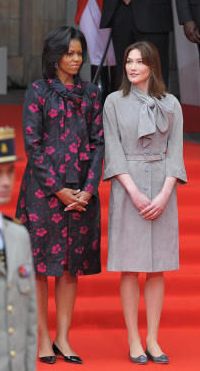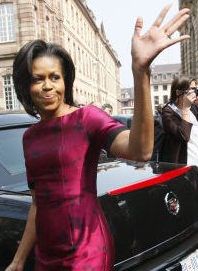 At the heart of such choices there lies the subtext of political realities, the appeal of aesthetic considerations versus the danger of unintended negative appearances. Of course Oscar de la Renta makes exquisite clothes, so too do both Donna Karen and Vera Wang. The sort of clothes they would choose for Michelle Obama, the kind they provided, to good effect, to past First Ladies, cost thousands and thousands. Easily able to afford their lovely frocks and handsome suits, neither Mrs. Obama nor the President can afford the public outcry any exclusive adaptation of their luxurious ensembles would be certain to bring about.
As we all wait with high hopes for better times to come, there's another thing they might reflect on. When the most successful and famous designers in the land lament Mrs. Obama going, "in one direction only," one wishes that they'd also be empathetic enough to consider several veteran, but far less well known or successful African American designers. To date, after having spent two years in the spotlight on the campaign trail, Michelle Obama by wearing a dress designed by Tracy Reese, has only once favored, only one designer, from this group.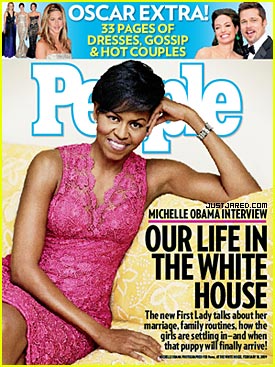 Related