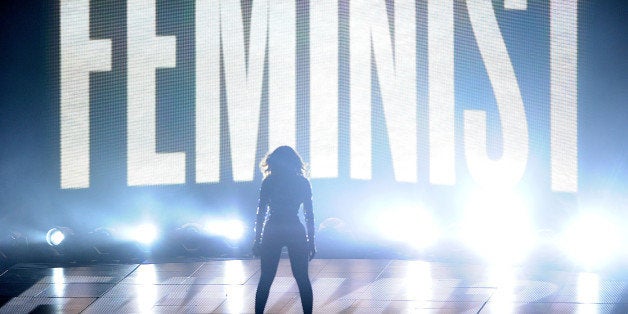 Middlebrow is a recap of the week in entertainment, celebrity and television news that provides a comprehensive look at the state of pop culture. From the rock bottom to highfalutin, Middlebrow is your accessible guidebook to the world of entertainment. Sign up to receive it in your inbox here.

We've transitioned from a VMA buzzword of "twerk" to "feminist," as Vanity Fair Hollywood blogger Joanna Robinson tweeted on Sunday night. It does seem like we've come a long way. Since The Miley Incident of 2013, Beyonce has made the definition feminism go viral. On Sunday, she projected Chimamanda Ngozi Adichie's words yet again, a powerful statement of the concept which has since become trendy. "Are you a feminist?" interviewers seem required to ask, as celebrities do little to cover their confusion, while deciding whether the F-word is trendy enough yet. Except, if the rest of Sunday's misogyny at the VMAs was any indication, identifying with the buzzword hardly makes any difference.
A most powerful example of this came in Taylor Swift's recent interview with The Guardian. Recounting her previous rejection of the word, Swift said she not only is a feminist, but realized she has been all along -- something she only understood via her friendship with Lena Dunham. This revelation comes as a handy example of the stigma associated with the concept. It also casts focus on how much emphasis we put on mere definition.
Fighting the misconceptions is important and celebrities identifying as feminists can be glamorizing. But all of that is meaningless if the people who are proud of the word don't do anything about it. Consider the rampant sexism in Sunday night's VMAs banter. This included but was not limited to:
Jay Pharoah making predatory comments about Ariana Grande being "too young"
Lorde's nomination for Best Rock Video being announced along with "there's even a woman in the mix"
Snoop Dogg replying to Gwen Stefani saying "The ladies are taking over" with "I ain't mad at that: twerk, twerk"
This is not to say we ought to expect all of the self-proclaimed feminists in the audience to shout "Stop the patriarchy!" in unison. That would be great television, if unrealistic. Instead, the take home from the VMAs is that all of the stuff feminism is fighting against is still wildly rampant even in the face of Bey's bedazzled Power Point presentation. The VMAs are like a petri dish for all of the misogynistic crap in the music industry: It is the reality of refusing to accept women as legitimate artists and reducing them to sexual objects boiled down into a handy two-hour television special.
Hell, Beyonce and Lena Dunham can teach classes to the world sponsored by Dove and Merriam Webster. None of it will mean anything if no one actually does anything about being a feminist. This is not about the short-term reality of the VMAs. It is about speaking out and acknowledging instances of misogyny. It's about fighting for equal pay or against rape culture. It's about ensuring that women have control over their bodies, that they are fairly represented in leadership positions and in the media. It's about demanding change to the systematic prevalence of unequal power relations between men and women. It's about respect. So, go on, Hollywood, say loudly that you are all a bunch of feminists. It will be as impactful as declaring you are all unicorns, unless you actually do something about it.
Before You Go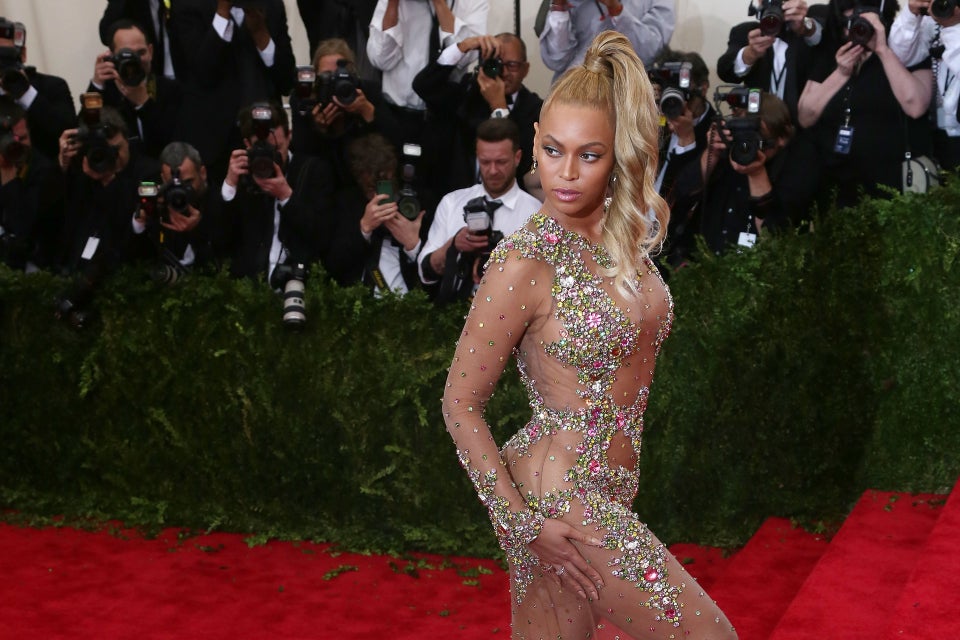 Queen Bey!
Popular in the Community