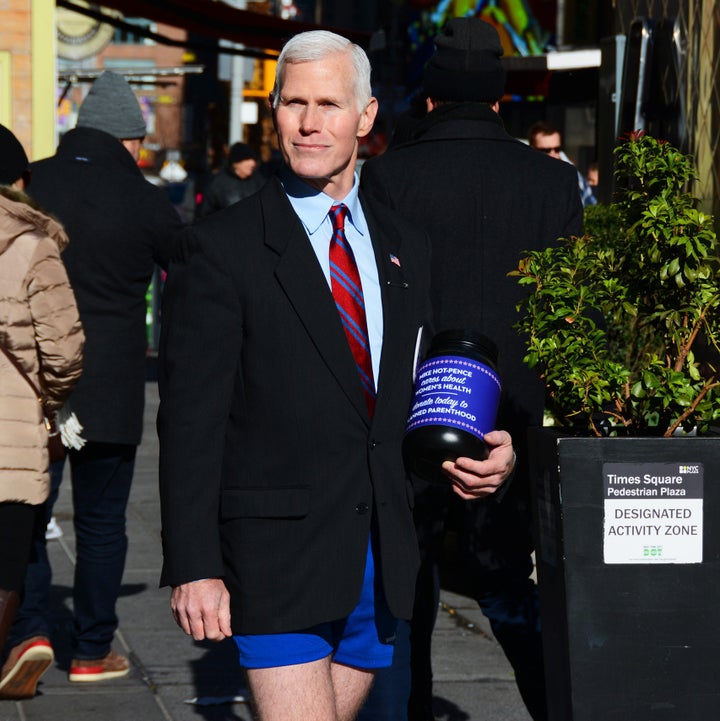 A gay man who happens to look eerily similar to anti-LGBT extremist and Vice President-elect Mike Pence is putting his looks to good use ― by wandering the streets of NYC in short shorts and collecting money to benefit important organizations.
Glen Pannell told The Huffington Post that he was in a dark place after the election and wanted to do something actionable. So he decided to use his striking resemblance to the future vice president ― and strong legs ― to raise money for organizations that will prove crucial to helping minorities under Trump with his "Hot-Pence costume."
"I want to raise dollars and I want to raise awareness," Pannell told The Huffington Post. "And maybe offer some hope too. Isn't it nice to imagine a bizarre through-the-looking-glass alternate reality where there's a Mike Pence who champions women's health and LGBTQ rights and the environment? Well that's me!"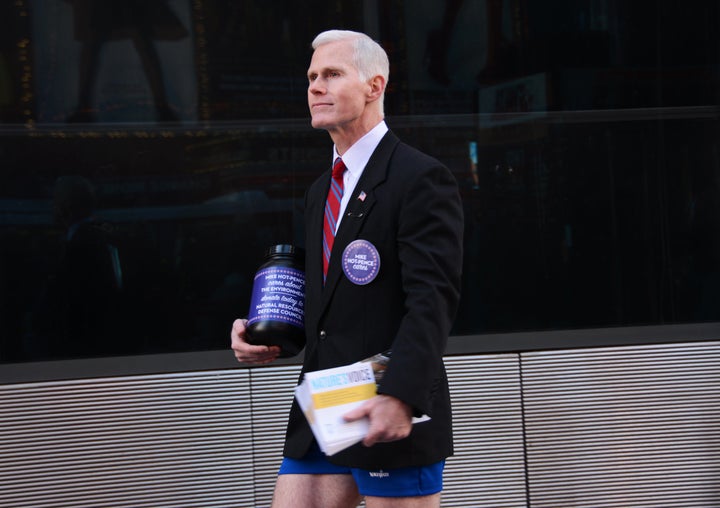 "[The Trevor Project] is really close to my heart because I was a questioning teen 35 years ago growing up on Long Island before I finally came out as a gay man in my early 20s," Pannell continued. "LGBTQ young people will need our full support over the next few years given Mike Pence's record in office. So much of what he's done in the last 16 years has divided and excluded ― not united."
Pannell previously told Howard Sherman that he first donned the "Mike Hot-Pence" outfit as a costume this past Halloween after friends pointed out the uncanny resemblance between the two.
He also told People Magazine that he knows exactly what he would tell the vice president-elect given the chance.
"I'd tell him, 'If you could walk a mile in my short shorts, you would meet so many people who are afraid and unsure about the next four years because they see rising hate speech in the last four weeks. You say you love this country, you say you have great faith in the American people. If that's true, I'd say put your policy where your mouth is.'"
We couldn't have said it better ourselves, Hot-Pence.
Support HuffPost
Every Voice Matters
Popular in the Community