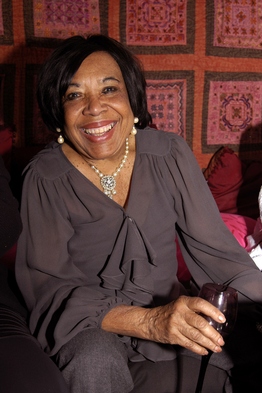 Entertaining Mrs. Astor for tea, a Rockefeller one New Year's Eve, Wycliff Jean, Erica Badu and Eartha Kitt in between, she always stayed down-to-earth, maintaining a common touch, retaining an infectious, French-accented laugh and a subverting sense of humor.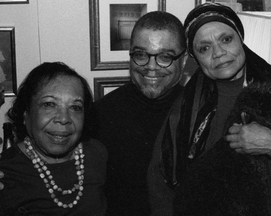 Where are Harlem's high society party-givers and regal grand dames of yesteryear?
A'Lelia Walker,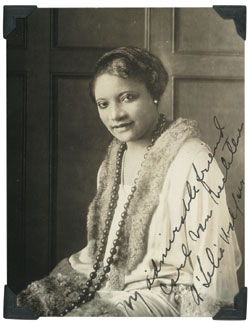 Bertha Cotton, Bessie Bearden, Molly Moon, Miriam Logan and their sway, are only half-forgotten memories now. But one of their ablest successors was a soigné widow, my dear friend, Mrs. Harold A. Dolly.
Until the early morning of April Fool's Day, at 2:o'clock, when she quietly died, the tradition of open-handed festivity established here by gracious ladies from the past, endured in Martha's memorable back-yard barbeques and Friday-night suppers, which thanks to their hostess' efforts, already figure among local legend.
It's exceedingly rare to encounter someone who can be depended upon to mean and do what they say. But Martha Chandler Dolly was just that rarest of persons. "When I am rich, you will be rich!" Who knows how many people she repeated this improbable-sounding boast to? What made it so affecting is that in the way she lived, comporting herself with élan and deep consideration, Martha Dolly was 'rich', and so too, as a consequence, were those who knew her.
This isn't meant to suggest, as her imposing Harlem townhouse or prodigal entertaining or elegant wardrobe might have indicated, that Martha possessed great material wealth. Notwithstanding generous financial support offered to family and friends, to causes she believed in, by New York standards her fortune was modest. She cooked; she sewed, and entertained superbly. Moreover, by dint of spirit, verve, considerable creativity, and style, she was able to project an aura of bounty and éclat, more ample and sparkling than most billionaires.
Having a smashing good time with Martha was hardly confined to dining at her house. Unlike some hosts, desperate to establish absolute control, directing everyone and everything and so, utterly miserable as one among several 'disadvantaged' guests, Martha on the other hand, adored other people's celebrations as well as her own. A dashing presence, useful in helping to spice up even the dullest occasion, made her highly sought after.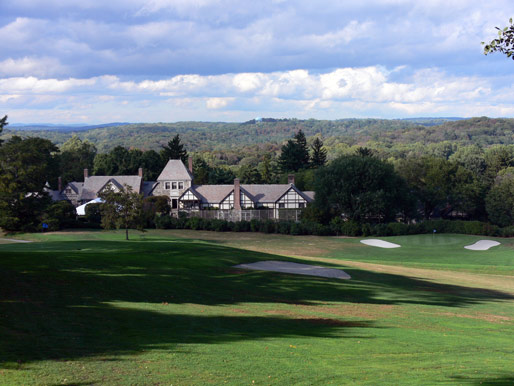 That expansive personality of Martha's was much of the basis of her friendship with Anne Rockefeller, who enjoyed Martha's exuberant shindigs in Harlem and also liked to add her to parties of her own at the luxurious 'playhouse' at Kykuit.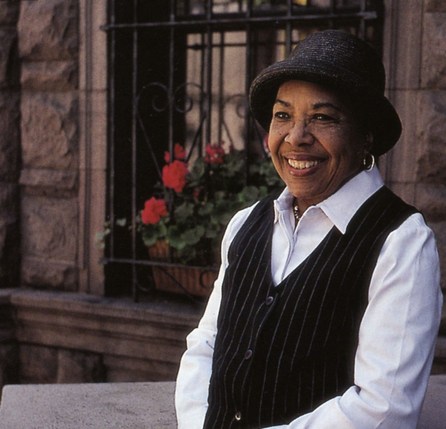 More humble repasts were equally welcomed. Once, with unexpected consequences, she and two friends accompanied me to a buffet supper given by the then young architect, Kevin Wolfe. Kevin, a fellow preservationist, is a great friend. Feeling he would find it instructive to see Martha's magnificent house, I hadn't actually thought that he and Martha might click so readily. But, I ought not to have been surprised, as they both appreciate the same slyly clever humor. As if to assure his favor in Martha's eyes, Kevin had astutely complimented her choice of such "sexy boots".
His apartment was on the Upper West Side twenty years ago. Quite nicely designed, it was a studio and rather tiny. What's more, Kevin had invited at least fifty other 'close friends'. Inasmuch as this promoted the very type of free-spirited intimacy she strove for at her own entertainments, Martha was delighted.
If we four from Harlem were the party's only African American guests this mattered not in the least. That is it might not have mattered had our 'difference' not been noted by innumerable, nonstop inquiries as to, "How do you know Kevin?" The oldest guest in attendance, besides being black, I'm afraid to say that the lion's share of this investigative small talk was directed Martha's way. However, more than equal to such slightly uncomfortable episodes, she decisively took charge of the situation. To the next inquisitor she responded in a stage whisper,

"Ah, that Kevin, don't you know we've been ["messing"] around for years!"
Only as it was mischievous Martha, a very different term than "messing" around had been used. In all events, the resultant eruption of contagious merriment effectively put a stop to any further questioning and Martha's saucy sally not only saved, but made, what Kevin and others still recall as one of his best parties ever!
The theater, the movies, the ballet, the opera, they all beguiled her. But after going out Martha most preferred ending up at her favorite restaurant, theatrical but intimate Chez Josephine. It's presided over by our friend, Jean-Claude Baker who is as dedicated to dispensing hospitality in the name of his adoptive mother, Josephine Baker, as a priest in his shrine is to performing the sacraments. No matter how crowded it was and irrespective of reservations, smothering her with effusive kisses, Jean Claude always made Martha welcome.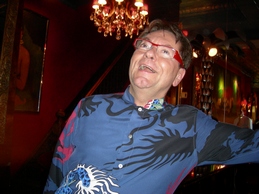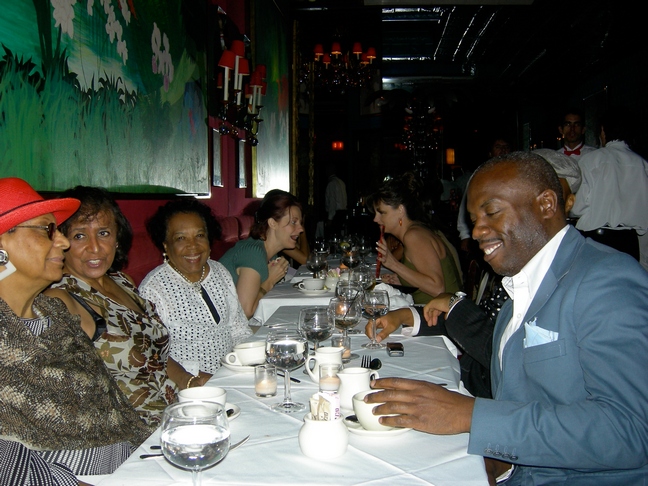 As with many aristocrats, among Martha's fondest pursuits was tending to her special garden. A Concord grape vine, wending its way from a backyard down the block, reliably produced a luscious crop against the back wall. A mulberry, enmeshed by interwoven ivy, became more each year, like a lofty lattice, instead of a tree. Honeysuckle that grew there, not only scented the outdoors all summer long, but eventually several tendrils crept through her bedroom window to perfume even Martha's dreams.
As unconventional a garden as the woman who planted and watered and weeded and nurtured it, Martha's refuge was a study in contrast: cool-colored blue and violet hydrangea, with large dark, heart-shaped leaves, were juxtaposed with hot-hued, variegated, polychromed, spotted or striated, exotic foliage plants called crotons,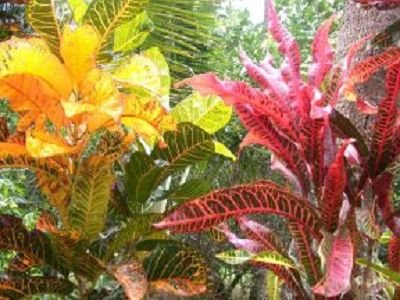 which are native to Haiti. Hostas and phlox, roses emitting heady fragrance and named for French courtesans, lilies and fuchsia all coexisted in an unlikely evocation of paradise.
With meals served on a small paved patio adjacent to the house, this was the setting of Martha's most renowned fetes. Here guests, as varied as the plantings, imbibed and talked and ate too much and drank enough to sing spirituals at midnight. Above all they were sure, to never forgo an invitation to Martha's.
Recounting a narrative of a young friend in love who had been so overjoyed with happiness that she was transformed physically, from plain to beautiful, Martha was at her subtly amusing best, relating a complex double entendre.
"I told her, 'Ah, you are so happy and pretty now, I would like to capture the essence of what has altered you and put it into a bottle, to give to others...'A few weeks later my friend's lover had left her for someone else. She did not look well at all! 'What's happened to so-n-so?' someone asked me, 'She was so happy and so pretty, but looks horrible now, what can she be suffering from so terribly?' 'Ah, I answered,' said Martha, 'it is the absence of the essence!''

That elusive essence, the elixir of loving kindness that makes it possible, notwithstanding pain or sorrows, to enjoy life to its fullest, to give great pleasure to others...this is something that Martha Dolly most assuredly had, and seemingly in endless supply. But she didn't keep it bottled-up, out-of-site or out-of-reach. Rather, she lavished its marvelous powers over everyone she came across. Delighting in her company, one felt not the usual fatigue and ennui of everyday disappointment, but transformed by happiness into some better incarnation. If only momentarily, being with her caused ordinary people to assume the same sort of exuberant buoyancy, and even a mild version of the uproarious wit that she exuded all the time, naturally.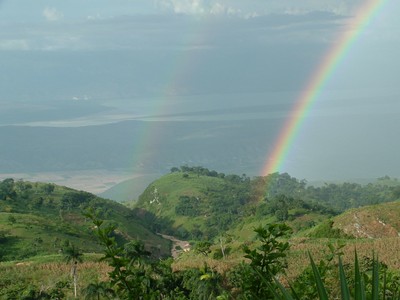 Born October 26th, 1923, in Haiti, Martha was raised in a section of Port-au-Prince called Bolosse. In her well-run household and beyond, Martha's mother, Maria Bijoux exerted a profound influence over everyone. Understandably, her young awe-struck daughter was no exception to the determined force of will. How Martha loved to watch as she sat at her dressing table, adorning herself for the evening; what a privilege it was to be allowed to brush her mother's lustrous hair.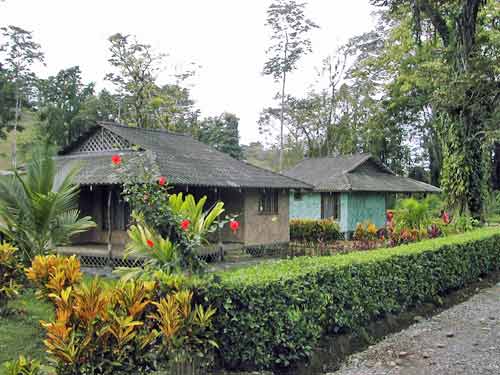 In addition to her mother's petite stature, Madame Chandler imbued this only girl in a brood of boys, with a shrewd discernment, courtesy and tolerance.
How Martha could laugh, telling how her mother, as if it were the most reasonable request in the world and without a second thought, automatically indulged a young gay servant who wished his wages for the next month to be paid in the form of a bottle of Joy perfume and a length of rose-colored silk for a new dress. In her self-deprecating way Martha would also laugh at the admonishment of her step-father, who told her, "Unlike your mother, you are not pretty, little girl, but if you end up with just half of her charm, you will be alright!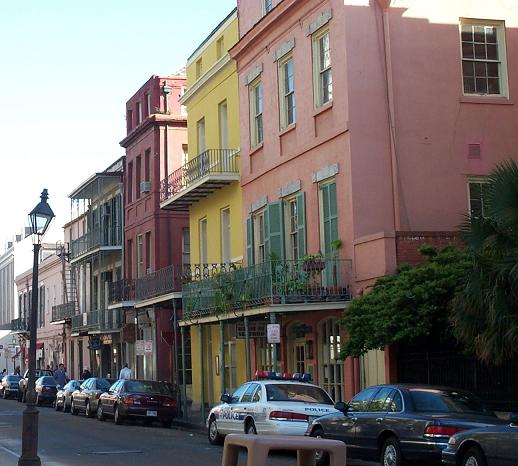 Unusually for the period, Martha Dolly employed neither her inestimable charm, nor her sometimes unacknowledged loveliness, to make her way in the world. In the early 1950's she attended Dillard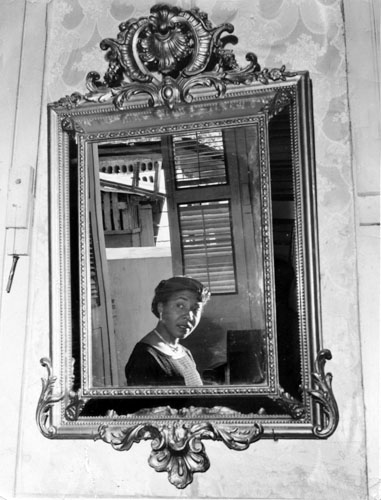 University in romantic New Orleans, where she trained as a nurse. Graduating at the top of her class she was selected to direct the Department of Nursing for all of Haiti. But frustrated by the harsh inequalities and poverty of her country, restless to see more of the wider world, Martha soon moved to New York for graduate work at Columbia.
When a new school friend introduced Martha to her reserved-but handsome-brother, at first she thought nothing of it. She had met other handsome men before and marriage and a family were not in her immediate plans. Yet quite soon she found herself seriously dating Harold Dolly, an NYU student studying social work. From her room at International House, Martha could see the light from Harold's room in his house in the valley below, on 122nd Street. He could see her light too and soon was signaling Martha to let her know he'd reached home following their nights out. A talented pianist, fond of romantic composers, sometimes Harold would play Chopin sonatas by candlelight just for Martha.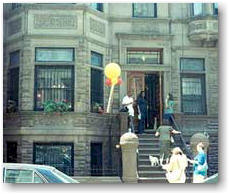 Natives of Trinidad, Harold's farther, Dr. Cyril Dolly, his mother Ida, brother Cyril and their sister June, were all prominent members of New York's vibrant, tightly knit Caribbean community. It was this prominence which led to Dr. Dolly's appointment as physician to Father Divine and his followers. Earlier, during the Great Depression, he'd served as an activist against abusive landlords, as an executive member of the Consolidated Tenants League. In 1950, commended by Mayor O'Dwyer, he led a group of a hundred Harlem doctors who pooled their resources to purchase and operate Mount Morris Hospital.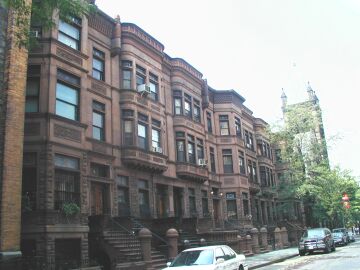 It was Dr. Dolly's acquisition in 1943 of an impeccably intact Victorian row house on West 122nd Street for $12, 000, that would most affect Martha and Harold's destiny together. This was the time of Harlem's second large-scale race-riot, which started when a white police officer shot a black soldier. It was a period when fewer than 500 of New York's African American population of approximately 500,000, owned their own homes.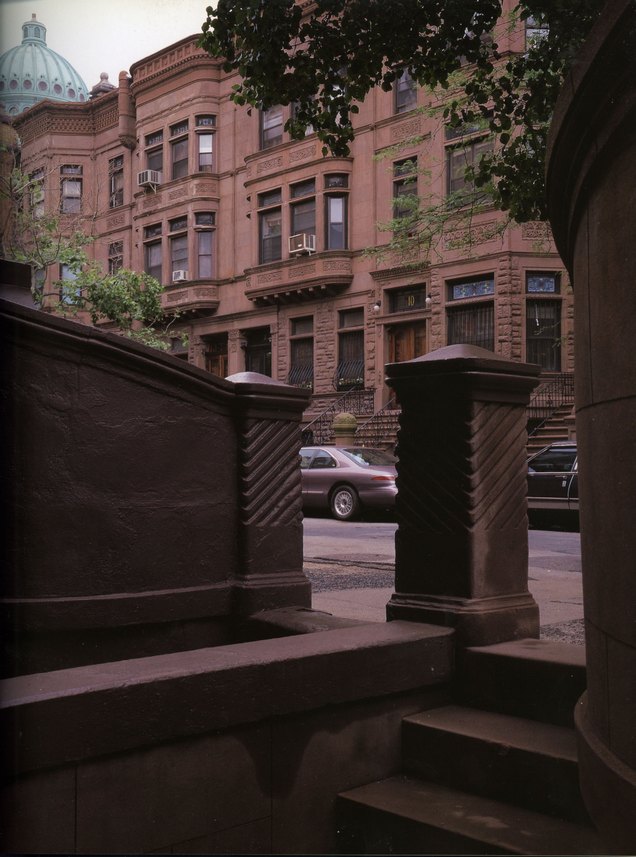 Called 'the Queen,' both in respect and derision, Ida Dolly, Martha's mother-in-law, was formidable indeed. One small indication of her determination to prevail, is the fact that her young sons had been left at home in Trinidad for several years when she and her husband first came to the States. Ida Dolly's later customary hauteur notwithstanding, she had worked as a maid in those early years as her children's father studied medicine at New York University. By the time that she and Martha met, grand indeed, 'the Queen' felt she'd more than earned a right to do exactly as she pleased.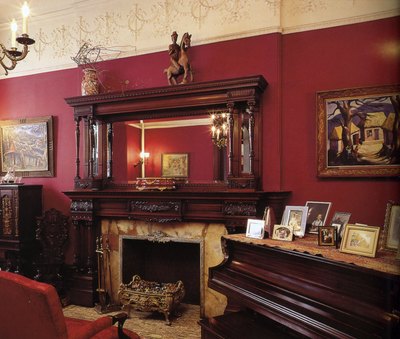 Ordinarily she did so too, except on two distinct occasions. Eager to modernize the antiquated house her husband had bought, which had been completed in 1889, she set to work removing first one bedroom mantelpiece, made from solid, richly carved and turned oak, and then another, fashioned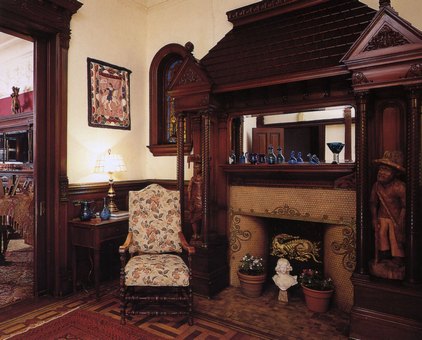 from highly figured mahogany. Pausing a moment from eliminating chimneypieces,'Her Majesty' then removed and sold the ornate and unusual bronze and stained glass chandelier that had hung in the reception hall, since the house had been built. It's little wonder that she'd been unsuccessful in getting it back after Dr. Dolly had stated his position.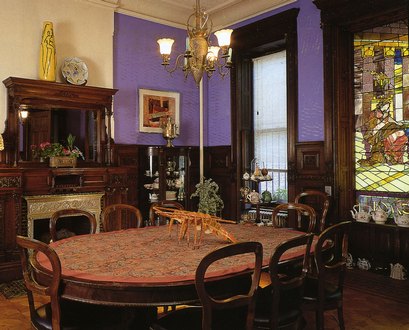 More amazing still is the fact that he'd even spoken up. An explanation for this rare turn of events lies in Cyril Dolly, the future esteemed physician, having started in life as an apprentice in a furniture workshop in Port-of-Spain, Trinidad. He reminded his wife that he always allowed her a free reign concerning their house. Dr. Dolly then explained how his understanding of the superlative wood-work had first attracted him, had made him want to purchase, that particular house. The finish he said, was executed with exceptional skill, so the wood couldn't be replaced and he would not allow any further removals or destruction whatsoever!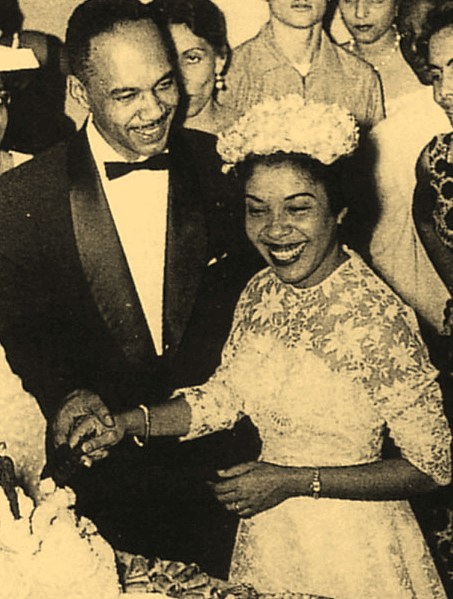 Viewed from a distance, when Harold and Martha married in 1957, it might have seemed as if they'd commenced singing, Let the Good Times Roll. Predictably enough, for this fun-loving pair, any occasion, from a birthday to a payday, was excuse enough for a party. Both cooked, and both regaled their guests with comic stories, not competitively, but in a complementary way, much as old Trinidadian rum complimented the Haitian-style pork, fried plantains, black mushroom rice and grilled shrimps that they liked to serve.
Living with one's family can be another kind of recipe altogether. It's often one that bubbles up on the verge of boiling over, before finally erupting in disaster. The ingredients were all assembled for such an outcome; it seemed just a matter of time. Except, all the while, biting her tongue, Martha had been methodically, purposefully, saving her money and biding her time. When a break with Ida, and perhaps as a consequence, a rupture with her own husband, seemed impending, Martha was at the ready. Purchasing her own house, at number 21 West 122nd Street, with her own money, she not only preserved her marriage and family, she, in time, even came to enjoy "the Queen's" company, in spite of the grand old lady's many quirks.
Two adored children arrived, Cyril H., called Harold, and Monique, addressed by the diminutive, Momo, who, like her mother, became a nurse. Before she knew it, Martha said, they had become adults and married as well. It was her grandchildren, Justin Harold Robert and his younger sister Ania Dolly, so like a miniature version of her doting 'grandma', whose appearance, Martha stated, "...crowned a life filled with more joy than I'd have ever imagined possible." From the time Justin was an animated infant, being admired as Martha wheeled him through the galleries of the Metropolitan Museum of Art, or in Central Park, how Martha had admired him, too.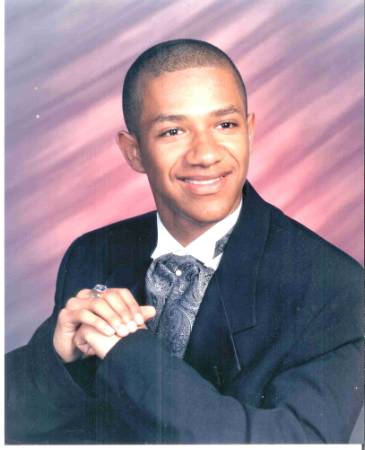 Unfortunately, no life is immune from suffering or death. Following his lengthy illness, losing her husband was expected and so patiently-borne with characteristic grace. It was the loss of her grandson Justin, four years ago, so senselessly and abruptly, that marked the start of Martha's own decline.
After a year off, about to begin his senior term at Morehouse College in Atlanta, a friend was driving Justin in Justin's car. It was October 6, 2005. Cruising around in the early evening the two were chatting, aimlessly, as youth will talk of sports and girls and school. Using money from an inheritance, Justin was already on his way to a life of success, having acquired several rental properties close to Morehouse that he was starting to renovate. "Suddenly", his friend said, "he wasn't talking anymore." It had only taken moments to determine that Justin had been shot, but it must have seemed an eternity. Already doomed by a rap sheet as long as his arm, the young black assailant who murdered Justin, confessed how he hadn't been his intended target; it was all a terrible mistake and he was really sorry.
Considerate, promising, good looking and at 22, so young, Justin's death, a grievous blow for his grandmother, helped to give Martha greater appreciation of her daughter-in-law Donna's strengths. As Justin's mother, Martha saw, having a fine only son taken away from her, was a far greater tragedy for Donna to endure than anything that she herself might suffer.
What does one make of such a person, one who loves single-malt scotch, and vintage champagne, who, when required, will gladly drink ginger beer or even Taylor port instead? Cognizant of the superior quality of French and American haute couture, which she was occasionally able to buy, in a pinch she'd whip up a credible copy of something she'd seen that she liked in Vogue. What a wonder was Martha; she wore rhinestones as if they were diamonds and her pearls as if they were paste. Because she was who she was, many were deceived into imaging that even her most extravagant costume jewelry was actually composed of mammoth precious stones. As for Martha, so long as such raiment served the ultimate purpose of being glittering, of being beautiful and appropriate, why should she care about how valuable they were or weren't? She once explained her outlook about such matters, saying, "Whatever it cost or doesn't cost, I am just as likely to lose it anyway! Ah, but while I've got it I am going to do my best to enjoy it as much as I can!"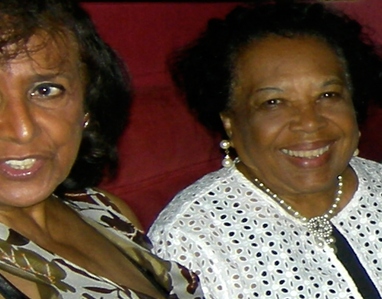 It's quite some credo to revel in whatever one might have to enjoy at the moment. This confident attitude of Martha's some maintained to be the biggest part of the secret to her winning stylishness. No less a fashion authority than Bill Cunningham of the Times was impressed enough to once enthuse to her,
"Some of these other people, oh brother, they haven't got a clue about what to wear or how to wear it. But you! You've got taste dripping out of your mouth lady!"
A devotee of Bobby Short's singing, what in her youth were thought of as naughty songs, like Cole Porter's Katie Went to Haiti, Martha was equally enthusiastic about the Neville Brothers' rendition of Porter's In the Still of the Night. The Autumn Leaves and Besame Mucho, poignant love-laments, were also among Martha's favorites, but so was a collection of militant or melancholy hymns such as, Onward Christian Soldiers, Jacob's Ladder and A Balm in Gilead, by Harry Burleigh.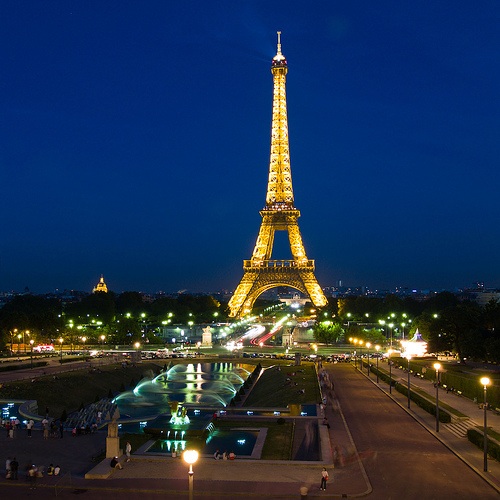 Recollecting the mad fun of guests ending nights in her lush garden by singing these old anthems, so loudly that she'd feared certain neighbors might call the police, Martha sighed, not long ago, and said how she had had a beautiful life,

"I have wonderful children and many friends. My friend from girlhood, Luce, went to live in Paris and became an acclaimed artist. I visited her there several times and I've traveled to most places that I really wanted to go to. I have Charlie's laughter, Axle's affection and the boys bring dinner now and clean before they go. I have even lived long enough to see my adopted country elect our first black president, Barack Obama. I sent him a little money, and he is magnificent."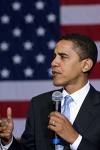 Asked, "Have you no regrets? "she joked, "Regrets? I've had a few, would one not wish to be young again, and have more to share, to be tall and bottylicious too? Sure! But as my mother used to say,'Love, be content, life is short and there are people in hell who want iced water, you know!'"