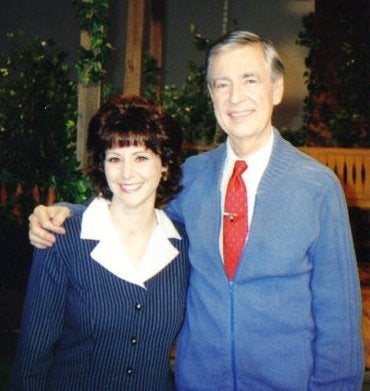 I have had two breakdowns in my life, and Mister Rogers was there for both of them. He was there literally the first time, in constant communication through calls and letters, and in spirit the second time, through the lingering lessons of our nearly decadelong friendship.
I was a young mother of two working in television when I had the idea to contact Fred Rogers for an interview. "Good luck," I was told by my network. "We've been trying for 20 years."
I reached out to his staff, but weeks went by with no response. Then, one evening, I was reading the newspaper and discovered a mean-spirited editorial calling out Mister Rogers and his "psychobabble." I wrote a nasty letter to the syndicated columnist and sent a copy of my letter and the article to Fred Rogers' publicist, as a heads-up about the bad press.
A short time later, I got the call that Fred had agreed to the interview. My defense of him, not as a journalist but as the mother of small children, convinced him I was sincere enough to be trusted. 
A few weeks later, I was sitting across from him on the set of "Mister Rogers' Neighborhood," where he had been taping a series of episodes on "fast" and "slow." And so I framed my first question around that idea, his ability to slow the pace and allow time for reflection. Was that the essence of his appeal? He paused, of course, before answering.
"I think for me, I need to be myself," he replied.
"And I've never been a kind of a hyperactive runaround kind of person. I think one of the greatest gifts that we can give anybody is the gift of one more honest adult in that person's life ― whether it be a child or an adult," he said. "And so for me being quiet and slow is being myself, and that is my gift."
"Now somebody who is naturally very effervescent, I would think that that wouldn't be a directive for that woman or man," he added. "That person would be best being herself or himself. Do you understand what I mean?"
I did understand; he had just drawn a line between our two personalities. I was a hyperactive runaround kind of person who was the mother of a hyperactive runaround kind of toddler. I would never have met Mister Rogers had he not cast an almost hypnotic spell on my son, causing him to sit quietly for a half-hour each day. Though I was working full time from home and could use the half-hour of free babysitting, I would often join my son, and later my daughter, to watch the program.
I needed one more honest adult in my life, too. 
I never expected to become friends with Mister Rogers. I never expected to feel such an intimate connection with a man whose time and attention was already spoken for. ... Perhaps he knew I needed him.
After spending a few days with Fred in his Neighborhood, I sent a letter of thanks, telling him that the first question my 3-year-old asked when I returned was whether Mister Rogers was coming to live with us. Fred wrote back to say how much he loved the story, and in a very real sense, Mister Rogers did come to live with us.
We began writing letters back and forth, forging a friendship that spanned the next nine years. His last letter arrived just three weeks before he died.
Sometimes he would call or write when he sensed something was amiss, and he was often right. He reached out after my husband lost his job, news I had yet to tell him. "Somehow I sensed that the Hollingsworths were going through some life changes," he said in a letter.
His concern and affection extended to my children. When my daughter's track record at the dentist was greatly improved by my reading Fred's book Going to the Dentist to her, he sent her an autographed copy. So that my son wouldn't feel left out, Fred sent him an autographed copy of his book Making Friends.
I asked him parenting advice, he sent his favorite books for me to read, we prayed for each other. I never expected to become friends with Mister Rogers. I never expected to feel such an intimate connection with a man whose time and attention was already spoken for, who could have easily sent me one letter and been done with it. Perhaps he knew I needed him.
I continued to be a hyperactive runaround kind of person, which meant at some point I was going to hit a brick wall. The stress from working full time from home while caring for two young children, my husband's job moves, and other transitions became internalized, hardening into an unrelenting pelvic pain that left me bedridden. What followed was exploratory surgery and a string of specialists trying to decipher my symptoms. I was finally diagnosed with pelvic neuralgia.
Fred called as soon as he heard the news. "I received your letter and was distressed and just wanted to call you right away," said the message on my answering machine. He continued to call and write as I began physical therapy as a way to mitigate the pain.
"I'm so proud of you," one of his letters said, acknowledging what had to be "one of the toughest times" of my life. "Just remembering it can bring tears."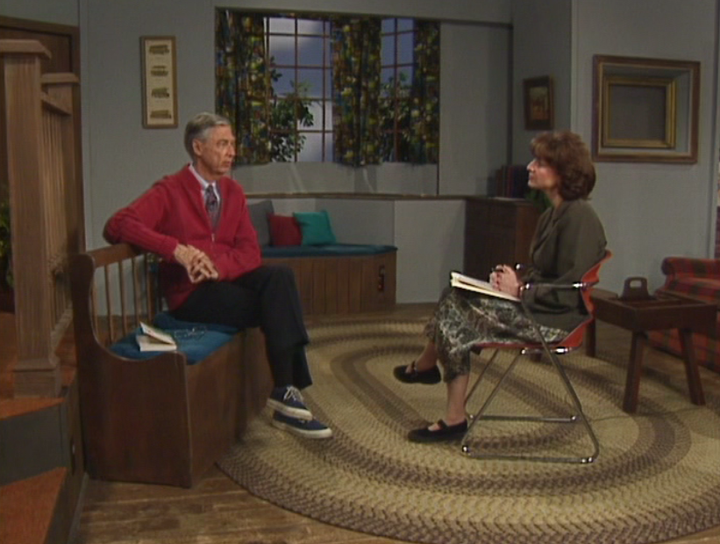 Another letter arrived with a quote that Fred had typed out and taped to the back of the envelope, an excerpt from a letter written by a 16th-century monk named Fra Giovanni:
Life is so generous a giver, but we, judging its gifts by their covering, cast them away as ugly or heavy or hard. Remove the covering and you will find beneath it a living splendor, woven of love, by wisdom, with power. Welcome it, grasp it, and you touch the angel's hand that brings it to you. Everything we call a trial, a sorrow, or a duty, believe me, that angel's hand is there; the gift is there, and the wonder of an overshadowing presence.
Mister Rogers wanted me to find the gift in the breakdown.
Six months after I recovered, I visited the Neighborhood a second time for another television interview with Fred. When I returned home I called to tell him I was quitting my job. "It's your fault," I said half-joking, but only half. So peaceful was his presence, so calming was my time there that I felt the need for drastic action. The contrast between his pace and my pace, between fast and slow, and between his Neighborhood and my work environment gave me a newfound appreciation for his mode of travel.
The lesson stuck for almost 20 years. Then I re-entered the frenetic world of television, our mutual medium, the one Fred had warned me about during our first meeting, a caution to viewers as well as to those behind the scenes.
"It seems to me that our world needs more time to wonder and to reflect about what is inside," he had said to me during our first sit-down interview, "and if we take time, we can often go much deeper as far as our spiritual life is concerned than we can if there's constant distraction and often television gives such constant distraction — noise and fast-paced things — which doesn't allow us to take time to explore the deeper levels of who we are and who we can become."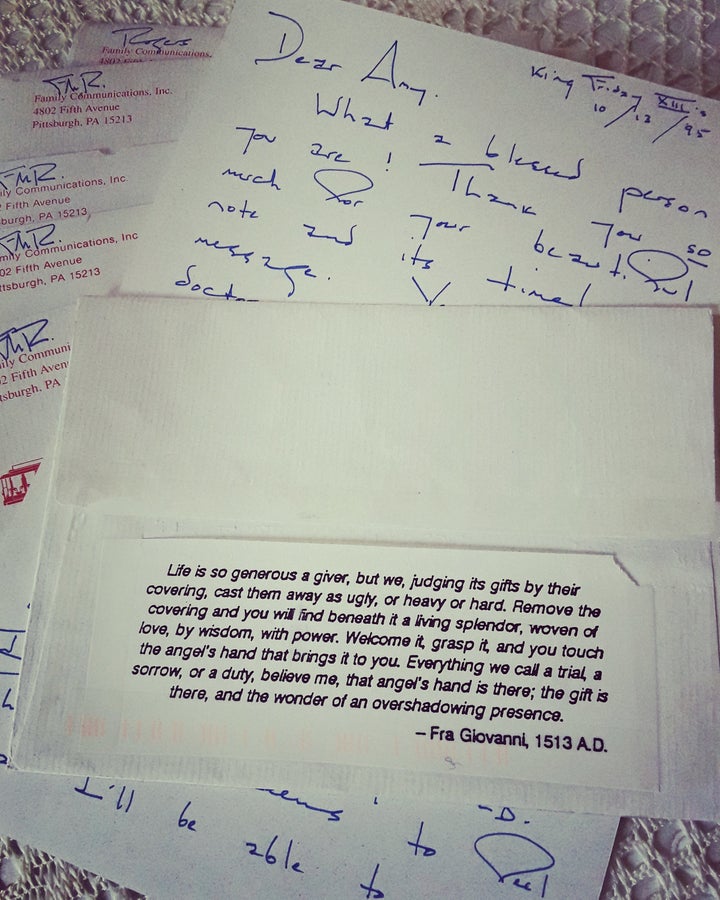 Who I had become was someone once again stopped dead in her tracks. I woke up one morning unable to move my shoulders; they had literally frozen in place. Too many stress-filled hours at the computer, with my arms elevated in a fixed position, created bands of scar tissue that put my shoulder capsules in a stranglehold. The pain was constant, unbearable, even when I was perfectly still. One medical professional offered this analogy: Somewhere within your body, there is a brake and an accelerator on at the same time.
This time, months of physical therapy did nothing. I had to look to other avenues of healing: yoga, acupressure, long stretches of rest and silence. I had no choice but to be quiet and slow.
Fred had passed away years before my second breakdown so he was no longer there for me to write or talk to, but I had our letters. I had the admonition to look for the angel's hand. And I pored over the raw footage of our conversations, mining his wisdom. 
It took me nine months to return to full-time work and a year to move freely, to reach without pain. And because the condition didn't resolve quickly, I had to learn a new rhythm; I had to build practices of peace and calm and self-reflection into every single day. It was a ritual Fred had modeled for me in his 5 a.m. time of prayer and reflection, in his 7:30 a.m. swim, in his afternoon naps and early bedtimes.
It took two tries, but I finally found the gift in the breakdown, the one that Fred had longed for me to see. There is an antidote to being a hyperactive runaround kind of person. There is something healthier than operating with a brake and an accelerator on at the same time. Sometimes what's best is being quiet and slow.
Even more important, I found that what lies beneath the ugly or heavy or hard covering of a trying time is the opportunity to wonder and to reflect about what is inside. It gave me the time to explore the deeper levels of who I am and who I can become. It offered me the chance to incorporate those practices into my everyday life, staving off another breakdown.
As it turns out, Fred wasn't drawing a line between our personalities during our first meeting. He was showing me a better way. Day in and day out, on the television screen and in real life, he offered the gift of his honest self, showing us all a better way—teaching us that in order to go deep, you have to go slow.
Amy Hollingsworth is the author of the best-selling The Simple Faith of Mister Rogers and four other books. She is also featured in the documentary by MTV's Benjamin Wagner titled "Mister Rogers & Me." For more from Hollingsworth, visit her website.
Do you have a personal story you'd like to see published on HuffPost? Find out what we're looking for here and send us a pitch!
Calling all HuffPost superfans!
Sign up for membership to become a founding member and help shape HuffPost's next chapter