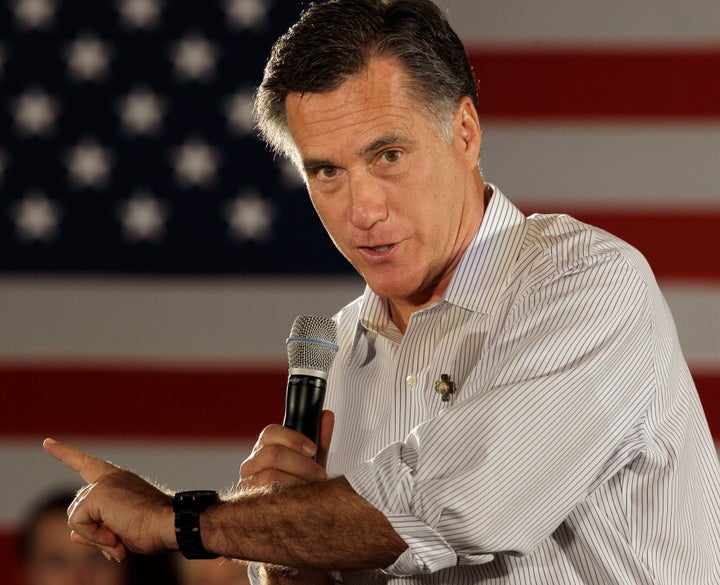 WASHINGTON -- Mitt Romney's effort to turn up the heat, so to speak, on President Barack Obama over the issue of rising gas prices has had various elements and layers. He's called for Obama to fire top cabinet officials; ridiculed the president's reluctance to approve critical portions of the Keystone pipeline; and denounced the burden of government regulations.
In one recent campaign stop, Romney accused the president of banning "Thomas Edison's [incandescent] light bulb."
On Thursday morning, The New Republic did a deep dive into Romney's record as a governor and discovered that he pursued many of the same policies he now denounces: While in Massachusetts, Romney responded to high gas prices by stressing that they were a result of the global market. He pursued policies of conservation and vehicle efficiency. He even went so far as to suggest high gas prices would have a positive effect on consumer behavior.
"I don't think that now is the time, and I'm not sure there will be the right time, for us to encourage the use of more gasoline," Romney said, according to the Quincy Patriot Ledger's report at the time. "I'm very much in favor of people recognizing that these high gasoline prices are probably here to stay."
As for those incandescent light bulbs, Romney's statement has been challenged by fact-checkers, who note that the bill that requires minimum efficiency standards for those bulbs was signed into law by President George W. Bush. Obama has subsequently blocked Republican attempts to repeal the law.
But while Romney may be opposed to the federal government regulating minimum standards for the light bulb market, he certainly wasn't opposed to the government promoting energy-efficient light bulb use itself.
In his 2004 Climate Protection Plan, Romney pledged that Massachusetts would work with other states "to foster legislation and other approaches" that would encourage energy efficiency standards for many products, including "Torchiere lighting." Elsewhere in that proposal, he noted that "lighting accounts for 20 to 25 percent of all electricity consumed in the U.S," and that improvement in this field "offers a significant opportunity for the state and for municipalities to save energy and money."
"To that end, the state is working with other states to assist municipal officials to encourage the use of Light Emitting Diodes (LEDs), high-efficiency street lighting, or other energy-saving lighting technologies," the plan reads.
A search of Lexis-Nexis also reveals that in late November 2005, Romney signed a bill that gave families a $600 tax credit for the purchase of energy-efficient products. The bill, as The Boston Globe reported at the time:
will raise the minimum energy efficiency standard for residential boilers and furnaces, incandescent reflector lamps, and laptop computer power cords -- something Rhode Island, New York, and several other states have done. Such a measure could have a dramatic long-term effect in reducing energy consumption in Massachusetts, and even the country as a whole, Romney said.

"This is going to be paying dividends for the people of Massachusetts for a long, long time to come, and we're not finished," he said.
A month and a half before he signed that bill, meanwhile, Romney joined then-Energy Secretary Samuel Bodman for an "Easy Ways to Save Energy" campaign that included, among other suggestions, "replacing existing light bulbs with Energy Star qualified fluorescent lights." The full press release announcing the campaign is below.

DEDHAM, MA -- With higher home heating costs expected this winter, U.S. Secretary of Energy Samuel W. Bodman and Massachusetts Governor Mitt Romney today highlighted easy, inexpensive ways consumers can save money by reducing home heating bills. This visit to New England is Secretary Bodman's first stop on the national "Easy Ways to Save Energy" campaign.

"As a longtime Boston resident, I know how tough New England winters can be," Secretary Bodman said. "Because of tight oil and natural gas markets and the damage to our energy infrastructure caused by Hurricanes Katrina and Rita, consumers can expect to see higher energy bills this winter. There are, however, simple, inexpensive, yet extremely effective measures consumers can take to reduce their energy bills."

"As a state, Massachusetts and its people have led the way in pursuing energy efficient programs for our homes and businesses," said Romney. "This year, it's especially important for consumers to know that winter doesn't have to burn a hole in their wallet. Families can save hundreds of dollars by following some common sense tips."

Secretary Bodman and Governor Romney's visit to Lowe's also highlights the company's October 8, 2005 kick off of energy saving How-To Clinics at its 1,200 stores nationwide. Held each Saturday at 1 p.m., these clinics aim to educate consumers about the many ways they can conserve energy and money this winter.

In launching the national "Easy Ways to Save Energy" campaign on Monday, October 3, 2005, Secretary Bodman announced that the Department of Energy will take a comprehensive approach to improving energy efficiency for consumers, businesses and the government. The campaign features: For Consumers:

An informative "Energysavers" guide outlining easy ways to improve home energy efficiency available through the Department of Energy, or, online at www.energysavers.gov;
An aggressive public education effort including online, print, radio and television ads featuring the "Energy Hog" - a character similar to McGruff the Crime Dog and Smokey the Bear;
An "Energy Hog" curriculum to be used by teachers in grades 3-8 featuring web-based games and take-home activities;
A series of radio public service announcements in English and Spanish featuring energy saving tips that have been distributed to 4,500 stations across the United States;
For Business:
Industrial Energy Saving Teams that will be dispatched to help improve the efficiency of 200 of America's most energy-intensive factories;
Department of Energy is making the Energyavers guide available to be reprinted and distributed by manufacturers, retailers and local utilities;

For the Federal Government:

Secretary Bodman has directed teams of qualified energy experts to deploy to federal facilities to identify quick and easy ways to save energy this winter. The federal government is the largest consumer of energy in the United States.
Easy tips for consumers include:
Making sure your home is properly insulated. Proper insulation in attics, ceilings, floors, crawlspaces and exterior and basement walls can save 30 percent on home heating bills;
Installing a programmable thermostat. Turning down a thermostat from 72 to 65 degrees for eight ours a day will save up to 10 percent on your heating bill;
Replacing existing light bulbs with Energy Star qualified fluorescent lights in the lamps and fixtures in your home; this can save up to 50 percent on lighting costs.
Calling all HuffPost superfans!
Sign up for membership to become a founding member and help shape HuffPost's next chapter
BEFORE YOU GO