 HEMPSTEAD, N.Y. -- Had Mitt Romney been president in 2009, he would not have signed the Lilly Ledbetter Fair Pay Act into law, a top adviser to the Republican nominee told The Huffington Post Tuesday night.
Now that the law has been passed, Romney has no plans to get rid of it, that adviser, Ed Gillespie, added. But Romney didn't support it while it made its way through Congress.
"The governor would not repeal the Lilly Ledbetter Act," said Gillespie, following Tuesday night's presidential debate. "He was opposed to it at the time. He would not repeal it."
The statement from Gillespie is the furthest that the Romney campaign has gone in detailing the candidate's position on the law, which allows women greater opportunity to sue over pay inequity at the workplace. Previously, the governor's campaign has said that he would not repeal the Lilly Ledbetter Act, which was the first bill President Barack Obama signed into law, while leaving unanswered whether or not he would have signed it had he been president at the time.
The topic came up during the debate, with Obama criticizing Romney's campaign for demurring when asked about the legislation.
In the spin room after the debate, other Romney surrogates tried to skirt questions regarding the legislation, arguing that it was more valuable to look at how the candidate had constructed his staff while in public office.
"Governor Romney feels that he is absolutely in favor of equal employment opportunity for women, equal pay for women. I don't think he wants to be cornered into talking about this particular piece of legislation as a tool of a campaign," said Kerry Healey, who served under Romney as lieutenant governor of Massachusetts. "I think Governor Romney wants to be judged on his own record and how he has dealt with women in his administration and with women's issues throughout his career."
But Gillespie's admission that Romney opposed the Lilly Ledbetter Act while it was being debated -- there is no evidence readily available showing Romney weighing in on the topic in the months before it was signed -- provided ample material for his critics.
"Is that leadership?" said Cecile Richards, the president of Planned Parenthood, who is on leave to serve as a surrogate for the Obama campaign. "If he was president, we wouldn't have equal pay. I think that's the point. He doesn't lift a finger to do anything for women."
UPDATE: 2:10 p.m. -- Hours after this story was published, the Romney campaign sent a statement from Gillespie walking back the comments he had made the night before.
"I was wrong when I said last night Governor Romney opposed the Lily Ledbetter act," the statement read. "He never weighed in on it. As President, he would not seek to repeal it."
This is more in line with the original position that the Romney campaign took on the topic, which was one of general avoidance.
Gillespie is right. Romney did not comment on the legislation as it was being debated in Congress, at least not according to searches of newspaper archives. But it is doubtful that supporters of the act will rejoice now that Romney is solely focused on letting the status quo stand. After all, the question still remains: what would he have done had it come to his desk as president?
The Romney campaign declined to answer to that question. But Gillespie's original statement, combined with the opposition to the Lilly Ledbetter Act among many congressional Republicans, suggests that Romney would have opposed the measure. Only now -- by the Romney campaign's design -- voters can't be fully sure.
UPDATE: 3:15 p.m. -- Obama for America Deputy Campaign Manager Stephanie Cutter issued the following statement in reaction to this piece:
It's troubling that Mitt Romney's campaign still can't get their answer straight on where Mitt Romney stands on the Lilly Ledbetter Fair Pay Act, which gives women greater ability to enforce in court their right to fair pay. From the six seconds of silence six months ago when they were first asked this question, to a top aide's walk back of a statement last night that Mitt Romney wouldn't have supported the law when it was passed, the Romney campaign is making what should be an easy answer extremely complicated. But, for millions of women, there is nothing complicated about it. As the President said last night, this is not just a women's issue, it's a family issue and an economic issue. Three weeks out from an election, the American people need a clear and final answer on whether Mitt Romney would have signed the Lilly Ledbetter Act into law – and whether or not he would sign the Paycheck Fairness Act that President Obama has been fighting for.
Before You Go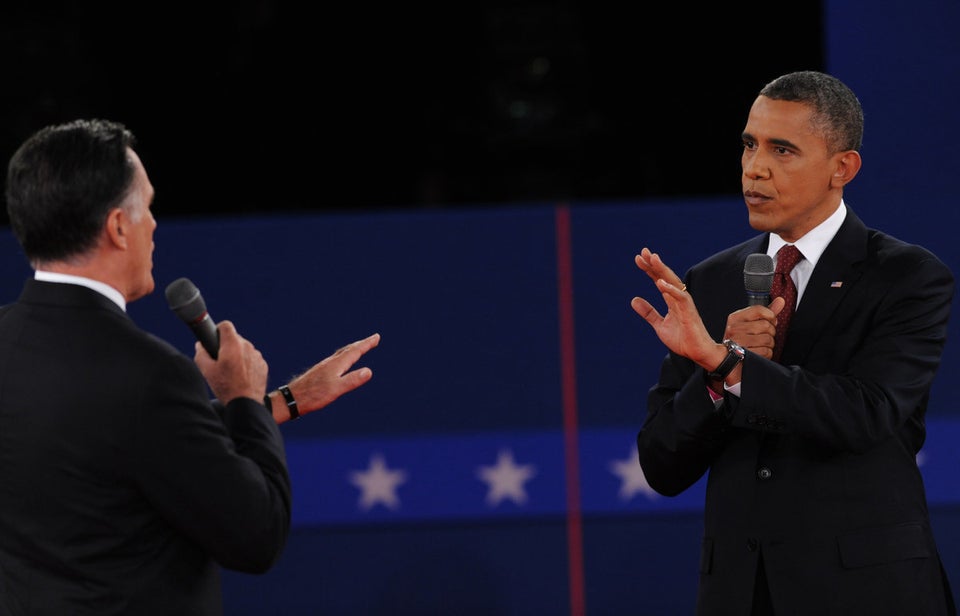 Obama, Romney Get Intense At 2nd Debate
Popular in the Community