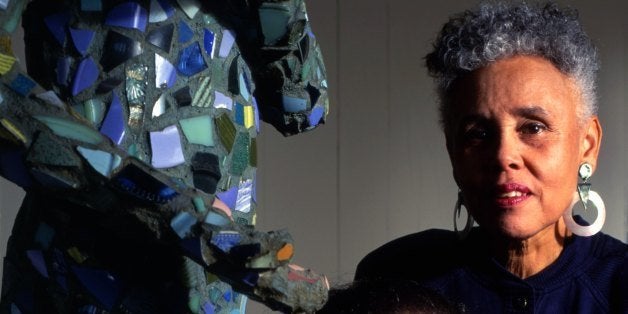 "On behalf of the MOCA Projects Council, I am thrilled to be honoring four outstanding Los Angeles artists, whose work has set an international standard for the visual arts today," explained Event Chairman Ricki Ring in a press statement this week. "The MOCA Award to Distinguished Women in the Arts has honored leading women in contemporary visual arts, culture and entertainment. This year's honorees reinforce Los Angeles's standing as a major center for contemporary art."
Albuquerque's work ranges from large-scale installations on the desert floor to scientific expeditions in Antarctica, all of which explore the impact of humans on the larger cosmic universe. While Albuquerque gained notoriety in the California art scene in the 1970s, Saar began her career as an important figure in the Black Arts Movement of the 1960s, using found materials to construct artworks that reflect on the unique American experience.
Pashgian and Rubins have both been influential in experimenting with industrial materials; Pashgian focusing on smaller-scale, translucent resin objects while Rubins veers toward larger outdoor installations crafted from manufactured items like mattresses and boats.
Past women to be honored by MOCA include art collector Beatrice Gersh, choreographer Twyla Tharp, actress Anjelica Huston and artists Barbara Kruger, Yoko Ono and Annie Leibovitz.
This year's four female artists will be honored during an award luncheon set to take place on Wednesday, November 6, 2013 at the Beverly Wilshire Hotel in Beverly Hills. The awards will be presented by honorary co-chairmen Dallas Price-Van Breda, Carolyn Powers, Catharine Soros, and Andrea L. Van De Kamp. Tickets are available, with proceeds benefiting MOCA Education programs, including Contemporary Art Start, an outreach project that serves more than 170 teachers and 5,500 elementary, middle, and high schools students in over 65 schools across the greater Los Angeles area.
Related
Popular in the Community