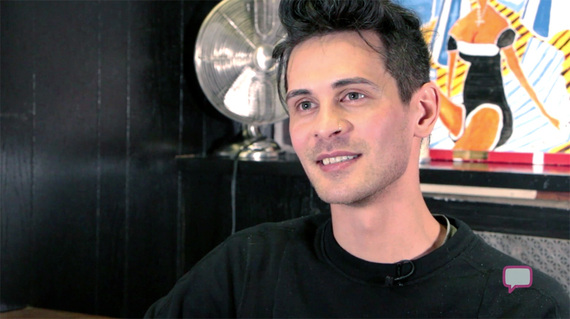 I'm From Driftwood is a 501(c)(3) nonprofit archive for lesbian, gay, bisexual, transgender, and queer stories. New stories are posted on the site every Wednesday.
Coming out once is hard enough. But for Benjamine Heath, he had to come out to his mother three times, once as gay, once as owning a porn company, and once as being in a polyamorous relationship. Benjamine recalls how it all began:
[O]ne time we were having this huge fight, yelling at each other from across the apartment, and at one point she just screams at me, "Are you gay?!" And then I'm like, "Yeah, I'm gay!" And then all of a sudden the conversation just takes a complete 360, and she starts telling me that she's completely fine with it and then goes into stories about her experimenting with lesbian relationships in college.
Next up, after dodging questions about his work and why he was traveling so much, Benjamine realized it was time to come clean about owning his porn company, CockyBoys:
[E]ventually I was just on the phone with her, and I just told her I work in the adult entertainment business and we own a porn company. And so when I told her, she just asked me the same questions that any concerned mother would. She just wanted to know if I was safe and if it was a supportive environment and just wanted to make sure that I was happy.
Benjamine had one last secret to open up to his mother about: his polyamorous relationship. As it turns out, she already knew:
But she didn't know that we were in a relationship until last year, actually, when we were out at lunch together with her gay hairstylist friend. They were talking about me like she talks about me a lot to him, and she kind of let slip that I'm the son with the two boyfriends, in a really subtle way. And she didn't follow it up with any other questions or really say anything else about it, and he just kind of went, "Oh, OK." And for me it was kind of her just subtle acknowledgement that she knew about my relationship and she was totally fine with it.
His mother surprised him every step of the way and showed her love through acceptance:
[E]very single time I told her, she completely surprised me with her reactions to it, in which she really didn't react at all. In almost every situation she was just kind of waiting for me to tell her so that she could tell me that it's OK and she's just happy that I'm happy.
REAL LIFE. REAL NEWS. REAL VOICES.
Help us tell more of the stories that matter from voices that too often remain unheard.