Walking through the farmers' market in Santa Monica with Clemence Gossett, you'll discover that she's a bit of a celebrity in her community. Several times she stops to speak with vendors and farmers. With her youngest son sucking on a strawberry, red juice dripping down his chin, she chats with some of the shoppers who recognize her from the many events she helps sponsor, like the guided market tours provided by "Follow That Chef," and the "SNAP Challenge," in which participants get a one-week taste of life on food stamps. Her presence and activism have made this co-owner of The Gourmandise School of Sweets & Savories a well-known pillar in her community.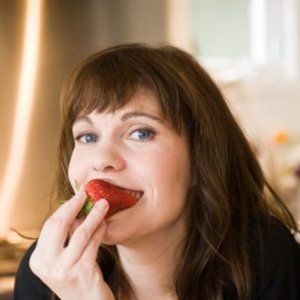 Gossett, a wife and mom of three children, was born in France, where she spent entire days baking batches of cookies. "I was never afraid of messing up," she says. When I took a batch of chocolate cookies to my father and he said, "These cookies are too hard," I just went and tried again until I got it right. All that time in the kitchen has made Gossett the adored pastry chef she is today. People adore her ability to make incredible croissants, caramel brownies and shortbread cookies. And they also adore her because she knows her business, and can connect anyone in the food industry with farmers, chefs, and teachers. Her Gourmandise School is not just a place students go to learn how to cook; it is also a community hub. Gossett takes students to the local farmers' market to teach them how to shop. She instructs them on the proper questions to ask if they desire organic produce. "Don't ask the farmer if he sprays; ask him if his fertilizer contains any chemical pesticides," she suggests. After an hour or so of shopping education, Gossett then brings her students back to the school and has a local chef teach how to prepare a healthy meal with the food just purchased.
Gossett's outreach also extends to kids. In the face of an industry shifting rapidly to GMO foods and the rise of obesity in our country, Gossett took her love for food and gardening to her children's school. With the help of local farmers, she created a garden at Palms Elementary School. Gossett says that when the kids first come into the garden they have a hard time focusing, but once they get their hands in the soil they relax. The kids learn how to plant seeds that soon produce vegetables. When the produce is harvested, Gossett teaches the children to prepare healthy meals consisting only of ingredients from the school's garden.
Gossett teaches her own children to eat and prepare food the way she was taught. On any given day you may find her oldest son baking cookies or brownies for a birthday party or her daughter picking eggs out of their chicken coop to sell to a family member. "I just always believed that people should do what they do best and offer that to the community," she says. "In my mind it's all very simple, I do what I love, and now I teach others to do it too."
Gossett is one of the warmest and loveliest women you'll ever meet. She has a fairy-god-mother quality that draws every one in. When someone tastes her pastries the magic happens, pixie dusty all around. She acknowledges that her love for pastries and baking comes from her desire to make people happy. She says, "I love working with my hands to create something that will make someone feel so good when they've eaten it. Preparing desserts with whole, organic ingredients just adds to the pleasure of the experience. When my students leave my classes, I know I've given them the tools to create natural and delicious food for themselves." This mom is changing the world by deepening the relationship of adults and children to healthy, sustainable food, from the farm to the plate and everything in between.
Related
Popular in the Community