MONEY ISLAND, N.J. ― Meghan Wren remembers the day when a young bald eagle ― fluffy with the mottled-brown plumage of an adolescent ― landed on the dock next door and started pulling apart a fish carcass. They were having a potluck for Memorial Day, and about a dozen neighbors were gathered around, cold beer in one hand and camera in the other.
That's how it used to be here, before the storm.
Five years after Superstorm Sandy, Wren's family is one of the few left in this windswept fishing village on the Delaware Bay. Homes along the Nantuxent Creek side, where Wren has lived in a weathered two-story house since 1997, were spared much of the worst damage.
But houses facing the bay ― many of them weekend or summer cottages for folks who live in Philadelphia, about 60 miles north ― took a beating and now sit abandoned, the boardwalks to their doors rotten and cement septic tanks sitting in the open.
"The thing that's most different, most changed post-Sandy, is the camaraderie of the weekenders and summer people coming down to enjoy the place," Wren told HuffPost on Thursday afternoon from a picnic table in her front yard, looking out toward the dock where the eagle landed. "It's a beautiful place to be. But it doesn't feel like a neighborhood of people enjoying it anymore."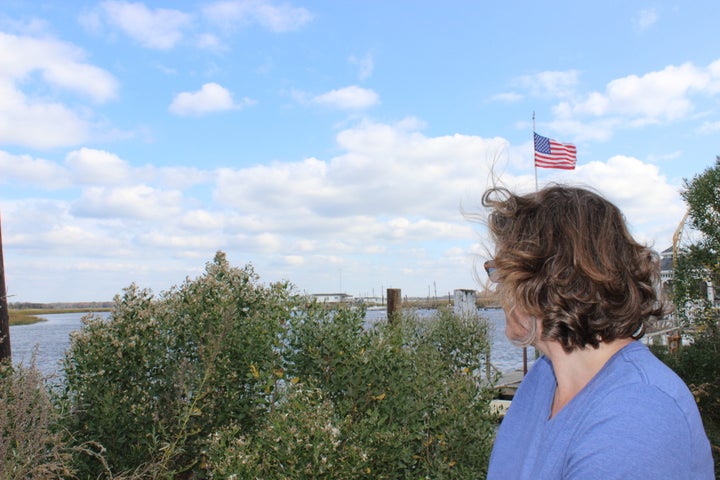 The $1.8 billion in federal grants promised to New Jersey for relief after the storm went to the nine worst-hit counties. Cumberland County, where Money Island is located, didn't meet the threshold for damage to qualify. The county received nothing from state funds such as the Stronger NJ revitalization program, Stronger NJ Business grants or the Reconstruction, Rehabilitation and Elevation funds. In October 2013, Gov. Chris Christie's administration and the U.S. Army Corps of Engineers announced plans to build 32 new beach and dune construction projects along 44 miles of the state's coastline ― none of them along the Delaware Bay, The Star-Ledger reported at the time.
Part of the problem is that Cumberland came up just short of the the federal threshold of 1 percent tax assessment losses, even though at least four of the county's townships lost 8 percent to 10 percent. Wren, who now leads an effort to petition the state for more funding, said Money Island lost 10 percent. The bulk of Cumberland's population lives inland, in towns like Millville, Bridgeton and Vineland, skewing the damage statistics against places like Money Island.
By contrast, New Jersey's wealthier Atlantic shore, where many high-priced waterfront properties proliferated over the past century, saw tremendous and statistically significant destruction. In Toms River, for example, roughly 10,000 homes were damaged or destroyed.
In 2015, the Federal Emergency Management Agency boasted that most of the boardwalks on New Jersey's storm-ravaged Atlantic shore had been rebuilt with more than $115 million in recovery spending. In Toms River, where roughly 10,000 houses were damaged or destroyed, more than 2,000 homes have been demolished and are being rebuilt, and an additional 1,200 are being elevated, according to The New York Times.
The debate over which communities get to rebuild and which are forced to retreat as climate change causes seas to rise and violent storms to become more frequent appears to have reached a conclusion before places like Money Island ever got to voice their say.
"It seems pretty clear that the official stance of the Christie administration on the Bayshore communities is that they're eventually going to have to be abandoned," Nate Kleinman, a political organizer who worked with Occupy Sandy after the storm, told HuffPost. "They don't want to put any more money in them than they absolutely have to."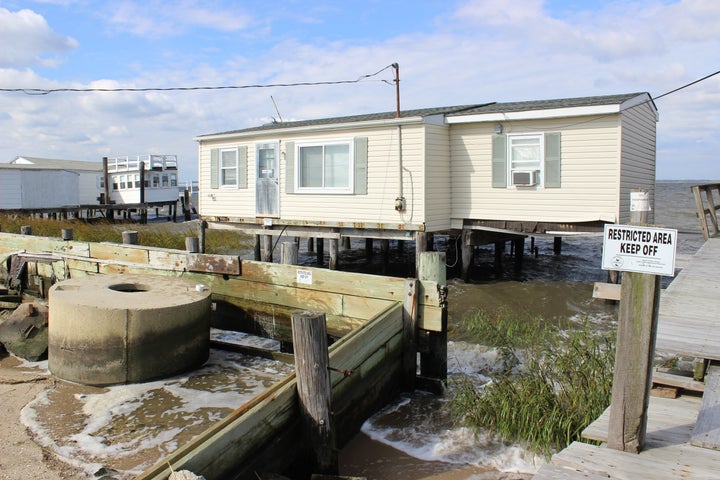 The state of New Jersey has offered to buy 28 of roughly 40 homes on Money Island, according to The Philadelphia Inquirer, with plans to demolish them and let the area return to its natural, pre-development state. The Nature Conservancy has a big presence in the area, tracking more than 100 species of birds and 200 species of fish. But Wren said responsible stewardship has long included people living nearby. Bird watchers, for instance, might want to enjoy some coffee or lunch, or stay in a nearby hotel, she said.
The Money Island Marina has been exploring other business ventures to account for the drop in fishermen visiting during the summer. Bruce Muenker, who manages the shop, told HuffPost he's begun raising soft-shell crabs and shipping cooked crabs to restaurants in the region.
"We need to branch off," he said.
The destroyed homes come with their own problems for the area. The unearthed septic tanks, some of which sit cocked to one side, half buried in sand at low tide, put the $23 million annual shellfish harvesting industry at risk, according to a 2014 study by the state Department of Environmental Protection. On Thursday, oystermen could be seen hauling fresh catches from their ships with cranes near Wren's home.
To be sure, the pain left by the storm lingers beyond the neglected Bayshore. A year ago, the New Jersey Resource Project, a bipartisan group founded by Sandy survivors, kicked off a months-long effort to document the ongoing recovery in areas of New Jersey hit hardest by the storm, including Atlantic City, Little Egg Harbor and Manahawkin.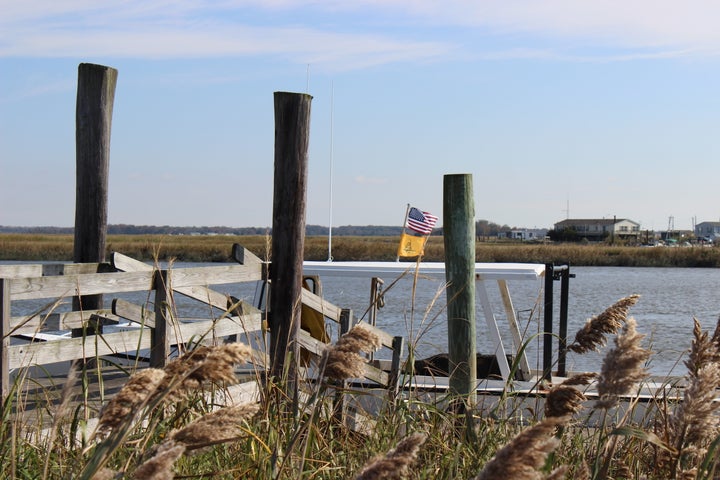 "We came across a lot of heartache and pain," Amanda Devecka-Rinear, the group's founder, told HuffPost.
The results are compiled in a lengthy report released this month and titled "The Long Road Home." Of the nearly 500 households surveyed, 56 percent reported having trouble paying bills or affording food and gas in the wake of the storm. Seventy-seven percent did not have sufficient funds to rebuild their homes, with many being forced to borrow against retirement savings. Household incomes suffered. People fell behind on mortgage payments. And 67 percent of those with high school- or college-aged children said college plans have been scaled back.
Perhaps most concerning, 18 percent of respondents had yet to return home at the time of the survey, according to the findings.
Along with triggering financial troubles, the disaster appears to have taken a toll on human health. More than 70 percent of those surveyed claimed to suffer from new or worsening physical or mental health issues, including depression and post-traumatic stress disorder. And 19 percent said they have developed new or increased dependence on drugs or alcohol.
As extreme weather and flooding become more frequent and devastating, Devecka-Rinear said, "there's going to be an overlap between the fallout of these disasters and other disasters we face as a society." But she — and 57 percent of those surveyed — is not convinced the country is better prepared for natural disasters.
"You never know when a disaster like this is going to come for you," she said. "We all have a stake in making sure that recovery programs work for families — not contractors, not big insurance corporations. That we don't hurt folks on the long road home, which is what's been happening."
Before You Go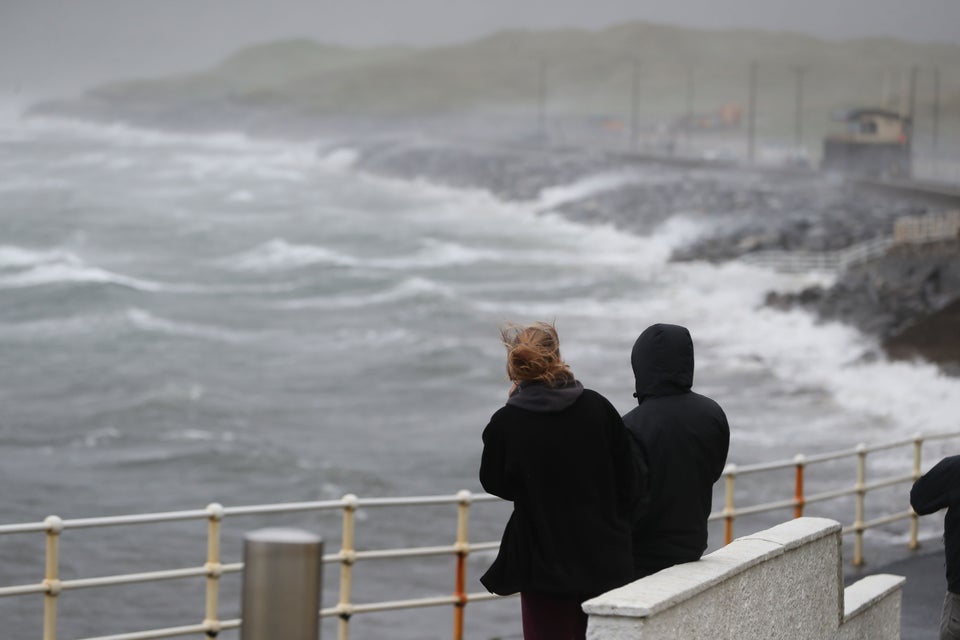 Hurricane Ophelia
Popular in the Community