Month of Photography Los Angeles (MOPLA) celebrates its eighth year. Each year during the month of April, galleries all over Los Angeles participate in the annual initiative. This year's theme is Diverse/City. Participating galleries are encouraged to curate exhibitions with this year's theme in mind.
The nonprofit, Venice Arts has had an early start... featuring a MOPLA exhibition, which opened on March 12th. "Diversions, Subtleties and Devotion: Five Photographic Visions," co-organized by Venice Arts and Month of Photography Los Angeles (MOPLA), features the work of five photographers Kristin Bedford, Rachel Bujalski, Allison Pharmakis, Josh S. Rose, and Lev Rukhin.
Venice Arts has been participating in MOPLA as since 2011, presenting official and affiliated MOPLA events. Director Elysa Voshell said, "As a nonprofit dedicated to transforming the lives of low-income young people through photo and film education, and to presenting documentary photography and film, we are thrilled to participate in MOPLA's city-wide celebration of photography. This month-long event activates and brings together Los Angeles' diverse photographic community each year, and this year's theme of Diverse/City in particular resonates with our focus on developing and showcasing diverse photographic voices."
An art talk and closing reception will be held on Sunday, April 3, 2:00pm. The exhibition runs through April 7th, 2016. Venice Arts is located at 1702 Lincoln Blvd., Venice, CA. See here.
MOPLA has also caught the attention of huZ Galleries in San Pedro who is participating for the first time this year. On Thursday, April 7th, huZ Galleries presents "Anguish and Obsession, An American Love Story" featuring the photography of Huss Hardan.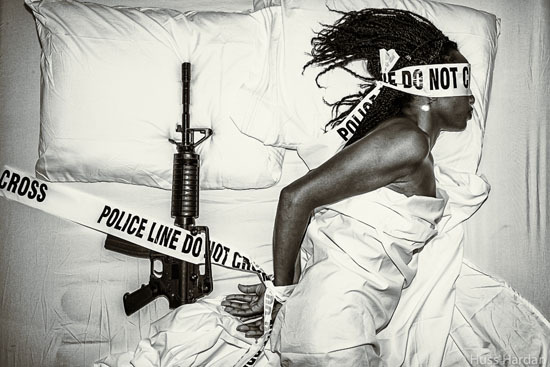 Photo by Huss Hardan - Anguish # 1, 12 x 18 matted to 20 x 28, printed on silver halide archival photographic paper, naked half framed with raw perforated steel bar and hung with steel chains; Limited edition 1/15
The opening will take place in conjunction with the San Pedro First Thursday Art Walk. Hardan opened his gallery in July of 2015 and hosts openings every other month. huZ Galleries features a variety of mediums. As a photographer, Hardan is naturally drawn to the work of other photographers, however the gallery features painters as well.
Current and events in the recent past triggered Huss Hardan's new series. The incidents in Ferguson, the Black Lives Matter movement, and the cases of police brutality across the nation inspired the work for his new exhibition. Hardan said "On a base level, the series shows the willing seduction, that then becomes an oppression, a humiliation and an end...events spiral out of control."
"Anguish and Obsession, An American Love Story" opens on April 1st, with an artist reception on Thursday, April 7th from 6-10pm. The exhibition will remain on view through April 30th at huZ Galleries located at 341 W 7th Street, San Pedro, CA 90731. (310) 428-0275. Find out more about huZ Galleries and the artist Huss Hardan at See here. See here.
The photography of Charlotte Patterson will be featured at SAGE Projects. Founder and curator of SAGE Projects, Shanoa Garcia said "MoPLA brings together people to discuss, observe, and study the power of the image as a perpetual vehicle of expression. In light of the post internet era and new technologies, new dimensions in the practice are continually surfacing."
The opening takes place on April 14th, (7:00pm-10:00pm) then on April 23rd (7:00pm-10:00pm) SAGE Projects will host an event with MOPLA featuring its new Projektions series. Lastly, on May 14th, the gallery will hold an artist talk at 2:00pm. The exhibition will be on view through May 14, 2016 at SAGE Projects, 300 South Anderson Street, Los Angeles, CA, 90033. RSVP to rsvp@sage-projects.com. See here.
Giant Artists (an artist run agency) presented a group show in MOPLA's inaugural year in 2009 and will once again be participating. This year's exhibition is entitled "10 Years of Giant Artists" and is curated by Sabrina Bajaj. The opening reception is on Saturday, April 30th from 5-8pm at Contact Photo Lab, 618 Moulton Ave., Suite E, Los Angeles, CA 90031. See here.
For a full listing of MOPLA events, visit See here.