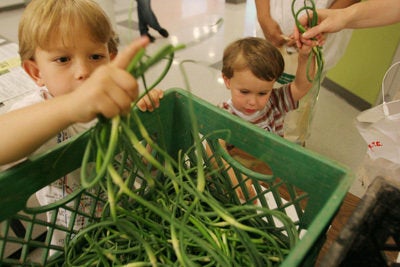 Is it possible for a fast food chain, beholden more so to its corporate number crunching than its customers' waistlines and heart valves, to be socially responsible, or dare I say, sustainable?
On Sunday in the New York Times, the business section focused on the recent surge in profits occurring at McDonald's, and found that behind the upswing was a change in strategy. All white meat chicken nuggets, apple slices, lattes, wi-fi, flat screens and a host of other targeted, customer-enticements are reinventing the hamburger shack, all seemingly a result of the blistering criticism received in the last 10 years from books like Fast Food Nation and the film Super-Size Me.
But is what McDonald's is doing helping or hurting our movement to change the food system?
On one hand, sustainable food fighters can rejoice in the fact that our criticism matters. We will not be left unheard in the debate on food.
But we aren't primarily the ones we're fighting this revolution for; as food conscious individuals, we can grow our own produce, join a CSA, avoid the drive-thru in favor of our own kitchen's fare or better dining. It's those on the fence, folks who could be swayed to avoid corporate-sponsored food with its unpronounceable, prepackaged and preservative-laden ingredients -- who could make the largest dent in the policies coming out of Washington. Without their determined protesting for more sustainable food, and their willpower to resist McDonald's and their ilk, our movement has no legs.
That is not to say our numbers aren't increasing. But this article proves that there is some level of pacification that occurs when a restaurant chain greenwashes itself.
My husband and I have gone at odds over the British chain Pret-a-Manger (McDonald's owned 33% stake in the company until February 2008), which could arguably be a more virtuous chain restaurant -- they prepare salads and sandwiches in house, using occasional organics, and serve in more environmentally conscious packaging. He would go out of his way to go there for lunch and a slice of their carrot cake (there are a few restaurants here in New York), while I'd rather pack a sandwich -- with handshake-assured lettuce and tomato, and local farmer cheese.
This is partly because I didn't want to support McDonald's bottom line indirectly, and partly because I am convinced that it is impossible to have a virtuous fast food restaurant, especially if fast food still insists on world domination. It seems inherently contradictory to have a chain of restaurants from coast to coast (and beyond) that source locally, seek out sustainably raised meat (and don't focus on a meat-centric menu), buy organic, compensate employees fairly, keep prices low, produce food quickly without the aid of a deep-fryer and maintain an already cola and MSG-addicted customer base. Cheap food and fair wages might only be possible if there is a garden on the premises, but then, what to do with the variety of vegetables grown? For me, thinking Big in the food system always means a degradation of quality.
Eating Liberally (and Huffington Post) blogger Kerry Trueman recently discussed a similar topic -- Wal-mart's effect on the organic food market. The giant box store has of course brought organic into the hands of many who might not otherwise have access. But she asked the Ethicurian's Elanor Starmer whether this is a good thing. Starmer described how big organic, the only firms large enough to provide on the scale Wal-Mart sells, are known for cutting corners, and by proxy lowering standards.
This blogger fears that both corporations' attempts to be virtuous will only serve to dilute the fervor of our movement. Let's be straight -- McDonald's all white meat chicken nuggets are still coming from Tyson, the largest chicken processor in the nation, where one can only speculate at the quality of life and death given to each chicken. (They process 25 billion pounds of chicken, beef and pork annually). And its not like those lattes are being made with fairly traded beans either. And yet Wal-Mart and McDonald's are the only two companies whose shares rose in 2008 amid what is shaping up to be a second go-around of the Great Depression.
To be truly sustainable, we need to think beyond the Ponzi schemes McDonalds and Wal-Mart are force-feeding us today, to setting up real virtuous roots for a conscious food future. This means more farmers, more shaking the hand that feeds you, and better food. (Aaron French gives some great suggestions in his post on Civil Eats yesterday, too). We must not forget what we are fighting for: good soil, and the future of our species.