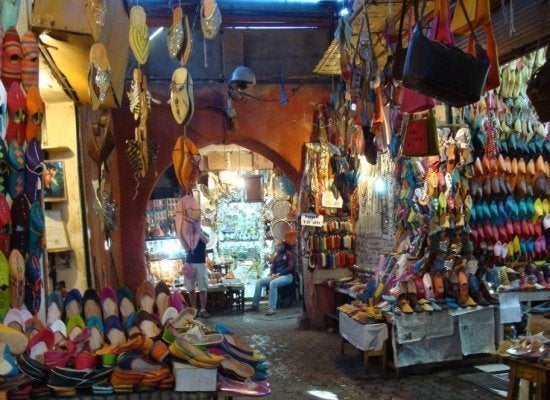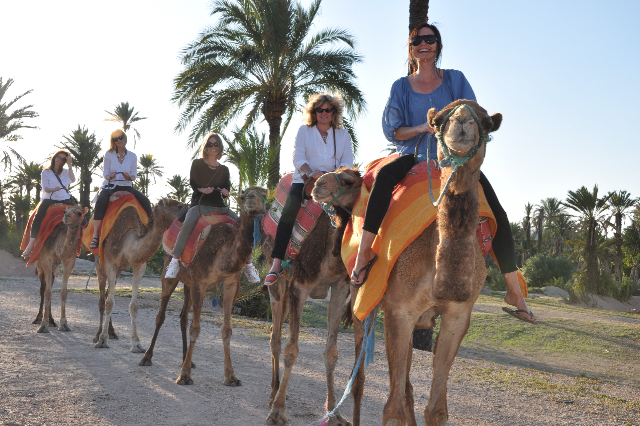 Not to Morocco, they said. Not now.
With uprisings in the Middle East and North Africa, Morocco might not have seemed like the obvious choice for a "girl's trip," at least to some.
"Morocco is different," they assured us at DAI Travel and Austin Lehman Adventures, who both designed fantastic custom tours for us, insisting that Moroccans are peace-loving people. But things were heating up.
Four weeks before we left, a café in Marrakech's busy Djemaa el-Fna was bombed, killing 16 people. Days later, Osama bin Laden was killed by Navy SEALS. Really? we joked. They had 10 years to find him, but they had to do it right before our trip?
Resisting the temptation to chicken out, we opted for an abbreviated (three-day) trip to Marrakech via Paris. After all, we were five women; why not throw in some hedonistic shopping and 5-star restaurants -- especially as the whole world was falling apart anyway.
Air France took us as far as Paris in Premier Voyageur, roomier than coach, yet still a far cry from Business Class, where the foie gras and real china beckoned. In Paris, no reservation was impossible with the help of Yves Abitbol of MyConcierge, but after a few days of shopping and dining in places like Derriere, Chez Georges and L'Atelier de Joël Robuchon we were ready for le vrai Maroc. We loved Royal Air Maroc, with its friendly flight attendants serving Parisian macarons, and our three-hour flight included something rarely seen on American carriers: a meal.
Marrakech has been booming for years, and there are scores of hotels and riads to choose from, but I only wanted to stay in one place: La Mamounia, the mythical 1920s luxury hotel where Winston Churchill, Franklin Roosevelt and celebrities, such as the Rolling Stones stayed decades before us. From this recently renovated fairytale venue, surrounded by 17 acres of gardens, we could explore the gritty souks and take a day trip to the High Atlas Mountains, yet still return to the lap of luxury, where a hamam and a fabulous meal awaited. It's perfect for those who want to experience Marrakech, but prefer a protected experience.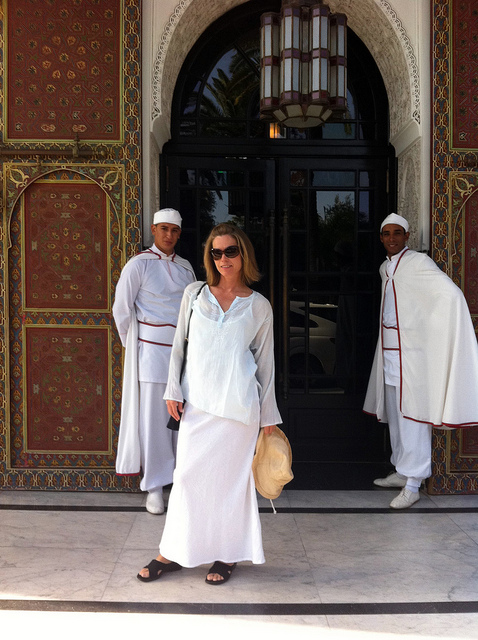 When we arrived, six gorgeous doormen in traditional garb swept open the palatial doors with broad smiles; then we were ushered to a seating area in the exquisite lobby, where fresh dates and almond milk scented with orange blossoms awaited, the traditional Moroccan welcome. Our suite, filled with fresh fruit and local sweets, was extravagant -- two sitting rooms, a bedroom, two bathrooms, a walk-in closet and two dressing areas. What more could we want?
Our first stop was -- what else -- a camel ride in the Palmeraie near the outskirts of Marrakech. Our guide Khadija and driver Abdul tried to keep straight faces as we hoisted ourselves upon five one-humped dromedaries like the tourists we were. "Hold on tight," they warned, as my camel lurched to his feet, pitching me forward. I clung to the metal "reins," wondering how bad of an idea this was. I glanced at Arianne, who was holding on for dear life, and we cracked up, mostly from anxiety, but also aware of how ridiculous we were. "Whose idea was this?" we laughed, thankful that the Sahara was too far away for that overnight trek we'd considered.
We dove into the throng of the Jemaa el-Fna Square, our lives passing before us as we dodged donkeys, motorcycles and carriages on the "pedestrian" square. Our senses stirred with the exotic scents, sights and sounds of snake charmers, "water men" and storytellers, along with locals selling everything from aphrodisiacs to orange juice. A toothless old man threw a monkey onto Pilar's shoulder, and she and Lorraine had their photos snapped with giant snakes wrapped around their necks. Betsy and I longed to try the calamari at one of the many food stalls, but thought better of it, opting for sugary beignets from a young boy instead. We'd heard that the hawkers were aggressive, but truth be told, they're no worse than those in Fisherman's Wharf.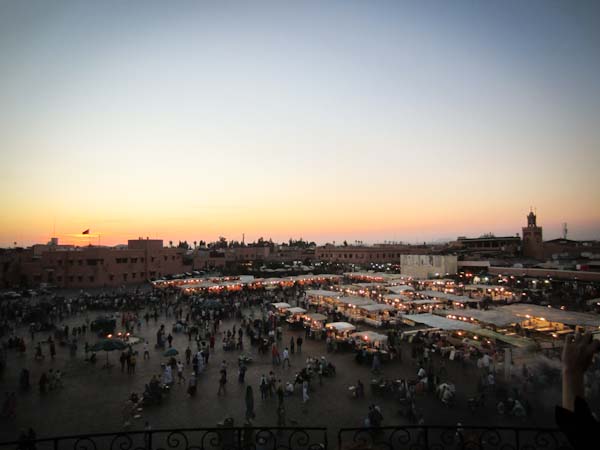 The sight of the bombed Argana Cafe was unnerving, especially when we climbed the stairs of an identical café across the square to take in the view of the Katoubia minaret, now pink in the setting sun. But we'd chosen faith over fear, so I closed my eyes and listened to the hauntingly beautiful call to prayer.
That night we dined on cinnamon scented b'stilla and fragrant chicken tagine in the lush gardens of Le Marocain, pretending not to notice the armed guards who roamed the lavish property with bomb sniffing dogs.
After a heavenly night in our suite, we headed to Yves Saint Laurent's lush walled Jardin Marjorelle, followed by a tour of the 19th century Bahia Palace, and then ... shopping. Though Khadija knows the hottest boutiques for leather, rugs and argan oil, we couldn't wait to get to the souks, where we would have been lost without her. She saw to it that we found the "best, the finest" in Moroccan slippers, spices, kaftans, wooden boxes, tea glasses and more as we were swept into the madness of the souks, knowing that we were paying more than the locals for everything no matter how well we bargained.
A day trip to the Berber villages of the High Atlas Mountains was the perfect antidote to shopping, with a picturesque lunch at Domaine de La Roseraie, a resort engulfed in thousands of garden roses overlooking the valley. Too tired to make rational decisions, we ordered cheese soufflés and French onion soup, and got what we deserved: bland food, but for the insanely delicious Moroccan black olives and bread. En route back to Marrakech, we met an elderly Berber woman decked out in a colorful mix of Western clothes, her beautiful smile reminding us that serenity costs nothing.
At Le Tobsil, a four-star riad restaurant set inside a labyrinth of ancient walls, candle-lit tables strewn with rose petals and the mesmerizing sound of Gnaoua musicians set the mood as we were served course after course of traditional food and wine.
Our eyes were full as we said goodbye to Khadija and Abdul who, by now, had become more than just guides, but friends. In Moroccan style, we shook hands and touched our hearts. In American style, we hugged them close.
I often joke that as a child, I was raised on a steady diet of fear. For me, traveling to an exotic destination despite recent world events is facing fear head on.
Why go to Morocco now? For the same reasons we travel anywhere, at any time. We travel to expand our worlds, and to open our minds and hearts. They told us not to go, but they were wrong.
Now ... where shall we not go next?