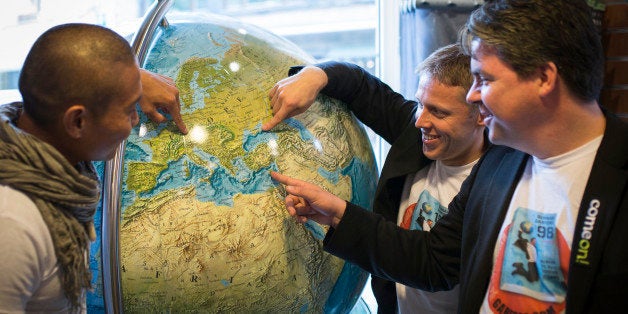 A trio of friends from Norway reportedly smashed a previous world record on Sunday by traveling to the most countries in one day.
The extreme travelers Gunnar Garfors, 39, Tay-young Pak, 42, and Øystein Djupvik, 40, made it to 19 countries in just 24 hours, surpassing the standing record of 17 countries, Norway's The Local reports. The record-setting journey commenced in Greece at midnight on Sept 22., then the group traveled northwest passing through Bulgaria, Macedonia, Kosovo, Serbia, Croatia, Bosnia, Slovenia, Austria, Hungary, Slovakia, the Czech Republic, Germany, the Netherlands, Belgium, Luxembourg, France and Switzerland, and ended in Liechtenstein just before the 24-hour period was up.
"Now we need to celebrate for 24 hours as well," Garfors said in a media statement after completing the remarkable trip. "It has been a fantastic journey. We crushed the old record with two countries, and we are extremely happy with ourselves. We even had time to spare, but the weather conditions [were] just too bad to continue towards our 20th country, Italy."
To get around quickly, the group used both rental cars and took two commercial flights from Skopje, Macedonia to Beograd, Serbia and from Wien, Austria to Dusseldorf, Germany. A map of their whirlwind tour can be seen below.
The trio and a group of fans also catalogued the journey on social media using the hashtag #recordrun.
"I don't like sharing. Not world records, at least," Garfors wrote in a blog post on his personal website ahead of the record attempt this weekend. "The route is all brand new, we have put even more planning into the project this time and we have experience. The experience of failure. Can't beat that."
This time around, the men proved resilient.
"Everything went smooth, besides from some bad weather in Switzerland, and some trouble with a rental car in Greece before the start of the race," Garfors said in a statement. "Now we have been on the road and should be tired, but setting a new world record feels like winning the lottery and we wonder if we should continue to travel for 24 hours more."
They might need a nap first.
Related