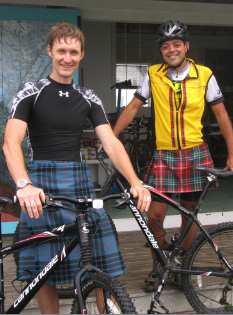 I am on a mountain bike, wearing a short kilt over my biking shorts, peddling along the ocean floor on the Bay of Fundy in St. Andrews by the Sea, New Brunswick, Canada. No, this is not a dream -- well, maybe it once was a dream of artist and mountain biker, Geoff Slater www.geoffslater.comwww.geoffslater.com who thought up the idea of biking in a kilt and his partner, trainer , Kurt Gumushel www.ripplefitness.cawww.ripplefitness.ca whose father is a tailor and made the kilts for the cyclists.
Says Kurt, "If you have to ask, you just don't get it." The kilts are the trademark of Ripple Fitness, an outfit run by Gumushel who takes private clients like me or groups on loaner Cannondale mountain bikes and loaner kilts for either easy, moderate, expert or theme rides. Want a ride which ends with a yoga session? Gumushel is a marathoner, long distance triathlete, weightlifting enthusiast, coach and yoga practitionner. Prefer to be led peddling into the wilderness for a picture postcard view to learn how to paint? Slater, who occasionally leads tours for Ripple Fitness, is St. Andrew's best-known artist, whose wall-sized murals adorn many of buildings in this quaint Bay of Fundy village and who invented a unique style of painting with one continuous line.
Ten years ago, Slater moved from Ontario to St. Andrews, a land where mountain biking was relatively unknown, even though it has some of the most diverse mountain biking areas in New Brunswick (from sea level to the most challenging downhill rip-it-up terrain). To feed his habit, Slater built single-track trails and introduced biking to the town. Now, ten years later, there are 50 miles of trails, many built by Slater and other volunteers, and he and Gumushel have created a yearly October Bike Fest.
So, why the kilt? Perhaps because their town, St. Andrews-by-the-Sea, has a Scottish name and at the nearby Fairmont Algonquin http://www.fairmont.com/Algonquin, many of the staff wear kilts. And why not? Gumushel's father is a master tailor. Two years ago, Slater had the tailor make him a lightweight kilt, short enough not to get caught in the spokes, functional, stylish, and also a good mud fender. Slater was so happy riding in his kilt (and it was such an unusual cycling outfit) that he thought it would be a fun thing to have all cyclists outfitted in kilts. (Yes, he wears biking shorts underneath). There is now a local biking group called Off-Kilter and everyone who rides with Slater and Gumushel is fitted for a kilt and admitted to the official St. Andrews by the Sea Off Kilter Registry.
Now, about riding on the ocean floor -- it's possible at low tide on the Bay of Fundy (which has the highest tides in the world and where the tides in St. Andrews rise and fall 30 feet, twice daily). Me, Slater and Gumushel are on our way to Minister's Island, the largest tidal island in the world. Normally, I'm a road cyclist who pedals on New York's smoothest tar roads, but here, with thick mountain bike tires, I can cycle on diverse terrain (think: wet, roots, rocky, hilly, slippery and muddy). For diehards and extreme cyclists, Slater leads an "epic" or century ride to Grand Manan Island, accessible only by ferry, and on whose gnarly cliff exposed trails you ride for 8-10 hours and catch the last ferry home. But I only have a few hours, so the two are leading me to Minister's Island, a 500-acre tidal island which was first inhabited 2,500 years ago by the Passamaquoddy people, then by a Minister for whom the island is named, and finally by railroad baron Sir William Van Horne, who built an 80-room summer cottage and model farm.
Minister's Island is now owned by the Province of New Brunswick and managed by a non-profit board. Day-trippers come at low tide, but need to leave 6 hours later before the tide changes. Van Horne's house and barn are still standing, though no one lives here. Yahoo! We have the entire island all to ourselves. We ride from the rocky ocean floor past the gate, onto a mountain trail shaded by fragrant fir trees. Beyond the trees is a pristine beach that surrounds the island and which Slater says is every bit as beautiful as the famous Hopewell Rocks -- we just don't have the time to hike to them. Suddenly, like a mirage, a huge deer runs along the beach into the fog.
Minister's island is being regenerated, and there are animals here for the first time since 1960. We ride past llamas, sheep and cows, we visit the old barn -- the largest in North America -- and look in on dozens of chickens and pigs. Back on the trail, three horses and a pony are blocking the path, but they've got the right of way so we dismount and wait for them to move on. I don't expect hills here, but soon we're trucking up some steep ones, earning me a perfect ten on the Sweat Scale. Too soon it's time to leave this pristine wilderness -- too bad, because being marooned for the night on a deserted island with two hunks in kilts can't be such a bad thing.