Four people are dead and five others wounded following a shooting at a bank in downtown Cincinnati on Thursday morning that ignited the city's mayor to call for an end to gun violence.
The gunman was identified as Omar Enrique Santa Perez, 29, Cincinnati Police Chief Eliot Isaac said at an afternoon news conference.
Perez, who was among those killed, entered the Fifth Third Bank's loading dock just after 9 a.m. and opened fire before moving into the building's lobby, according to police.
Once inside, Perez engaged in a shootout with four officers who were responding to reports of an active shooter. Officers struck Perez multiple times, causing him to fall to the ground, Isaac said. It's not yet clear whether the gunman was fatally shot by police or took his own life.
Police believe Perez shot five victims during the attack. One victim was determined dead at the scene and two died at the hospital. The two other victims are being treated at the University of Cincinnati Medical Center.
Isaac said Perez allegedly used a 9 mm gun, which was purchased legally. Police also found "multiple magazines" and about "200 rounds of ammunition" on Perez.
Cincinnati Mayor John Cranley (D), speaking at a news conference earlier Thursday, decried the gun violence as something that "shouldn't be viewed as normal."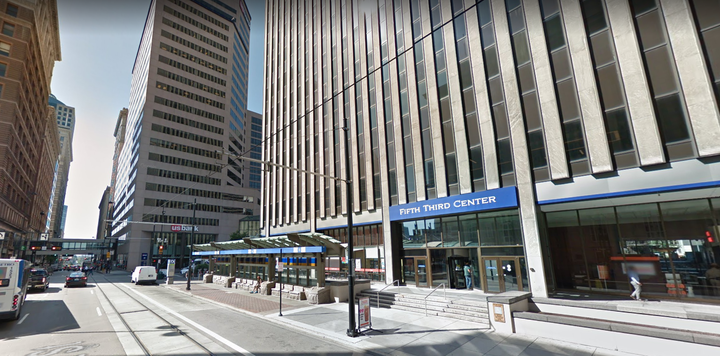 "This is abnormal. No other industrialized country has this level of active multiple shootings on a regular basis, almost on a daily basis. I think there's something sick at work here and we as a country have got to deal with it," he said.
The Cincinnati Enquirer reported that with four dead, including the gunman, this is the deadliest mass shooting in the Cincinnati region since 2013.
Cranley last year joined more than 1,000 mayors across the country in signing a pact to end illegal gun use and enforce current gun laws.
Asked what should be done Thursday, Cranley said: "In my opinion, all solutions need to be on the table. ... What we need, as a community is ― not just as a community but as a country ― is how to end these multiple mass shootings."
This is abnormal. No other industrialized country has this level of active multiple shootings on a regular basis, almost on a daily basis."

Cincinnati Mayor John Cranley
FBI Cincinnati tweeted that it had agents on the scene to assist with the situation.
As of 11 a.m. Eastern time, none of the victims had been publicly identified.
Amanda Nageleisen, a spokeswoman for University of Cincinnati Medical Center, previously confirmed to HuffPost that the center had received four victims from the scene.
In an updated statement to Local 12 News, Nageleisen identified those four victims as three men and one woman. Of those victims, two have died, one is in critical condition and one is in serious condition.
Witnesses at the scene have meanwhile recounted the morning's terror as they heard the gunman firing multiple shots.
A woman named Ibony Ginyard, who was working in a Dunkin' Donuts in the building's lobby at the time of the attack, said she and the other employees ducked behind the counter as they heard at least five or six gunshots.
"Everybody was in there crying. We didn't know where to go because we didn't have a backdoor," she told reporters. "We just saw glass and everything flying."
"All he had to do was look over at the counter at us and we would have been shot," she added.
Witness Cheryl Eagleson said she was across the street from the bank when she heard "loud pops" from a gun, prompting people to drop to the ground.
"They were dropping to the ground to get away, trying to find a way to protect themselves," she told Local 12 News.
Ohio Gov. John Kasich (R) in a tweet said he has spoken with the city's mayor and will provide any resources needed to local police.
"I commend the law enforcement, fire and EMS personnel who swiftly responded to the scene and share my deepest sympathies with the innocent victims of this violent attack," he added.
Carla Herreria contributed reporting. This post has been updated with more details about the incident and the gunman.
REAL LIFE. REAL NEWS. REAL VOICES.
Help us tell more of the stories that matter from voices that too often remain unheard.