Muhammad Ali Mojaradi can't catch a break.
The Michigan-based educator founded an online learning platform called Persian Poetics in 2018, where he translates and teaches the Persian language and poetry.
But Mojaradi claimed his business has suffered because he has run into issues at various financial institutions due to his ethnic and religious background, including having his account frozen multiple times without warning. In addition, some of his students have stopped taking his courses, he said, because their payments got flagged by the banks to the government, and they were too scared to continue.
A quarter of the American Muslim population has faced hurdles while banking in the United States, according to a report released last week by the Institute of Social Policy and Understanding (ISPU), a nonprofit that provides research about American Muslims. Challenges included not being allowed to open an account, having an account suspended or closed, and having payments subjected to extra scrutiny.
The study further found that Muslims were twice as likely as the general population to have issues with business and nonprofit accounts. The holy month of Ramadan, during which Muslims partake in fasting and increased charity, started this week, and Muslim Americans are worried that discrimination from financial institutions could hurt businesses and charities in their community during this critical time.
"It's important for folks to understand that Islamophobia isn't just a rude comment at the grocery store," said Dalia Mogahed, the ISPU's director of research. "It is inflicted on the community by the state and by institutions, and one form of that that we're digging into here is financial institutions."
Mojaradi said his issues with various financial institutions began almost immediately after starting his business. He said students' PayPal payments to him were often delayed if they included phrases like "Iranian poetry" or "Persian poetry class." In March 2021, he said his PayPal account was frozen without warning.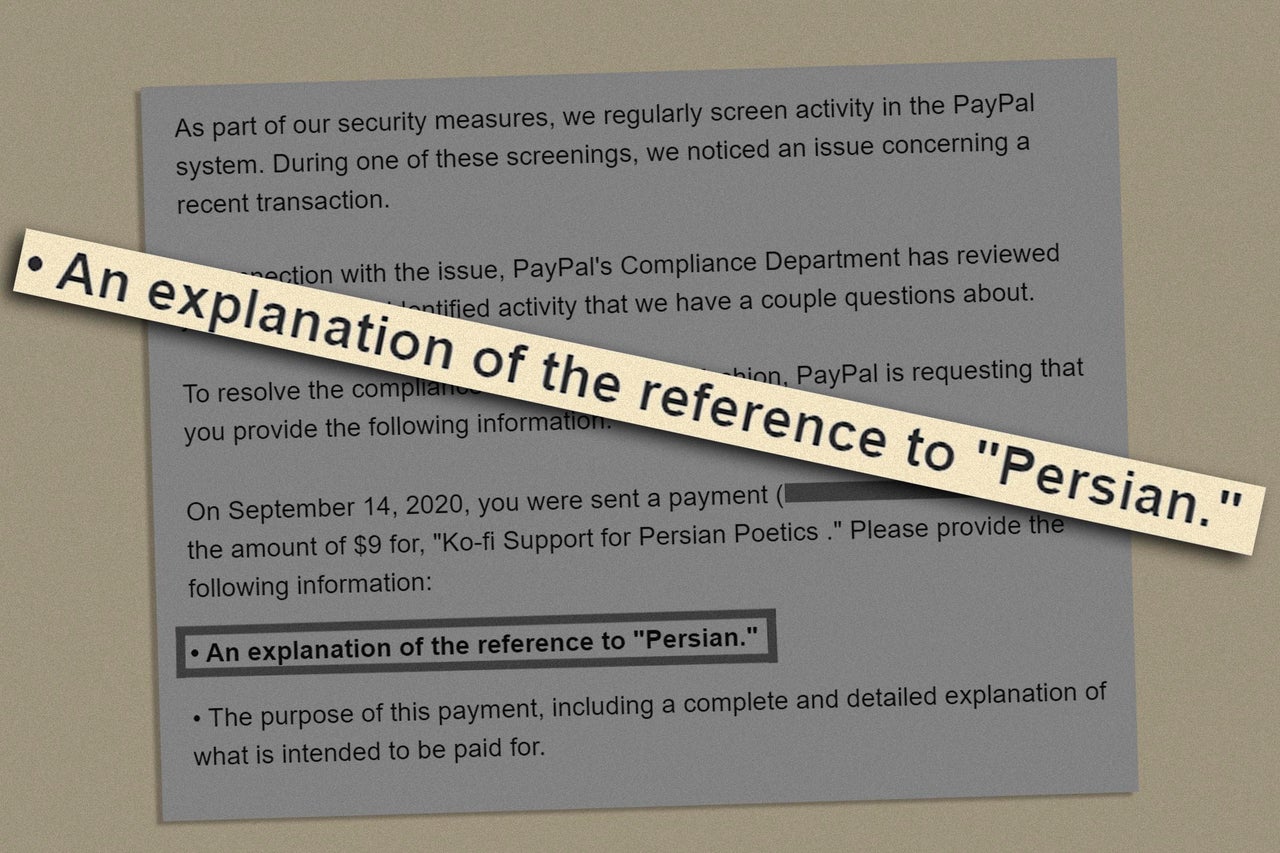 Mojaradi reached out to PayPal, explaining every term flagged, who he was, what he did, and who his students were. In one exchange, PayPal asked him for "an explanation of the reference to 'Persian,'" in a screenshot reviewed by HuffPost. Mojaradi said his account was frozen three times and that more than two dozen payments made to him were flagged over three years. So he opened a business account, hoping it would alleviate the problem, but to no avail.
A PayPal spokesperson told HuffPost in an emailed statement that the company "takes its regulatory and compliance obligations seriously, including adherence to U.S. economic and trade sanctions" and that "efforts to comply with these regulatory requirements, there may be times when we need to review certain customer transactions."
The spokesperson also sent a link to a blog post where the company said: "This is an ever-evolving process, and our teams are continuously working to improve and refine our approach and associated review times."
Many financial institutions claim that they are required to review certain transactions due to sanctions imposed by the Treasury Department's Office of Foreign Assets Control. Syria and Iran are on the U.S. sanctions list alongside countries such as Cuba and North Korea.
The study found that nearly all Muslims — 93% — who reported facing challenges with financial institutions experienced an issue with a personal account. Among this group, people were most likely to be turned down when trying to open a new personal account (44%), followed by having a personal account suspended or closed (33%). An additional 30% of Muslims said their payments were denied while using PayPal, Venmo, or similar money-transferring apps with their personal accounts.
When it came to business accounts, 1 in 5 Muslims reported challenges when sending or receiving payments – more than twice as compared to the general public, according to the study.
In February 2022, Mojaradi tried to set up a Chase business account online but was told in emails, which HuffPost has reviewed, that he needed to do it in person and further explain his business. So he said he went into his local Chase branch office and answered more questions about his business. But two weeks later, he said, his account was frozen, and he was required to meet with a representative in person to have it unfrozen. He complied, but then it was frozen again. Frustrated, Mojaradi said he returned to the branch for a third time to close the account entirely.
"JPMorgan Chase would never exit a client relationship due to their race, political or religious affiliation. We encourage this customer to visit our branch with the proper documentation needed to open a business account," said Stephanie Gostomski, the vice president of regional communications at JPMorgan Chase, told HuffPost in an emailed statement.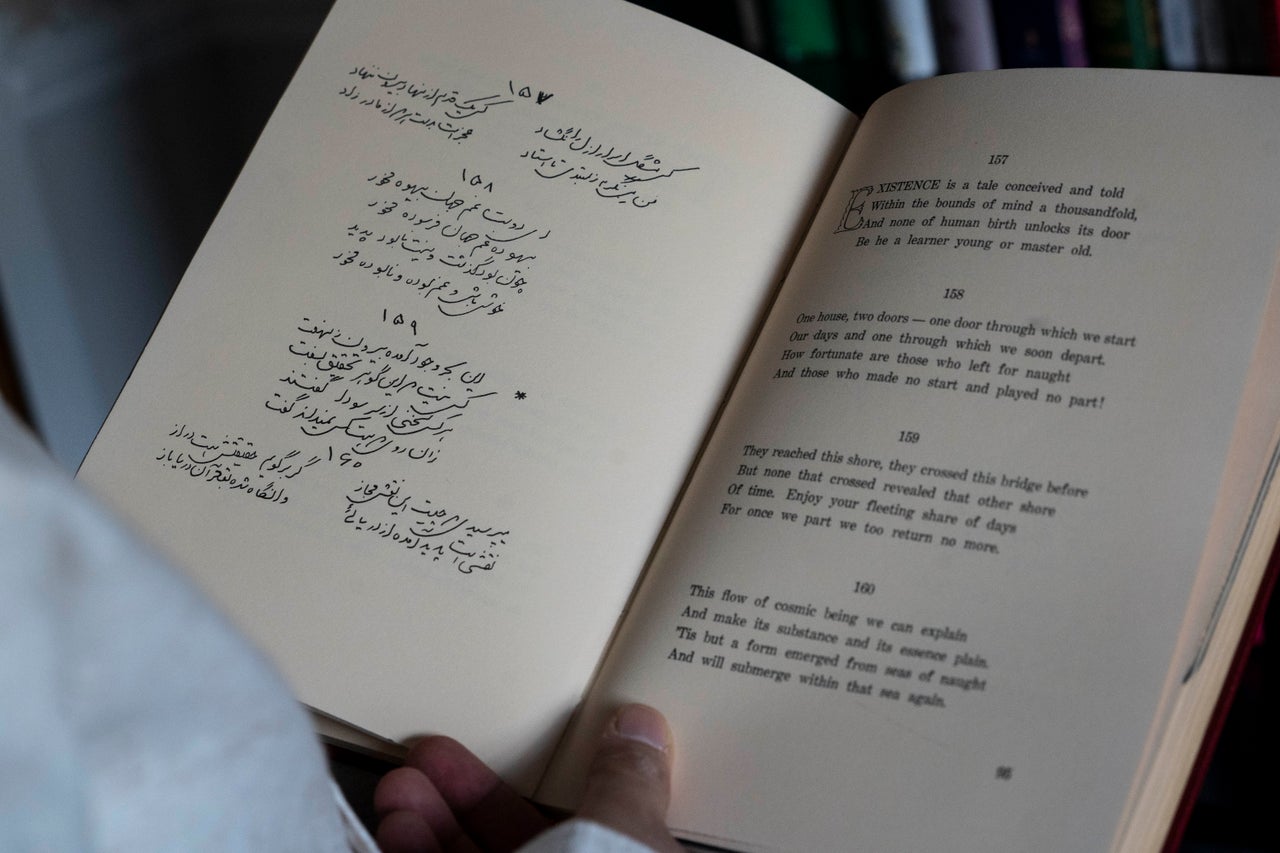 In July 2022, Mojaradi moved to Patreon, a platform for content creators and businesses to run a subscription service. However, the company froze his account entirely and withheld nearly $2,000, saying he was located in a country sanctioned by the U.S., according to messages reviewed by HuffPost. Mojaradi inherited Iranian citizenship from his father, but he was born and raised in Michigan. He established Persian Poetic as a limited liability company, meaning it was an American business he operated as an American citizen while living in the U.S. Mojaradi sent Patreon documents proving his U.S. citizenship.
"There are literally millions of Syrian American or Iranian Americans by now. All of us have bank accounts. Are we just all one day going to get up, and our bank accounts will shut down because you're a Syrian citizen or an Iranian citizen?" Mojaradi said.
Mojaradi emailed Patreon over a dozen documents, including his driver's license, credit card statements, utility bills, and letters from the Internal Revenue Service.
Finally, Patreon reopened his account — but with the condition that Mojaradi would not use a VPN or other means of "disguising" his location, according to emails reviewed by HuffPost.
Mojaradi agreed. But two months later, Patreon permanently deleted his account, claiming he used a VPN. Mojaradi said he didn't.
A Patreon spokesperson confirmed to HuffPost that the company removed Mojaradi's account "because of sanctions set by the U.S. Government."
"Iran is a country that is comprehensively sanctioned by the U.S., and we cannot provide services or process financial transactions to or from Iranian entities or individuals who reside in Iran, regardless of citizenship," Ellen Satterwhite, the interim head of communications and U.S. policy lead at Patreon, said in an emailed statement. "This does not just include where accounts were started, but where they operate. Specifically, we cannot support creators who operate or reside in Iran when we have evidence they do."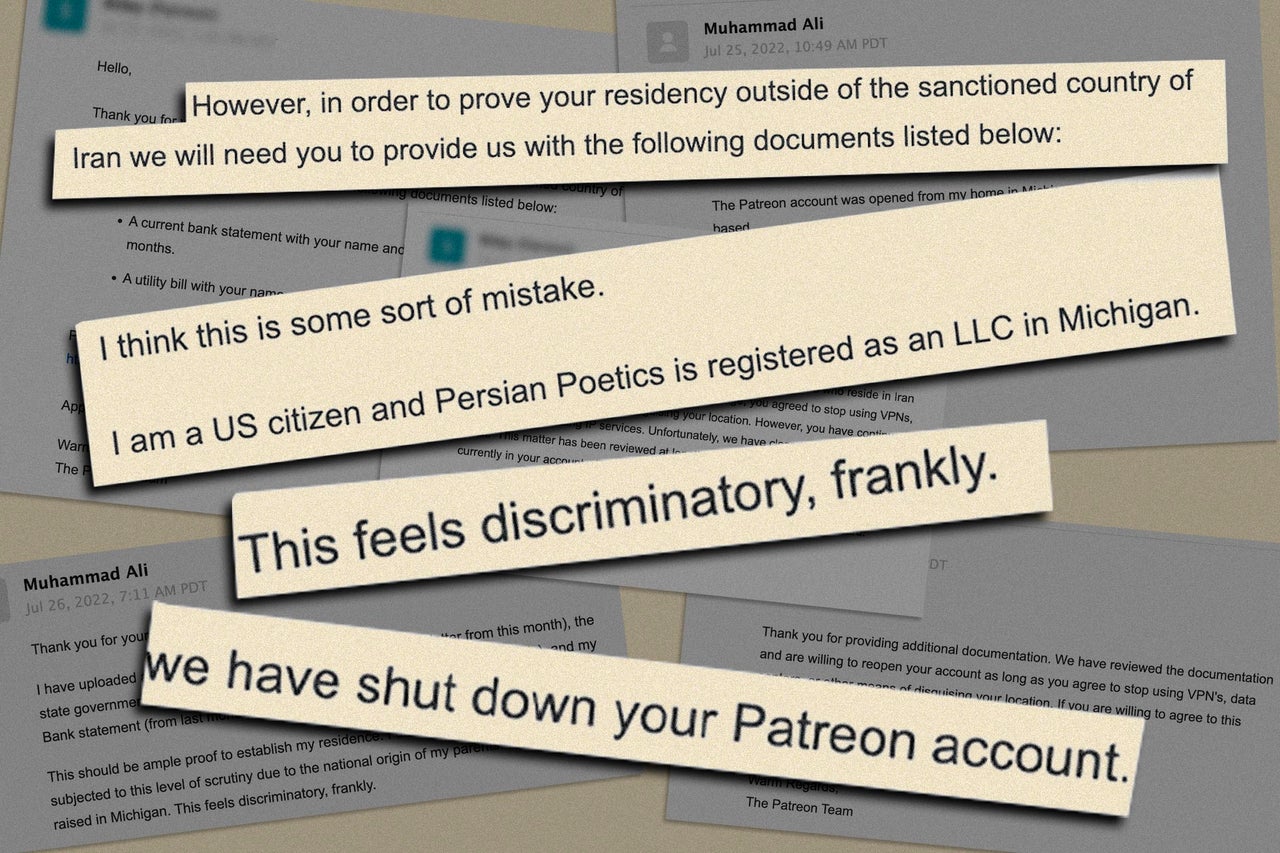 Patreon called the latest decision final, shuttered Mojaradi's account, and returned the $2,000 he had in his account to everyone who tried to pay him.
"We take the decision to suspend creator accounts seriously and do so only after thorough review and consideration," said Satterwhite.
During the winter of 2022, Mojaradi tried Stripe, an Irish-American financial services company.
Mojaradi said Stripe questioned him about his Iranian Whatsapp number, which he didn't regularly use, but that was published on his company's old website.
Nonetheless, he was approved. Mojaradi continues to use Stripe on his website to receive payments.
Stripe did not respond to HuffPost's request for comment.
Mojaradi also continues to use Venmo, which PayPal owns. Some payments still get flagged for additional review, which delays him getting his money. (In the blog post it sent in its email, PayPal said, "Venmo, like other U.S. financial institutions, screens payment activity and flags any payments that may violate U.S. economic sanctions.")
"I would understand if the government looked into me one time and said, 'OK, fine, this guy's just teaching languages,'" Mojaradi said. "But every time I have to go through this rigmarole, either I get approved, or they just decide to reject me permanently. I think this is ridiculous. It's discrimination. It has a chilling effect on my business. Who knows how many customers just don't sign up with me when they have problems?"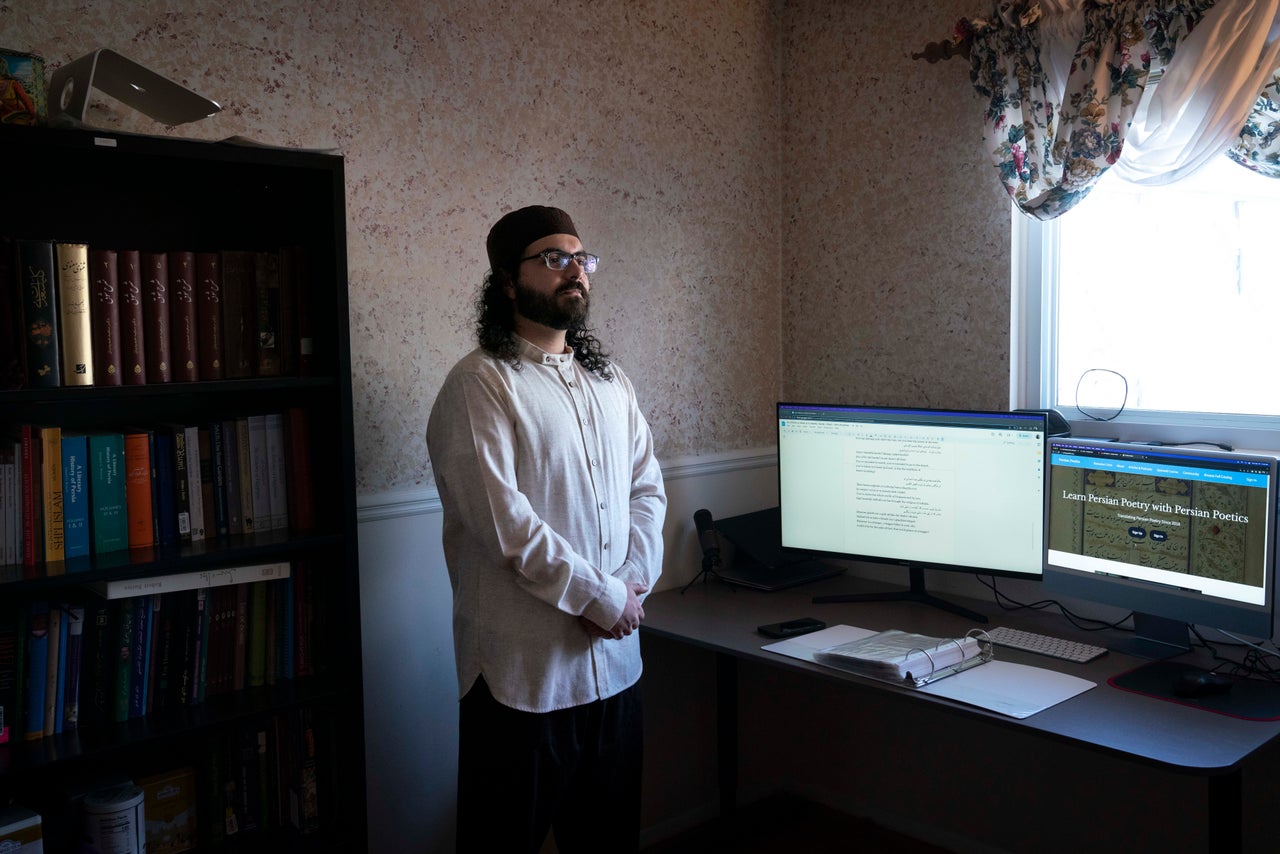 Mojaradi has since asked his students not to mention words like Persia, Iran, or Islam in their payments, despite it being the very topics he's teaching. The risk isn't worth it.
Last year, dozens of lawmakers – led by Rep. Ilhan Omar (D-Minn.) and Sen. Elizabeth Warren (D-Mass.) – sent a letter to the head of U.S. banking regulators, asking officials to reassess policies that actively discriminate against Muslim Americans and communities of color.
"Many Muslim and Arab, Middle Eastern and South Asian Americans, simply because of their connections — real or perceived — have been systematically cut off from financial services," the lawmakers wrote.
In 2019, a Muslim woman filed a complaint against Citibank in New York after the bank allegedly prevented her from opening an account, saying they first needed to investigate her husband, who has an Arabic last name. In 2017, a Muslim man, his wife, and his 15-year-old daughter were detained by police when a teller called 911 as he tried to deposit a check.
And last month, a PayPal customer relations specialist reportedly told one woman that her ticket purchase for an event with Palestine in the name had been held up.
"I'm going to stop you right there, that's what the issue is: Palestine," the representative said, according to The Philadelphia Inquirer. "Anything that has to do with the Middle East right now is very touchy, so PayPal does not support anything that has to do with the Middle East right now."
Financial institutions often take action based only on the perception of risk. And a bank may perceive a client to be at high risk for money laundering or financing terrorist groups not because of their individual history but because of the country or region where the funds are being sent, said Andrea Hall, the senior manager of the Together Project, which helps groups that are part of InterAction – the largest alliance of international nonprofits in the United States – that faced discrimination.
"As the problem was studied further, it became apparent that U.S. laws and regulations were a primary driver of this problem, not only for U.S.-based charities but for foreign-based charities as well. Because of the long reach of sanctions," Hall said. "This is a multifaceted problem and requires a multifaceted solution."
Muslim groups have said they often faced scrutiny over their international wire transfers, causing significant delays and cancellations. Sometimes these groups have had their accounts shut down without notice, leaving organizations scrambling to pay their employees or to apply donated funds to humanitarian aid projects.
"When our national charities are having banking issues, it impedes people's ability to give. It's a huge obstacle to getting the aid to those who need it most," Mogahed said.
The ISPU data also found that 1 in 5 Muslims who reported challenges while banking had nonprofit credit cards closed and was denied opening nonprofit bank accounts.
"Muslim charities in the U.S. routinely give to Muslims and people of other faiths and no faiths alike," Mogahed said. "They have projects all over the United States. They are on the ground helping with national disasters whenever they occur, so this isn't just about giving to Muslims."
She added, "It matters because it infringes on not only an individual but entire communities' ability to prosper, thrive, and even live out their faith in terms of charitable giving."
Back in Michigan, Mojaradi says the entire experience with the banking industry has made him feel like a criminal and a second-class citizen.
"Frankly, it's gotten to a point where I don't even really want to permanently live in America. You yell at me in the supermarket. You blocked my payments. You stare at me funny. You harass me when I enter the country," he said. "These experiences have made me not even want to be part of this country."
Popular in the Community