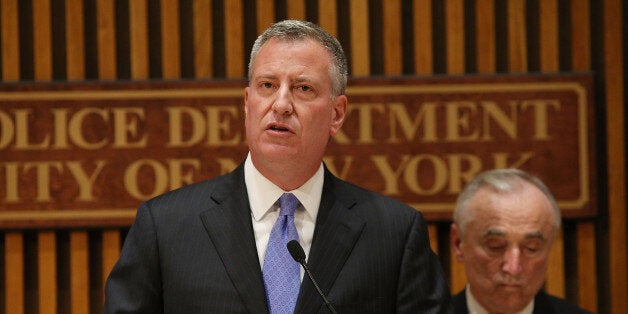 NEW YORK -- New Jersey Muslims suing over New York Police Department surveillance called the city's defense of the program under Mayor Bill de Blasio "truly troubling" in a court filing on Friday.
In a brief arguing that an appeals court should overturn a federal judge's ruling that the program was constitutional, lawyers for the plaintiffs rebuked the city for "continued attempts to mount a truly troubling defense of its policy of targeting Muslims alone for suspicionless surveillance."
The city is exploring a settlement in two other lawsuits over its post-9/11 surveillance of Muslims -- but not in the case of the New Jersey Muslims. New York police officers crossed the Hudson River to scour New Jersey mosques, stores, and even a girl's school as part of an effort to collect "demographic" information on Muslims.
The city has maintained that the appeals court should uphold Martini's ruling, and has shown no sign in bending its legal approach. One of the plaintiffs' lawyers, Glenn Katon of the nonprofit Muslim Advocates, told HuffPost there have been no settlement talks.
The New Jersey Muslims argue in their brief that "there is no dispute that the NYPD's unconstitutional surveillance program was a 'but for' cause of Plaintiffs' injuries: absent that program, there would have been nothing for the Associated Press to expose."
Katon said he was disappointed that the de Blasio administration has not sought to reverse the city's legal strategy of defending the program begun under former Mayor Michael Bloomberg.
"The argument is troubling from whatever source," said Katon. "To the extent that we all had hopes for meaningful reform under de Blasio, we've already said that we're disappointed given what he campaigned on."
Calling all HuffPost superfans!
Sign up for membership to become a founding member and help shape HuffPost's next chapter
BEFORE YOU GO
PHOTO GALLERY
NYPD Surveillance On Muslims