Those five words from Louis CK will change lives. Last night on Power Players Jeopardy Louis played for Fistula Foundation and crushed it, winning $50,000, money that can help nearly 100 poor women in Africa and Asia injured in childbirth get life-transforming surgery.

They taped the show last month in Washington, DC. As we headed to the airport to catch the last flight out of San Francisco I was thrilled that I'd finally get to meet Louis, since I'm a smitten fan, and be able to thank him personally for his previous big donations to the Foundation.

A packed, late flight meant we checked into our hotel about 1:30 am and I picked up this message: 'Louis has a tight schedule tomorrow, so unlikely he can meet you, sorry.' Rats! Next day at the taping, I and the other charity reps, a few of our favorite donors, our board chair and his wife, and my son, Bobby, also a huge fan, and contestants' friends are seated behind the contestants, so they can't see us. Problem is, we can't see them either. We watch on a Jumbo-Tron. There's a huge audience, who seem to love Louis as much as I do.

They do a trial round to make sure the contestants get the hang of it, answering with a question - you know, like 'what is Pluto?' or 'who is Woody Allen?' Alex Trebek isn't even on stage yet, but I'm feeling tense already. And, let's just say that it's good this was only a practice round because the smarty-pants journalists Louis was competing against cleaned up.

But, as Alex emerges, smooth as a Sinatra ballad, and cameras are rolling, the game starts. Here, where it counts, like for real money, Louis' big brain finally shows up. Will this last? Who knows? But at the end of round one, he's down by only $200. He's smart and on it. Seriously. He said he didn't go to college, who cares? He's like Bill Gates or Mark Zuckerberg, only a lot funnier. Now I'm getting nervous, almost can't look at the Jumbo-Tron as question after question drains the big board of new opportunities to score.
Then, Louis pulls a 'Daily Double,' meaning he can double down and wager twice normal. Will he do it? If he answers wrong he's likely out of the running, but if he hits it, he'll likely win. He goes for it, wagering $5,000. The question is a quote from Richard Nixon, with a word missing. The answer being the missing word, a virtual mantra for that twisted president. Louis got it: 'illegal'. With that as they head into the final round, Louis' lead is so great he can't lose, unless he wagers too much and misses the final question. How is he with math, I wonder? Turns out, it doesn't matter, he nails the final question and wins the whole $50,000 in front of a cheering crowd that was in his pocket from the beginning. (Final Question: Current Supreme Court Justice nominated by Ronald Reagan; Answer: Who is Anthony Kennedy?).

And, when it felt like it just couldn't get any better, an angel named Susan from the production company whisks us away to the front of the stage to meet Louis after all. The stage comes up to about my shoulders, so I could peer over and see Louis and the other contestants; it is crowded with production people, with headphones, mics, clipboards, all that stuff. But, Louis is leaving that behind and walking toward us. Then, he says another four astounding words: 'Kate, is that you?' I felt like I could faint, you know, weak-in-the-knees sort of feeling, like one of those swooning teenagers in the grainy black and whites of the Beatles at Shea Stadium.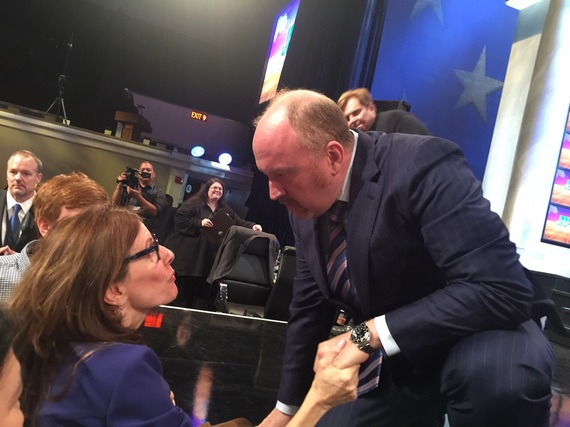 The next thing I know Louis is off the stage. I'm hugging him. We are getting our picture taken, My son is up there, too. I am speechless. Trust me, I am never at a loss for words.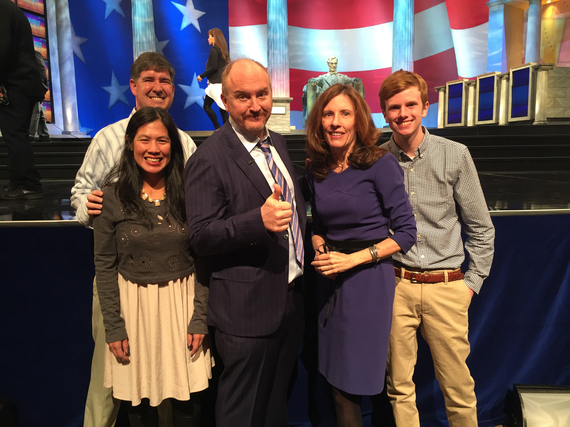 Louis C.K. with Fistula Foundation board chair, Bill Mann and his wife, Judy, me and my son, Bobby
'Thank you so much' comes out, and then he says 'thank you for coming all this way to see me play,' and when I say I am so grateful that the money can fund surgeries for nearly 100 women, he adds, 'thank you for letting me help you'. What? He's a big shot celebrity, how can he possibly be thanking me? I remember mumbling more thank yous, did I give him another hug? And then, he was gone, lost in a swarm of journalists, all trying to get a piece of him, like I just did.

After more than a decade working on fistula, I know one thing for sure: whether you are in Nairobi or New York, no one wants to talk about poor incontinent women, vaginas and bladders, sometimes rectums, too, with holes, traumatized by childbirth. That is what makes Louis' support for our work such a big deal. It's one thing to have Eve Ensler talk about fistula, quite another thing for Louis CK to do it. Louis went on Howard Stern a few weeks ago and mentioned we were 'his charity'. We are still getting gifts from people who, like Howard, had no idea what fistula was until Louis told them.

At the end of that extraordinary day in Washington, we spotted Louis as he was leaving the building. He waved warmly before ducking into a grey Mercedes with black windows, shielding him from the prying eyes of people like me. As the sedan moved away I knew one more thing for sure, thanks to Louis and Jeopardy many more people will know about fistula and more women will get care they need. In Jeopardy-speak here's how I felt: what is over the moon?

Thank you, Louis.
Calling all HuffPost superfans!
Sign up for membership to become a founding member and help shape HuffPost's next chapter