It's spring cleaning time. I leave off a moment with my bright yellow little vacuum in my kitchen, to reflect how far I've come since a couple of spring cleanings ago.
Back then there was no spring cleaning here. No cheerful yellow vacuum. Just an ancient upright monstrosity standing abandoned in my clutter. I'd become a bonafide clutterbug, you see. I was swamped. My place -- my girlfriend's old apartment, which I use as my writing studio and as somewhere to keep my clothes and things -- was one unholy permanent mess. My girlfriend finally got a glimpse (I'd long kept her away) and insisted I clean up -- or else. (There were other issues too, of course).
And so I began a project to declutter my place, and myself. And to investigate clutter and what is known now as hoarding disorder. I recorded these struggles in a book titled, appropriately, Mess: One Man's Struggle to Clean Up His House and His Act. It's coming out in August (WW Norton). At heart, it's really about the power of objects and memories, and the pain of letting go -- even of decrepit things.
One of the first "letting gos" that I managed when I started a couple of April spring cleanings ago was right here in my then-grim kitchen. It involved a pasta serving bowl I'd hung onto for decades, despite the hoary dark fracture line running from its rim down to the painted tomatoes at the bottom. Talk about unwholesome, not to say unhealthy. But oh how that bowl reminded me of -- was an intimate totem of -- my boho days back in the 1980s, when I was living by myself after years of love and misery, and pouring my heart into my second book, in a tiny walk-up in downtown Manhattan by Little Italy (where I bought the bowl).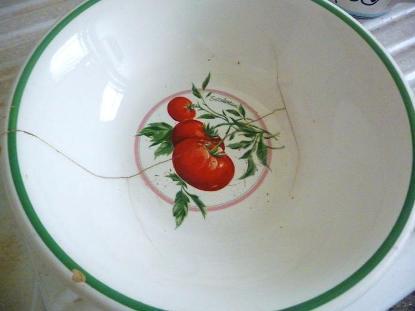 That cracked bowl was an heirloom, a kitschy bearer of precious memories. To throw it away, I desperately felt, would be like throwing those memories away. But finally, to show myself I was serious about decluttering (I'd warily consulted a pro declutterer and attended a couple of Clutterers Anonymous sessions), I did it. I broke that bowl in half and sent it down the trash chute. A small gesture, but a poignant one; a triumph even.
There was another April of significance in my Mess journey. Another notable event from a much older spring cleaning time. April 1947 was when Langley Collyer, the younger of the notorious hoarding Collyer brothers, was finally discovered (his rat-chewed cadaver, that is) in the astounding, booby-trapped debris of their hoarder mansion in Harlem. The cops, tipped off, had dug and crawled in to find Homer dead, on the first day of spring. But no sign of his housemate-brother Langley. There was an epic manhunt. False Langleys were spotted all over town and out of town. According to Franz Lidz's lively account, Ghosty Men, the police even mistakenly hauled in Joe Gould, aka "Professor Seagull," the crackpot made famous by the New Yorker's Joseph Mitchell.
I got to know the Collyers' story intimately in the course of writing and researching Mess. What's more, I kept being jarred by intimate coincidences, resonances. Just one small example: The Harlem mansion was quickly torn down after being "spring-cleaned" of over 130 tons (!) of its clutter (including numerous pianos and a Model T-Ford). In the 1960s the site was turned into a miniscule park, the sort created for urban renewal after the Harlem riots. I went up to visit one afternoon, as a pilgrimage of communion with the ghosts of the "ghosty men," those giants of hoarding well out of my humble clutterbug league. Collyer Brother Park was funded in good measure, I'd discovered, by the J.M. Kaplan Fund, which has long supported New York social improvements among other things. And who was a recent past co-chairman of the fund? The person who had been my literary agent, back in my downtown pasta bowl days.
My girlfriend, who was ultimately very helpful in my decluttering project, did get exasperated, I admit, with all my coincidence-collecting as I went along (and which I put in the book). A hoarder of coincidences, she calls me. And if I am, so be it. It's a type of hoarding I happily embrace as enriching, as the little curious echoes that reoccur in the overall music.
On that note, this resonant April, I restart my little yellow vacuum (I've dumped the elephantine upright) and resume my spring-cleaning.
@barryyourgrau / #MessTheBook
(Photo of bowl from: BY "private archives")