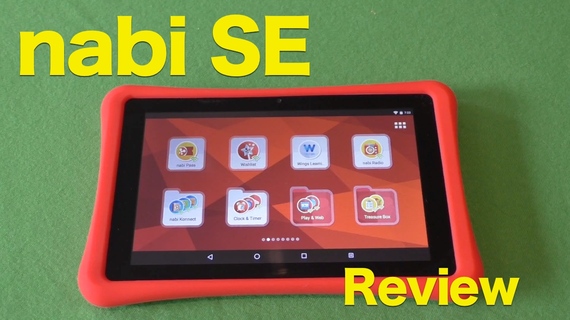 As a parent and someone who reviews a lot of tech toys, I am constantly hearing about screen time. How do we reduce screen time? How much is too much screen time? What are alternatives to screen time?
While these are all logical questions, they miss one important point...all screen time is not the same. Using a tablet to watch cartoons all day is very different than using a tablet to learn how to read.
The problem then is, how do you measure "good" screen time vs "non-educational" screen time. The answer may well be to use a tablet that is made for kids. We recently spent some time with the new nabi SE tablet from Mattel. This $79 tablet comes loaded with software to make sure your child's screen time is productive screen time.
Please watch our video review of the nabi SE Tablet -
With The nabi SE, It Is All About the Software
You are not going to get cutting edge hardware specs in a $79 tablet. The specs are fine for kids - 7" screen, 1GB of Ram and 16GB of storage. The real excitement comes from the preloaded software. You get the Blue Morpho OS overlay, which is optimized to offer a robust line-up of more than 400 kids entertainment, play, creativity and learning geared digital experiences. The Blue Morpho OS also features nabi's comprehensive parental controls enabling parents to fully monitor and manage their child's tablet use directly on the tablet or remotely through the nabigator app from their smartphones.
Reward, Control, Reinforce and Report
I know that heading sounds like some military doctrine, but it does a pretty good job of describing what we liked about the nabi SE tablet.
You can set rewards for good behavior - doing chores, learning, exercise and more.
You can control what is available for your children to see and at what times. Use the timers to lock up nabi when it gets too late or the kids have played too much.
You can easily reinforce good behavior with digital rewards or even physical rewards. The kids earn nabi coins that can be redeemed in the Treasure Box or via Walmart online for physical goods.
Run reports to see exactly what the kids are doing and for how long.
All in all, the nabi SE shows that some screen time is more beneficial than others and works hard to encourage and reward the kids to use the tablet for more productive screen time. Given all the screens we have in our house, I am all for anything that encourages more productive screen time!