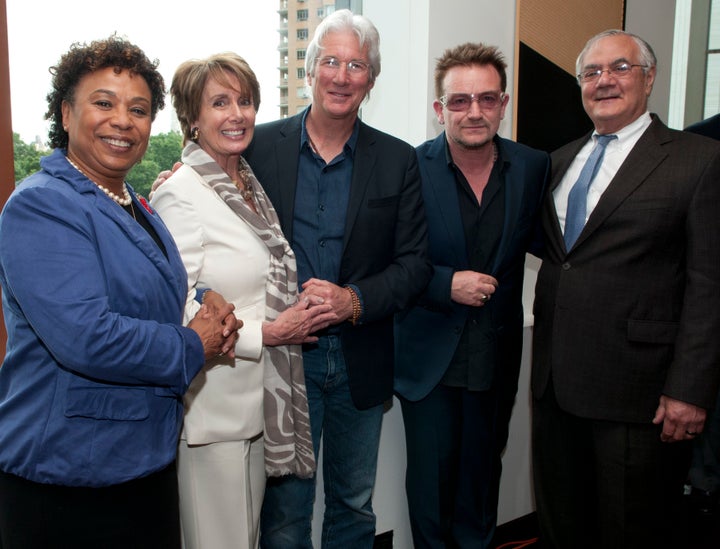 WASHINGTON -- House Minority Leader Nancy Pelosi (D-Calif.) was honored Tuesday by U2 lead singer Bono and actor Richard Gere, among others, at a private event in New York City for her work in fighting poverty and HIV/AIDS over the years.
Bono, a co-founder of the ONE Campaign, a grassroots organization combating world poverty, called Pelosi "indispensable" in the fight on both fronts.
"No one has fought harder than Nancy Pelosi since the day she came into office 25 years ago," Bono said in a statement provided by Pelosi's office. "Millions of people all over the world owe their lives to Nancy and the bipartisan coalition that fought to contain the AIDS epidemic, not just here in America, but in the poorest parts of this planet. She has reached across the aisle in this fight and worked with presidents from left and right, and her leadership has been indispensable."
Pelosi returned the praise for Bono, whom she called "an idealist who inspires, leads and acts to get the job done. We all appreciate Bono's ongoing leadership and will continue to work with him to meet our global humanitarian challenges."
During her time as House speaker, Pelosi worked with President George W. Bush and President Barack Obama to double U.S. funding for global health from $4 billion to $8 billion a year, according to Pelosi's office.
Attendees at the private gathering included Reps. Barney Frank (D-Mass.), Nita Lowey (D-N.Y.), Barbara Lee (D-Calif.), Steve Israel (D-N.Y.), Jim McGovern (D-Mass.), Lynn Woolsey (D-Calif.), Eliot Engel (D-N.Y.), Joe Crowley (D-N.Y.), John Yarmuth (D-Ky.) and Bill Keating (D-Mass.).
The event comes during the same week Pelosi is marking 25 years in the House, something she hasn't been shy about promoting.
"Next week I'll be observing my 25th anniversary in Congress and I'm very proud of it. I've exploited it to the Hill and been honored all over the place," Pelosi said, laughing, at her weekly briefing last Thursday. "Mostly to focus on reelecting a Democratic Congress."
Support HuffPost
The Stakes Have Never Been Higher
Popular in the Community