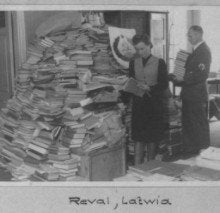 How did tens of thousands of books stolen by the Nazis from Jewish families and institutions end up, among other places, in the Former Soviet Union? It's a mystery with more questions than answers, but one thing is certain – these items should be returned to their rightful heirs and owners whenever possible.
As part of the Final Solution, the Nazis confiscated and amassed a vast collection consisting of entire libraries, Judaica, and art which was brought to Germany. Millions of objects were taken and, after the war, many of these items became ensconced and remain in archives, libraries, museums, and other cultural institutions throughout Europe.
In recent years, the Conference on Jewish Material Claims Against Germany (Claims Conference), together with the World Jewish Restitution Organization (WJRO), created the Looted Art & Cultural Property Initiative, to work with governments and Jewish communities around the world to encourage provenance research – that is, ascertaining the historical ownership – of items plundered and lost during the Holocaust. Over the past decade, this program has done an enormous amount of work researching the original records of the "Special Task Force" ― known as the Einsatzstab Reichsleiter Rosenberg (ERR) – a Nazi agency that looted cultural valuables from occupied countries. The ERR targeted major libraries of Jewish individuals and institutions, along with other libraries belonging to groups or individuals designated as enemies of the Reich. Due to the work of the Looted Art & Cultural Property Initiative, many records containing lists of Jewish-owned art, book and cultural property which was plundered during the Holocaust have become public for the first time.
Thanks to the tireless and invaluable research efforts of Wesley Fisher, Director of Research at the Claims Conference, and his team, we now have a detailed account of items that the ERR looted from libraries in France; we know which organizations were targeted for looting, and where these books were sent. This program will be replicated for Belgian libraries, as well as for the Netherlands and other countries.
The task is to ascertain what was taken and from whom. According to Wesley, "Books can hold clear clues as to their rightful owners: a bookplate, a stamp imprint from a particular institution, or even a hand-written dedication on the flyleaf can all help to discover from where a book came."
Last autumn, the team traveled to Minsk, the capital of Belarus, where many of the books stolen from France eventually ended up. At the end of the war, the Soviets, using the "Soviet Trophy Brigades," brought millions of the looted objects to Moscow, but mystery still surrounds why these French books were taken to Minsk, as opposed to Moscow, where most of the books ultimately landed. Evidence of their presence in the National Library of Belarus is now available.
A list of the individuals and institutions in France from which the books and collections were seized – along with evidence of their current locations – has been compiled. One of the books belonged to a Jewish Frenchman named Victor Basch who, along with his wife, was murdered in 1944 by the French Vichy government. This book, which included a personal dedication to Victo0r by the author, was found in the French National Library. And last month, at a special conference on looted books at the National Library in Paris, this volume was restituted to Francoise Basch, Victor Basch's granddaughter and a Shoah survivor, as a gesture of goodwill.
How did Victor's book find its way to the National Library of France? Quite possibly, it may have been among those books that were repatriated to France after the war and sent to the national library. But there's no way to know for certain.
While to most the book itself is not valuable, to the family it is precious, if not priceless. Wesley noted that Francoise's emotion was palpable, as she weeped when receiving a book belonging to her grandfather.
The Looted Art & Cultural Property Initiative will continue to sponsor projects to make Nazi records publicly accessible, in the hope that the light of justice will find its way to finally return these stolen items to their rightful owners. Returning Judaica, artwork and books, seized during the Holocaust to rightful owners or heirs is of the utmost importance. Such items certainly should not remain lost or buried among concealed stacks of books in libraries in the Former Soviet Union, or anywhere else for that matter.
Support HuffPost
The Stakes Have Never Been Higher
Related
Popular in the Community