MURFREESBORO, Tenn. ― In post-Charlottesville America, any large gathering of racists and fascists becomes both spectacle and specter. The threat of violence is omnipresent. Locals must "brace" themselves for "chaos and bloodshed." Everyone dreads "another Charlottesville." Dread is what Nazis want.
In two small cities near Nashville in Middle Tennessee, the fear was palpable ahead of two "White Lives Matter" rallies here on Saturday.
"So ... what brings you to town?" a wary clerk asked guests as they checked into a hotel in Murfreesboro, home to Middle Tennessee State University and 132,000 residents, where one rally will be held Saturday afternoon outside the Rutherford County Courthouse. I heard some version of this question three times before I'd even found my room.
In nearby Shelbyville, a town of 21,000 south of Murfreesboro in Tennessee horse country, another rally ― organized by the same racists and fascists ― is scheduled for Saturday morning. Many Shelbyville residents will stay indoors or clear out altogether, according to local police.
The concern is well-founded. Among the groups assembling in Tennessee this weekend is the League of the South, a Southern separatist organization involved in some of the more garish violence in Charlottesville, Virginia. There, one of the group's leaders, Michael Tubbs, a hulking former Green Beret who did a prison stint for plotting to bomb Jewish and black-owned businesses, led a charge of his followers toward peaceful clergy members.
The National Socialist Movement is also here, with their refashioned flags. (In an attempt to appeal to a broader audience, the flag's swastika has been replaced with the Elder Futhark Odal rune.) So is the Traditionalist Worker Party, which often collaborates with both the NSM and the League of the South and is led by Matt Heimbach, whose declared strategy is to do food giveaways and coat drives to win the hearts and minds of what he considers downtrodden white America in the hope of eventually running his own political candidates in Appalachia and other redoubts of Herrenvolk (master race) welfare-statism. Vanguard America will be here, too, according to rally organizers. That's the group James A. Fields Jr. was with on the day he drove his car into a crowd in Charlottesville and killed Heather Heyer.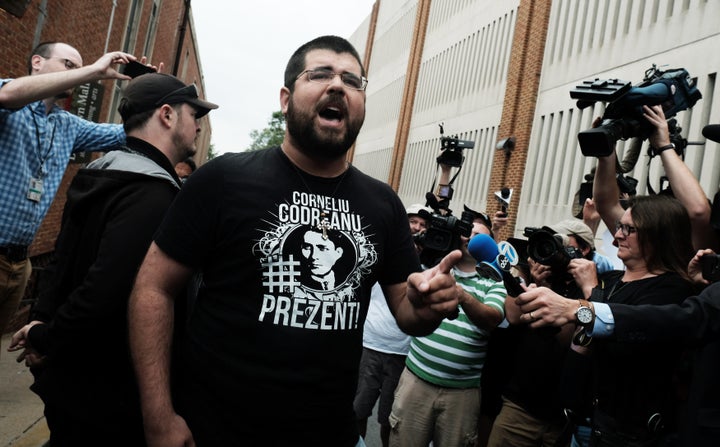 These are hardly the happy travelers who prompt towns to throw wide their doors. "It's supposed to be cold and rainy," said a woman with the Shelbyville Police Department who did not wish to be named. "A lot of these people will just melt away, hopefully."
But that was unlikely. One reason white supremacists exercise their First Amendment rights in places where they're not wanted is because provocation is just as much their goal as hateful proclamation. Even the potential for violence attracts attention, which is also what Nazis want. Fox, NBC, ABC, The New York Times, The Wall Street Journal and many other media outlets had contacted the Shelbyville police ahead of Saturday's rally. Even ABC Australia had been in touch. I heard a video team from TV Asahi in Japan was roaming around Murfreesboro. And in a Panera near my hotel, I found myself seated near a film crew talking about Charlottesville and "Wolfenstein II," a counterfactual video game set in 1961 in which the user battles a Nazi regime that conquered the United States in World War II.
But discerning the motives of far-right extremists and the danger they pose can be difficult. The rally in Shelbyville, which will take place on a sidewalk in a location that can be easily secured, is an opportunity for them to hold forth on white grievance. Murfreesboro is where they might try to pick a fight.
"Shelbyville is where we want to get our message out to working-class white constituents about the opioid epidemic and refugee resettlement and how capitalism has failed them," Heimbach said. "Murfreesboro is a different environment with a college. I'm going to focus on how the far left is being used by the capitalist system."
Shelbyville has been depicted in some far-right media outlets as being overrun by Shariah-practicing Somali refugees, evoking one of the great demographic boogeymen fabricated by white supremacists to stoke bias and hate. "Southern demographic displacement" was the theme of League of the South rallies held in Shelbyville and Murfreesboro in 2013. On Saturday, the racists will be back, harping on the same issue.
"You have mosques and businesses going up that don't reflect the general culture. It's redefining the community," Heimbach said. "That's not what Middle Tennessee needs or wants."
The area has experienced some demographic change. Mexicans work in the horse industry. Somalis work at the nearby Tyson Foods chicken processing plant. And a mosque outside Murfreesboro opened in 2012, after several threats and much Republican dog-whistling. In July, two men defaced the building with graffiti and profanity written with strips of raw bacon.
The Islamic Center of Murfreesboro has decided to cancel services and religious classes at the mosque this weekend due to the White Lives Matter rally. The members here are concerned about violence, especially after witnessing what happened in Charlottesville.
"It's that you are living like a hostage in your own town and city that you've lived in and loved so many years," Dr. Saleh M. Sbenaty, a professor at Middle Tennessee State University who is a member of the mosque, told HuffPost. "This is not the U.S. we know of, and I hope this is not the way from now on. It's unbelievable."
Despite the racial anxieties stoked by the likes of Heimbach, Middle Tennessee is hardly turning into the Horn of Africa. Over the last 15 years, Shelbyville has taken in just 51 refugees, 47 of them Somali, according to data from the Refugee Processing Center. In recent years, the Somali refugee population in Shelbyville has actually declined, according to Shelbyville Police Chief Jan Phillips.
The White Lives Matter rally organizers either are unaware of the demographic data or don't care. They need little pretext to invade communities with their gripes, another of which has to do with a deadly church shooting in September in Antioch, also near Nashville, carried out by a black man.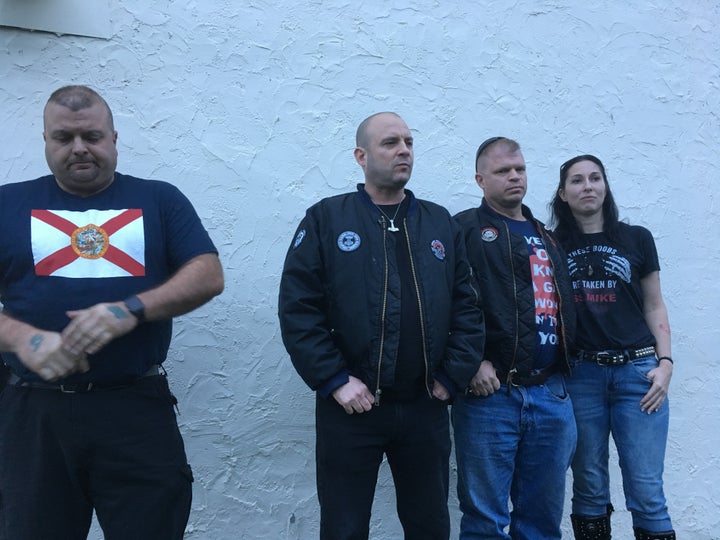 On Friday evening, Jeff Schoep, the head of NSM, met HuffPost at a hotel parking lot in the Nashville area. Three other NSM members, two of them armed, stood by his side.
Schoep said he was upset that the shooting at the church in Antioch, which killed one person, didn't get as much national media attention as the far deadlier mass shooting in 2015 at a predominantly black church in Charleston, South Carolina, in which avowed white supremacist Dylann Roof killed nine people. 
Schoep was in a hurry. He had a "meeting" at 6 p.m., but wouldn't tell HuffPost who was attending the meeting or what it was about.
Rumors were circulating earlier in the week about a tiki torch march Friday night, perhaps targeting Middle Tennessee State University, where a building named after Nathaniel Bedford Forrest, a Confederate Army general and early leader of the Ku Klux Klan, has sparked controversy. (Shelbyville, as it so happens, is in Bedford County, which will be harder to rebrand.) Local anti-fascist organizations were prepared to confront the white supremacists there and in the public square the next day.
But Nazis can be crafty. When they have a stage from which to preach, they try to attract as much attention as possible. When they want to be subversive, they take great pains to conceal their plans.
"I think Murfreesboro is going to be the hot spot," said Corey Lemley, a member of Nashville Anti-Racist Action, who noted that white supremacists blew up his mailbox with a small explosive a few months ago. "It's going to be a heavy, heavy turnout to counter them."
Roads will be closed in Shelbyville and Murfreesboro on Saturday for the rallies. No weapons, masks or bags will be allowed in the rally areas. According to the sister of one Murfreesboro police officer, it is an all-hands-on-deck situation for the city's police department and the county sheriff, who have partnered with federal and state law enforcement agencies, including the Tennessee Bureau of Investigation, to guard against a repeat of the violence in Charlottesville.
It used to be that you could ignore white supremacists until they went away. In 2013, the League of the South could muster only 30 racists at its Shelbyville rally.
"They were here for about an hour and then they left," said the woman with the local police department who did not wish to be named. But things are different now when the Nazis come to town.
About 200 miles north of here in March 2016, Heimbach, wearing a "Make America Great Again" hat, shoved a black protester at a campaign rally for Donald Trump, drawing an assault charge for his trouble. Heimbach was giddy for Trump back then, contending that a Manhattan oligarch might somehow be a populist answer for the country.
Now Heimbach has pivoted. "Donald Trump is not one of us," he says. "We can't trust a New York billionaire to bring social and economic justice to poor folks."
But why, aside from racism, would a poor white person trust a 20-something outsider whose broken political judgment had led him to go all stormtrooper for a plutocrat who stiffs small-business owners? Heimbach didn't have a good answer: "We're here to present an alternative. There's Republican and Democrat and we want to be another option."
It's not an option Middle Tennessee appears to want.
Christopher Mathias contributed reporting from Murfreesboro. 
America does not do a good job of tracking incidents of hate and bias. We need your help to create a database of such incidents across the country, so we all know what's going on. Tell us your story.
Calling all HuffPost superfans!
Sign up for membership to become a founding member and help shape HuffPost's next chapter