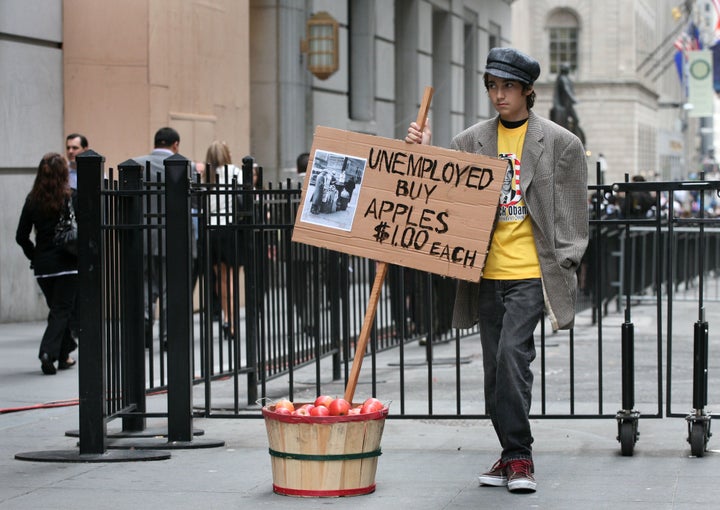 Some economists might be worried about a double-dip recession, but a large number of Americans have an even worse scenario in mind.
Approximately 48 percent of Americans say they think that a Great Depression is either very or somewhat likely to occur within the year, according to a CNN Opinion Research Poll, the highest percentage of respondents that have stated that level of certainty since CNN first started asking the question in October 2008.
Respondents' fear that they would soon become unemployed also spiked to an all-time high of 30 percent. That stands in contrast another post-recession low: the 18 percent that said they either recently became unemployed or are related to someone who recently became unemployed. The seeming contradiction might be explained by the average length of unemployment now hitting an all-time high, as The New York Times recently reported.
That Americans seem apprehensive about their economic futures should not be surprising considering the recently lackluster job creation. Last month, the private sector created only 54,000 net jobs while public sector employment actually saw a net decrease in jobs, according to the Bureau of Labor Statistics.
Confidence in the future is essential for economic growth, says economist Thomas Boston. "If you are concerned about job security, you are not likely to make the purchase, no matter how low interest rates might be," Boston wrote in the online publication Black Enterprise. "The same logic holds for business owners deciding whether to undertake a new investment."
The high percentage of Americans that say they believe that there will be an economic depression should raise alarm bells in and of itself, says CNN polling director Keating Holling. "That's not just economic pessimism," Holling told CNN, reflecting on the polling results, "that's economic fatalism."
Calling all HuffPost superfans!
Sign up for membership to become a founding member and help shape HuffPost's next chapter