It's not just that Nero the cat is very large. Though at 25 pounds, he certainly is a substantial animal.
"I never quite made it to 5 feet. More like 4'11"," she says. "So my height does make Nero look even larger than he is."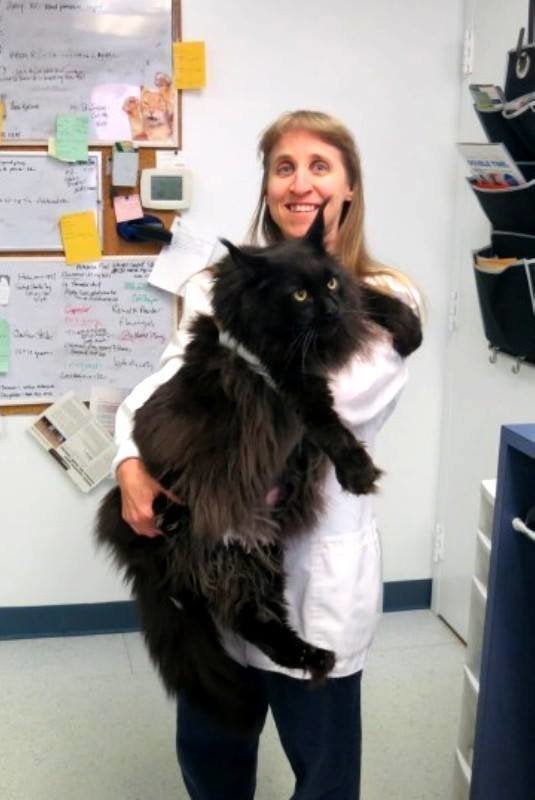 Nero is a Maine coon type of cat, who lives in Maryland, not far from Washington, D.C. 
Rather, Nero "is a mellow dude, very friendly and loving," says owner Victoria Timian. 
Timian has had Nero since 2009, when he was a kitten. At 12 weeks old, Timian recalls Nero weighing about 5 pounds -- not the sort of early girth portending this later size.
A typical reaction to her boy is, "Wow, that's a big cat!!" But the reaction she'd like to get is inspiring more people to take home black cats of their own.
"Black cats are the some of the sweetest cats around," Timian says. "Nevertheless, they are the last to be adopted."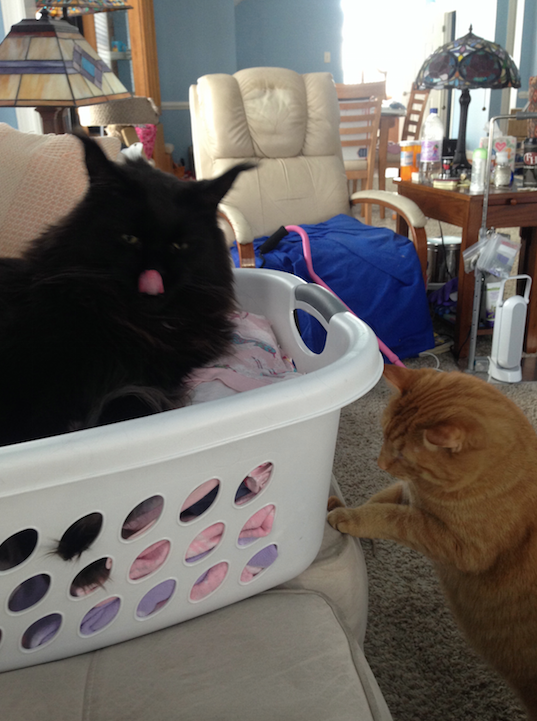 This guy, having been one of the lucky ones, spends his day napping, having his chin scratched and climbing up on the counter.
Nero also likes helping with laundry and wrestling with the household's other two cats -- his littermate Lily, who weighs a mere 18.5 pounds, and an adopted friend, 11-pound Redcat Rocket.
All this is punctuated, of course, with regular snacks, because a cat doesn't stay 25 pounds by going on a diet.
Once his work is done, Nero's nights, then, are in the family bed, tucked between Timian and her husband.
"As big as he is, we are bigger!" she says.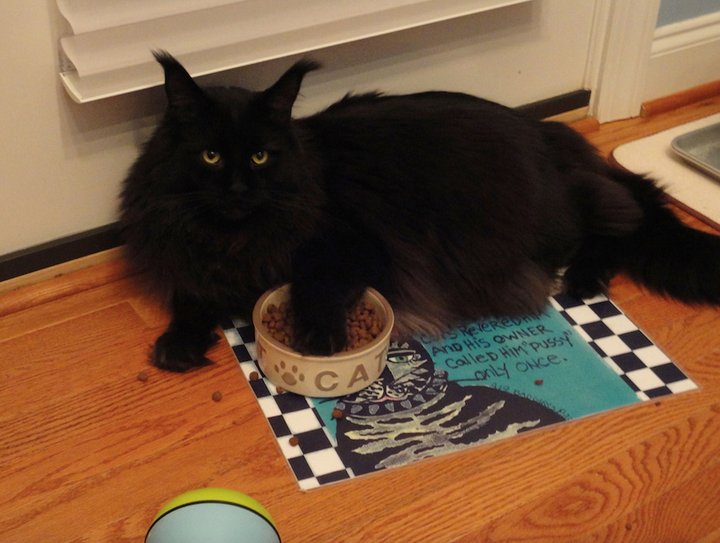 Speaking of bigger: Sinclair tells The Huffington Post that large as he is, Nero is healthy.
Sinclair loves working with cats because of their unique characteristics. For instance, they are very good at hiding illnesses -- which gives her a career full of fascinating challenges.
"One of the most common misconceptions is that a cat who appears to be fine at home is healthy and doesn't need be examined yearly by their veterinarian," she says.
Because Nero gets his regular checkups, Sinclair is able to observe that, despite appearing a little bit like a zaftig panther, the cat is actually in very good shape.
And he's not even the most gigantic cat Sinclair has worked with, in her 23 years of practice, the last 11 as a certified feline specialist.
"Many years ago I saw a cat who was morbidly obese and over 35 pounds," she says. "The scale only went up to 35 pounds. And the cat broke it."
PHOTO GALLERY
Cats, Cats, Cats!
Know a really humongous cat? Have another animal story to share? Get in touch at arin.greenwood@huffingtonpost.com!
Calling all HuffPost superfans!
Sign up for membership to become a founding member and help shape HuffPost's next chapter